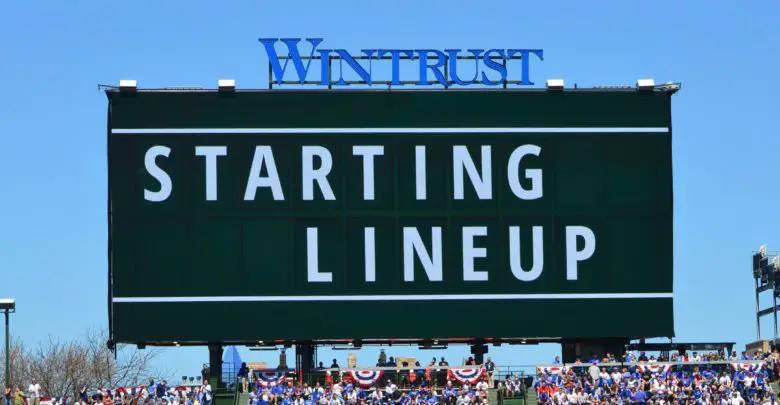 Chicago Cubs Lineup (9/26/23): Tauchman Leads Off, Mastrobuoni at 3B, Steele Starting
Are we excited yet? After going 3-10 to nearly take themselves out of the race, the Cubs clawed their way to a sweep of the Rockies and now have a thin cushion keeping them in it. That could change in a hurry, however, as they've got a pair of tough matchups while the Marlins are in Queens. The fun starts Tuesday night in Atlanta, where Justin Steele tries to right the ship against the best offense in baseball.
Steele earned one of his team's two wins against Atlanta back on August 6 by going 5.1 innings with three earned runs allowed on eight hits and a season-worst four walks. He wasn't at his sharpest, but his stuff was still good enough to keep the Braves at bay despite a lack of grounders. That probably isn't going to work tonight, especially if Steele continues to pitch anything like he has in his last two starts.
With 12 earned runs allowed over nine innings against the D-backs and Pirates, it looks like the lefty may have reached the proverbial wall. Not surprising when he's made five more starts and thrown nearly 50 more innings than ever before. The Cy Young is now out of the question, especially after Blake Snell's ongoing run, but Steele can still shove in this one to bolster his team's chances at playing more than 162 games.
Mike Tauchman is leading off in center with a righty on the mound, then it's Nico Hoerner at second, Ian Happ in left, and Cody Bellinger at first. Seiya Suzuki is in right, Dansby Swanson is at short in his return to Atlanta, and Christopher Morel handles DH duties. Yan Gomes is the catcher and Miles Mastrobuoni, who is putting together a very solid second half, plays third again.
They'll be going up against Bryce Elder, whose name is a lie because he's only 24 years old. After debuting last season with 10 appearances (9 starts), Elder made one Triple-A start this year and has been a regular in the rotation with 30 starts. Though he's far from overpowering and doesn't get many strikeouts, the righty coaxes a lot of grounders and keeps the ball in the yard with a sinker-heavy approach.
He's a lot like Kyle Hendricks in that way, sitting around 90-91 with the hard stuff to set up his breaking and offspeed pitches. Where things differ greatly is that Elder throws a ton of sliders, almost as many as he does sinkers. That two-seam is about 38% of his pitches and sliders make up 36%, then the rest are four-seamers and changeups. Elder throws his change about 85 mph, so there's not a big separation from his fastball.
The change also has a different movement profile from the norm, as it typically fades arm-side with excellent tumble to make it a viable pitch against batters on either side of the plate. I couldn't find anything on his particular grip, but I default to assuming it's a Vulcan when I see movement like this. Whatever the case, it's a solid pitch and helps him to be pretty much split-neutral.
The slider is the real weapon, working down across the zone to the glove side to give a very different look from the sinker and change that both light up the arm-side heatmaps. While Elder can get whiffs, most of the slider's value comes from generating weak contact. He loves to work the edges and corners with those top three offerings, then he'll typically elevate the fastball to change eye levels and catch hitters off-guard.
This is a solid matchup for the Cubs, who tagged Elder for five earned runs (seven total) on seven hits earlier this season. Most of that damage came in the 1st inning on homers from Swanson and Jeimer Candelario, but they drew two walks to open the frame and overall did a great job of putting the ball in play and forcing Atlanta to work for outs.
Elder has pitched better at home this season, though left-handed batters have gotten to him a little more often there. The Cubs might need to take advantage of that in order to keep pace with a team that hangs runs better than anyone. First pitch is at 6:20pm CT on Marquee and 670 The Score.