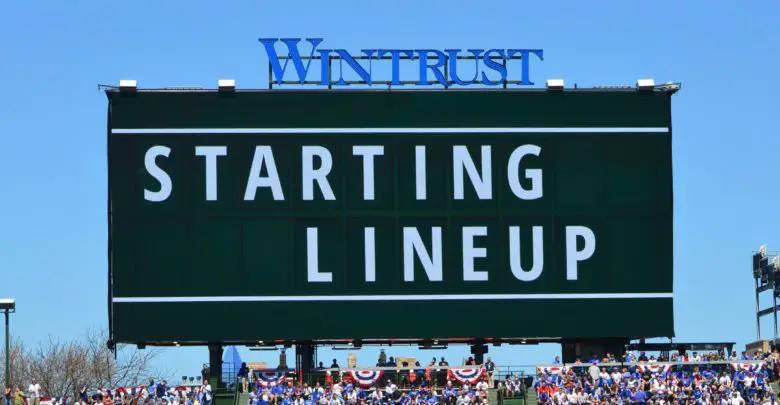 Chicago Cubs Lineup (9/23/23): Tauchman Leads Off, Suzuki Fifth, Mastrobuoni at 3B, Stroman Starting
The Cubs gained ground yesterday thanks to a shutout victory over the Rox followed by both the Reds and Marlins losing to other NL Central teams, so there's a little more room to breathe this weekend. That sequence of events was so powerful it boosted the Cubs' playoff odds by nearly 21 points, from 33.4% to 53.3%, and it started with Jameson Taillon on the mound.
Getting a win from a starter who's struggled most of the season provides an extra little psychological advantage, now David Ross is hoping for an even bigger bump on Saturday. At the end of his media availability following Friday's win, the manager announced that Marcus Stroman would be starting this one. The righty worked back-to-back games in relief following his activation from the IL last Friday, but hasn't pitched in the week since.
It's hard to believe Stroman is stretched out to anything more than 3-4 innings, with the longer end requiring him to be incredibly efficient, but he did work some long outings for Puerto Rico in the WBC very early in the preseason. This will be his first start since July 31, which capped a six-week run of seven starts in which Stroman posted a 9.00 ERA with 42 hits allowed in 30 innings.
The poor performance began with a blister in London and ended with hip discomfort that had likely been bothering him for quite a while before he was finally shut down. Then came the mysterious fractured rib cartilage that extended his stay on the IL and threatened to keep him out for the remainder of the season. As tough as it is to be bullish on him based on all that, there's reason to believe the time off allowed him to get his body right for the final push.
As always, the best possible outcome would be for the offense to put up so many runs that the pitching staff is irrelevant. That starts with Mike Tauchman in center, followed by Nico Hoerner at second and Ian Happ in left. Cody Bellinger cleans up at first, Seiya Suzuki is batting fifth in right, Dansby Swanson is at short, and Christopher Morel is the DH. Yan Gomes handles the catching duties and Miles Mastrobuoni is at third.
Given the matchup, this would have been a great game to give Pete Crow-Armstrong another start, but I guess it's whatever at this point. I'm sure there'll be some foolish criticism of the choice to give Mastrobuoni another start, but the dude has six hits in his last three starts and is batting .372 with a 140 wRC+ over his last 45 plate appearances. That's a big improvement over Nick Madrigal and also what the Cubs were getting from Jeimer Candelario over a similar sample.
They're up against 29-year-old righty Chris Flexen, whose last name sounds like what opponents often do against him. The Cubs were able to tag him for three runs on nine hits over 5.1 innings back in Colorado, though the Rockies ended up with a win in that one because they were the only group that decided scoring runs late was a good idea.
Right-handed batters boast a 1.028 OPS against Flexen so far, and that's not just a Coors effect since he began the season with the Mariners. The problem has been a fastball that's arguably gotten the worst results in all of MLB this year. According to Baseball Savant, he's in the 1st percentile for fastball run value with a -26 mark that should get worse this afternoon.
When your four-seam is straight as a string at just 92 mph and you throw it 40% of the time, bad things are bound to happen. Flexen's changeup and curve have actually been really good, but they combine for just 18% of his repertoire with the latter accounting for just 1.7% (28 total pitches). He's been solid against lefties at altitude, but they've got a .956 OPS against him when he's on the road.
When right-handed batters face a visiting Flexen, they have a very robust .390 average with a 1.171 OPS and a .490 wOBA. Those are unreal numbers when you're talking about a sample of 91 batters, so the Cubs should be able to have a whole lot of fun this afternoon at Wrigley. Then again, the same has been said about most of the pitchers they've faced over the last two weeks and they've fallen flat more often than not.
It's high time they make good on what should be a very favorable matchup. First pitch is at 1:20pm CT on Marquee and 670 The Score.