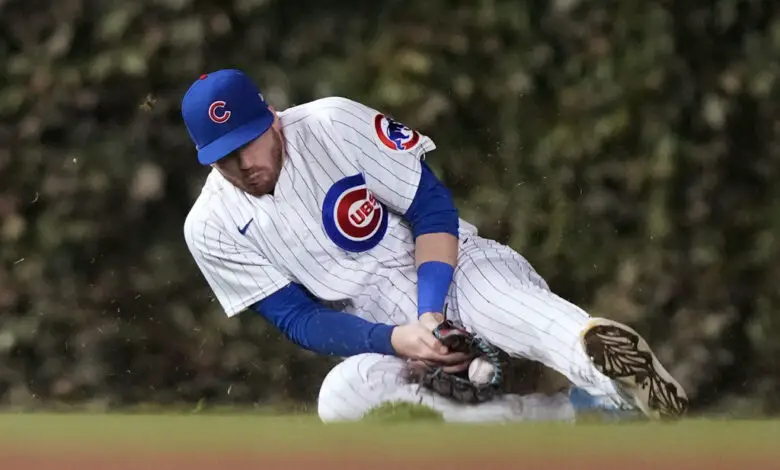 Quantifying Hope: Skid Drops Postseason Odds to 33% with 9 Games Left
The Cubs have fallen off a cliff over the last two weeks, winning no more than one game in each of their last four series (with a sweep in there) to drop 10 of 13 games. After peaking at 92.4% on September 6, the Cubs now head into a matchup with the Rockies with 33.4% postseason odds. Their opponent is fitting because the jagged rise and precipitous fall make a sad little mountain on the graph below.
The only good news, at least if we're stretching the definition, is that the Cubs averaged nine runs a game against the Pirates after scoring six or more only once in the previous 13 contests. And that lone occurrence came in their extra-innings loss to the Diamondbacks, with half of their offensive output coming thanks to Manfred Men.
Despite their recent futility, the Cubs are still technically tied with the Marlins for the third Wild Card spot and they hold a half-game advantage over the Reds due to having one less loss. However, both of those teams hold the tiebreaker over the Cubs. The Giants have fallen to three games back and probably can't make that up over nine games.
I mean, San Francisco could certainly catch the Cubs if this losing jag continues, but it's unlikely both the Reds and Marlins will also drop a huge chunk of their remaining contests. These next three against the Rox all need to be wins, it's as simple as that.
Next week will be the last edition of this column for the year since the postseason will be here with or without the Cubs just a few days after it runs. I'm still holding out hope, but the flame is guttering and in danger of going away here soon.