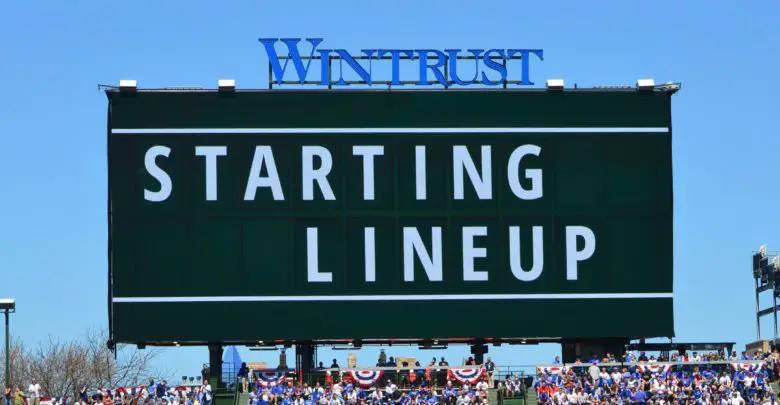 Chicago Cubs Lineup (9/20/23): Tauchman Leads Off, Mastrobuoni at 3B, Canario on Bench, Steele Starting
The Cubs are coming off a game in which they scored more runs than they had in the previous three combined, and they did it with the help of their rookies. Well, mainly one rookie. Alexander Canario came up big with an RBI double and a grand slam, making him the first player ever to hit a granny and collect five RBI in his first start. Imagine if he'd had a chance to do that at some point over the previous three weeks.
I kid there, at least to an extent, because I think the plan was to essentially shut the slugger down for a while and then let him finish strong at Iowa. He was optioned back down to Triple-A briefly last week and then was immediately recalled when Jeimer Candelario was placed on the IL, so Tuesday's explosion was really just a case of very good timing. Well, that and actually giving the kid a shot.
What's funny is that, just like Nelson Velázquez earlier this year, Canario is back on the bench the day after hitting a grand slam. As noted yesterday in regards to pitching, David Ross is managing this like a playoff situation and he's trying to leverage the matchups.
Justin Steele is not on the bench tonight, and for good reason. By moving him up to take what would have been Jameson Taillon's turn in the rotation, the lefty will have two more starts after this. The last of those is Game 162 in Milwaukee, which the Cubs might need to win depending on how the next 10 games go. Steele has his work cut out for him after Blake Snell's effort last night, so how about another offensive outburst to make things easy on the starter?
Mike Tauchman is leading off in center, followed by Nico Hoerner at second and Ian Happ in left. Cody Bellinger is at first, Dansby Swanson is at short, Seiya Suzuki is in right, and Christopher Morel is the DH. Yan Gomes is behind the plate and Miles Mastrobuoni gets his first start since July 27.
They're facing 27-year-old Mitch Keller, who dominated over eight scoreless innings to earn the Pirates' only win over the Cubs this season. Happ doubled and Suzuki collected a pair of hits, then Nick Madrigal slapped a single in a game that never saw Keller sweat.
The righty is putting together the best season of his career by a wide margin, and he comes into this one just two strikeouts shy of 200 for the year. His 4.04 ERA isn't great, but Pittsburgh's defense has contributed to that a bit and Keller has thrice imploded for eight earned runs in his 30 total starts. When he's on, though…look out.
That success comes largely from the implementation of a cutter that has siphoned off the usage of his four-seam, slider, and curve to give him three primary pitches. The cutter and both fastball iterations are all in the 23-25% range and all are plus pitches. Keller loves to work up in the zone with his 96 mph fastball, then he'll locate that sinker slightly lower and get the cutter moving from the middle of the plate to off the glove-side edge.
The cutter is around 90 mph, so it's just a much sharper version of the 83 mph slider that he throws about 17% of the time. Classified as a sweeper by Statcast, it rarely lands in the zone and is more of a chase pitch. Neither his curve nor his change has been very effective this season and both are below 10% usage, so they're more show-me offerings that he can use to keep hitters from sitting on other pitches.
One thing that really stands out about Keller is that he gets his strikeouts in a different manner from what you'd expect from a guy with a 26% K-rate. His 9.6% swinging-strike rate is well below the 11.2% league average, but he gets far more called strikes (18.8% to 16.5%) than his peers. Hitters can't pick up velocity out of the hand, so they may try to spit on what they think is a slider that's going to break off the plate. Instead, that cutter buckles them.
Keller also loves to bust righties in on the hands with that two-seam and he has gotten pretty traditional platoon results with left-handed batters seeing him pretty well. Interestingly enough, however, three of the Cubs' four hits in that last matchup came from righties. Tauchman was 0-for-4 and he's very susceptible to whiffs tonight, but he profiles well against right-handed fastballs and cutters in general.
If his trends hold, Keller may be due for a stinker tonight at Wrigley. Sure would be nice to see the Cubs rough him up and get another win, but I'll settle for a low-scoring affair if it means Steele outduels his counterpart. First pitch is at 6:40pm CT on Marquee and 670 The Score.