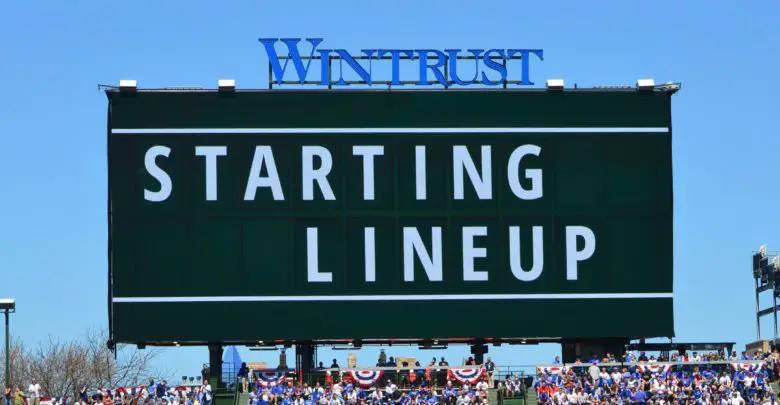 Chicago Cubs Lineup (9/4/23): Tauchman Leads Off, Bellinger DH, Steele Facing Giants
The Cubs looked for a while like they were headed for a third straight loss in Cincy on Sunday, but a late-inning explosion carried them to an easy victory. It's almost like the offense needs the challenge of playing from behind or being forced to score more than two runs. Now they're facing a team that has played much the same way over the last week or so, with just five runs scored in their last four losses.
Those Giants defeats have come in their last five total games, one to the Reds and then three straight to the Padres in San Diego. The Giants then hopped a flight to Chicago and are on a quick turnaround for this Labor Day matinee. That bodes well for Justin Steele, who is looking to move into a tie with Spencer Strider atop the MLB wins leaderboard.
Steele (2.69) can also close in on Blake Snell (2.50) for the ERA crown and strengthen his Cy Young candidacy, though no one who's really paying attention would put the Padre ahead in that regard. Outside of strikeouts and BABIP, Steele's peripherals are all better. Strider, Zack Wheeler, and Zac Gallen all have very strong cases, but Steele has a legit shot.
Steele didn't face the Giants when these teams squared off earlier in the season and he's got very little experience against any of their hitters, with eight plate appearances by Paul DeJong topping the list. With 11 hits in 29 total at-bats, the members of this roster have tagged him pretty well in the past, though this is a different version of Steele.
The Giants sit 22nd in MLB with an aggregate 93 wRC+, but that drops to 25th and 89 when facing lefties. And though they rank sixth overall with 1,510 plate appearances against southpaws, their 36 homers are tied for 21st. Steele needs to get his team off to a good start in this series and he's got a little more leeway than usual with this opponent.
Mike Tauchman went into yesterday's game batting .190 with a 47 wRC+ over the previous month, but he raised those figures to .224 and 78 with four hits. He's back in the leadoff spot and playing center, followed by Nico Hoerner at second and Ian Happ in left. Cody Bellinger is the DH for the second day in a row, Dansby Swanson is at short, and Seiya Suzuki is in right.
Since sitting out for a few games to clear his head, Suzuki is batting .326 with a 170 wRC+ over 95 plate appearances. That'll play. Jeimer Candelario bats seventh at first base, Yan Gomes is catching, and Nick Madrigal will bring hit head-high-hitting to the ninth spot as the third baseman.
They're up against righty Logan Webb, who I honestly believed had been with the Giants for like 20 years. It's only been five seasons for the 26-year-old, the last three of which have been full campaigns. He's been very consistent in that time and is an elite strike-thrower who excels at generating grounders. Among 101 qualified pitchers since 2021, Webb's 1.93 BB/9 is tied for 10th-lowest and his 59.2% groundball rate is second-highest.
His 0.67 HR/9 mark is the best in baseball during that time, though it's been elevated by a 0.95 mark this season. That's probably the result of throwing a few too many strikes, as Webb is in the zone just slightly more than usual. Even though he's getting fewer whiffs than in the past, his 20.3% called-strike rate is the highest in baseball among qualified pitchers.
The Cubs are going to see a unique pitch mix this afternoon, with Webb leaning heavily on a firm changeup that comes in around 88 mph and lives at hitters' knees. He throws that pitch about 40% of the time, pairing it with a 92-93 mph sinker that he actually likes to work over to the glove side quite a bit for 36% of his pitches. The sinker has gotten him in some trouble when he leaves it in the heart of the plate, but that change can be devastating.
Webb also had a slider that makes up most of his remaining pitches. It's a strong offering that he likes to keep over the plate, though he'll sweep it off for swinging strikes from time to time. His little-used four-seam is almost exclusively thrown up in the zone, so he can fool hitters with it due to the location and his above-average extension giving hitters a little less time to pick it up.
This is a tough matchup for the Cubs, but it's one they can win if they're aggressive at the plate and can string hits together. Webb hasn't walked more than one in any of his last 10 starts and he's only given out four total free passes in that time, so taking pitches just plays to his strengths. While it'd be great to see the Cubs change the narrative by blasting a bunch of longballs, winning this one may come down to singles.
First pitch is at 1:20pm CT on Marquee and 670 The Score.
Here is today's #Cubs starting lineup at Wrigley Field!

Tune in: https://t.co/Gs2hZXzr9f pic.twitter.com/Q63FXyFeAk

— Chicago Cubs (@Cubs) September 4, 2023