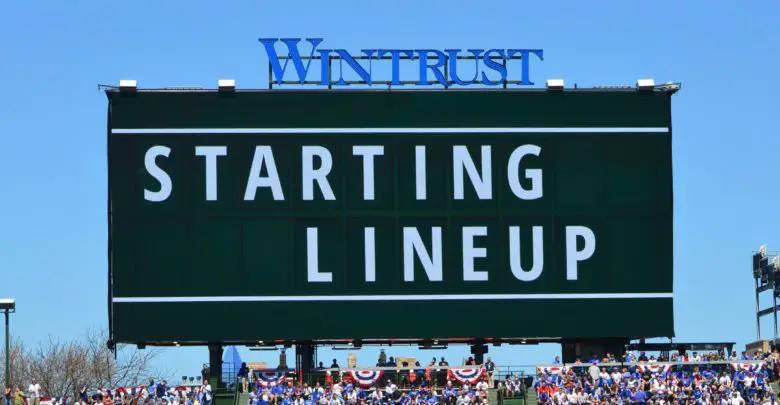 Chicago Cubs Lineup (9/3/23): Taillon Starting, Canario Still Not Playing
I'm equal parts pissed and disappointed with what the Cubs are doing this weekend, and I don't just mean getting walked off in consecutive games. That's part of it, sure, especially when the offense has managed to score just 15 runs over the last six games. And six of those runs came in Friday's win over the Reds. So while it all comes down to execution, the recent struggles are rooted in strategic failure as well.
For the life of me, I can't understand why in the hell the Cubs would call up one of their hottest young hitters and then refuse to play him. Not only might they be costing the big club, but the Triple-A season is still going on and Alexander Canario could have been getting meaningful at-bats for Iowa after missing the first half of the season while rehabbing his nasty ankle injury.
This isn't a matter of viewing Canario as a savior or even assuming he'd have been more successful than [insert underperforming player here], it's about the inexplicable decision to simply not use him at all. The Reds had an inexperienced pitcher in Friday's nightcap, a lefty on Saturday, and they've called up a rookie to make his MLB debut in Sunday's finale.
We're talking about a guy who's got a 4.26 ERA across 316.1 minor-league innings, only 17 of which came at the Triple-A level last year. If Canario isn't playing this weekend, when is he ever going to play?
"There's not going to be a ton of at-bats in that position," Jed Hoyer told reporters after Saturday's maddening loss.
"I would say he's probably on the back end of the depth chart," David Ross said Friday.
Christopher Morel has a .126 batting average with a 26 wRC+ over the last month and his mild reverse splits on the season say he's actually at a disadvantage against southpaws. Mike Tauchman isn't much better in that same span, batting .190 with a 62 wRC+ and just one homer. Does anyone believe Canario couldn't do at least that much if given an opportunity?
At the very least, his debut would inject a little energy into a team that appears to be lacking it right now. Willfully choosing to bury him on the bench in the heat of a postseason race is malpractice. It would have made more sense to have kept the roster at 26 if this is how the additions were going to be used.
Oh yeah, how about Shane Greene? The expectation was that he'd start the late game on Friday on regular rest, but that task went to José Cuas as the opener. Greene didn't even appear in the game, a decision that's hard to argue against because four relievers combined for eight innings of one-run ball. Where things really get confusing is Saturday's game.
Ross has said Greene, who had been starting for Iowa but has 67 MLB saves to his credit, will be used out of the bullpen with Chicago. Perhaps the manager should have just said that Greene won't be starting for the Cubs, because he apparently isn't being trusted to work in relief. Instead, Ross turned to Mark Leiter Jr. for the fourth time in five days.
The lefty specialist looked washed on Saturday night and has for the last two weeks or so as his normally trusty splitter has more or less abandoned him. After the Reds went double, walk, HBP, single, fly out to tie the game and keep the bases loaded with just one down, Ross went with Cuas to stop the rally. Yes, the dude with the 13.1% career walk rate.
Cuas actually did his job by getting a grounder that the Cubs couldn't convert into a double play, so the real question is why a gassed Leiter was in there rather than a fresh Greene. There's absolutely no reason to bring up these additional players if they're just going to sit the bench.
The Greene thing is perhaps a little understandable, but I can honestly say that I'm as flummoxed by the Canario situation as I've been by any single promotion/usage decision the Cubs have ever made. There's just no level on which it makes sense, yet here we are. Oh well, guess I'd better get to the actual lineup
Tauchman is leading off in center, followed by Nico Hoerner at second and Ian Happ in left. Cody Bellinger is the DH, Dansby Swanson is at short, Seiya Suzuki is in right, and Jeimer Candelario is at first. Nick Madrigal mans the hot corner and Miguel will do the catching for Jameson Taillon.
They're facing 25-year-old righty Carson Spiers, who will be making his MLB debut after working 83 innings at Double-A Chattanooga as a swingman. Spiers made it to Triple-A last season and posted a 7.41 ERA across five games with one start, but he has not returned to that level this season. After working mainly as a reliever in the early going, he has started his last six appearances.
The move appears to have worked, as Spiers is 3-1 with a 3.27 ERA and 45 strikeouts to 14 walks over 33 innings. He sits around 93 mph with the fastball and can touch 96, and we may even see a little more juice given the adrenaline dump. After being a pretty limited fastball/change pitcher in college, he's added a cutter and throws his slider a lot as well.
Spiers has done a really good job of keeping the ball in the yard in the Southern League — which is saying something — and his strikeouts are up to a career-best level this year. He's either facing a soft landing against a team that has failed to score many runs lately or he's in for a very rude awakening. Let's hope it's the latter because another anemic performance will have a lot of folks, present company included, going absolutely apeshit.
First pitch is at 11:10am CT on Marquee and 670 The Score.
Here is today's #Cubs starting lineup for the series finale in Cincinnati.

Tune in: https://t.co/Gs2hZXyTjH pic.twitter.com/IcQodJXLxh

— Chicago Cubs (@Cubs) September 3, 2023