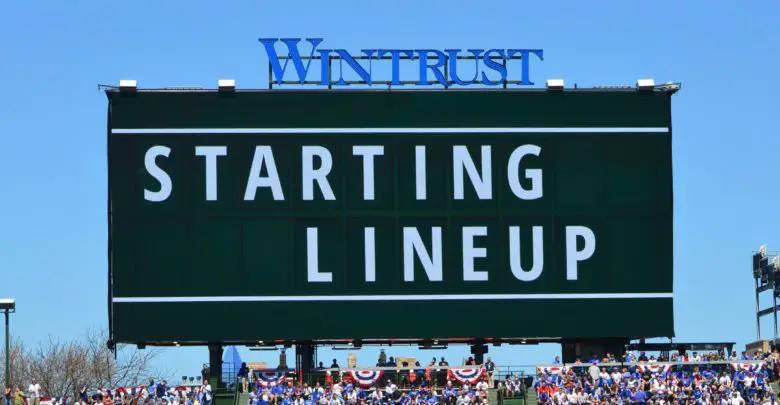 Chicago Cubs Lineup (8/23/23): Hoerner Leads Off, Candelario 1B, Taillon Tries to Salvage Series
The Cubs lost what should have been a winnable game last night because they more or less waved a white flag days in advance. They came into the game with a 9-0 record in August when scoring five or more runs, and they had a 79-44 run-scoring margin in those contests. But when your starter gives up seven runs on eight hits and three walks over less than four innings, well, it's pretty tough to win.
Drew Smyly had been relegated to the bullpen following an implosion against the Mets two weeks ago, but the Cubs felt maybe he'd recaptured his form in three scoreless innings of relief. They were wrong. Or maybe they were right, provided the outing was a way for the organization to prove a point and test Smyly's mettle. As strange as it sounds, I'm more inclined to believe they more or less punted the game than to believe they're completely incompetent and relied on hope as a strategy.
Smyly now has a 9.03 ERA over his last 12 appearances and a 10.86 ERA over his last seven starts. He absolutely can't be allowed to work multiple innings in important situations moving forward, especially with big performance incentives looming less than six, 16, and 26 innings away. I'd even say his future with the club is in doubt, as it isn't out of the question to think the Cubs would be willing to eat his $9 million (and maybe more) for next year.
The worst part about Tuesday's loss is that it puts the Cubs in a tough position with Jameson Taillon going for the series win. He's lost his last two starts after getting back on track for a while, though he looked better against the Royals than he did in a terrible outing against the Blue Jays. Still, this matchup doesn't favor the Cubs and Taillon may need to shove to get the win.
David Ross is stacking righties in this one, starting with Nico Hoerner leading off and Dansby Swanson moving up to the two-hole. Ian Happ is in left field and batting from the right side, then it's Cody Bellinger in center, Seiya Suzuki in right, and Yan Gomes behind the plate. Jeimer Candelario is at first, Patrick Wisdom is the DH, and Nick Madrigal is at third.
They're facing lefty Tarik Skubal, who is making just his ninth start of the season after recovering from flexor tendon surgery that forced him to miss a good chunk of last year as well. He's bounced back better than ever and currently boasts career-bests in strikeout rate (28.3%), walk rate (4.6%), and groundball rate (55.0%). He's doing that despite a .330 BABIP that tells us he's been the victim of some bad luck.
Poor defense has hurt Skubal as well based on his 1.99 FIP. He's given up just one homer so far and has walked just seven batters in 38.1 innings, though his propensity for throwing strikes can get him in trouble with contact per that BABIP number. A power thrower who isn't afraid to make hitters swing, Skubal would be among the league leaders in in-zone percentage — his 45.6% would be eighth, three-tenths behind Shohei Ohtani — if he had enough innings to qualify.
It gets even more interesting if we broaden the sample to all MLB pitchers with at least 30 innings this season. Skubal ranks 51st out of 411 in zone percentage but he's all the way down at 368th when it comes to called-strike percentage. That's weird, right? I guess it's a matter of throwing a ton of pitches that hitters swing at rather than watch.
Skubal can get away with that because his power repertoire is highlighted by a 96 mph fastball he loves to throw up in the zone with plenty of ride. His 88 mph slider will often land middle-middle, but he also likes to locate it on that lower glove-side corner. The sinker has a lot of ride as well and doesn't have as much horizontal movement as most, but that may actually be why it's successful.
The changeup will be thrown to either edge of the plate and has very good depth while also having less horizontal break than other offspeed stuff. That lack of relative movement is a Skubal hallmark, as only his change and curve generate more vertical movement than the average pitches in their respective classifications. Everything else moves less, so the key for him is to sequence his stuff so that hitters get fooled.
Though it's far from a perfect comp, this is kind of the same way Justin Steele has found success. Steele's cut-ride fastball doesn't move the way hitters expect it to, so it works because it fools opponents. Skubal also has some funk in his delivery that's really reminiscent of Chris Bassitt because of the way his glove flies open and pulls way outside his body and below his knee.
Skubal has just destroyed left-handed hitters so far, limiting them to a .143 average and .185 wOBA, though he's only faced 29 of them. His career splits are pretty traditional, with right-handed hitters seeing him and slugging much better for the most part. The bigger issue may be his performance at Comerica, which has always been better and is flat-out silly this year.
In four home starts, he has given up just one unearned run on 10 hits with 26 strikeouts and three walks. That's over 18.1 innings against the Jays, Rays, A's, and Giants. At the risk of sounding defeatist, the best hope for this afternoon might be that he tires early and/or that the Tigers continue to boot the ball around. Skubal has completed six innings just once, though that was in his most recent start and he may be ready to push deeper if he's rolling.
I'm going to go ahead and express my concerns here in the hope that my reverse karmic influence impacts the results. I don't like Happ continuing to bat third in the lineup, especially when he's on his weaker side. I also worry about Wisdom, who's a low-ball hitter, facing the high heat Skubal will surely test him with. Christopher Morel has been struggling, so I guess there's not much of a choice there.
I have a bad feeling about this one, but maybe that will go away by first pitch at 12:10pm CT on Marquee and 670 The Score.
Here is today's #Cubs starting lineup for the series finale in Detroit!

Tune in: https://t.co/Gs2hZXyTjH pic.twitter.com/gmLCCgOH0s

— Chicago Cubs (@Cubs) August 23, 2023