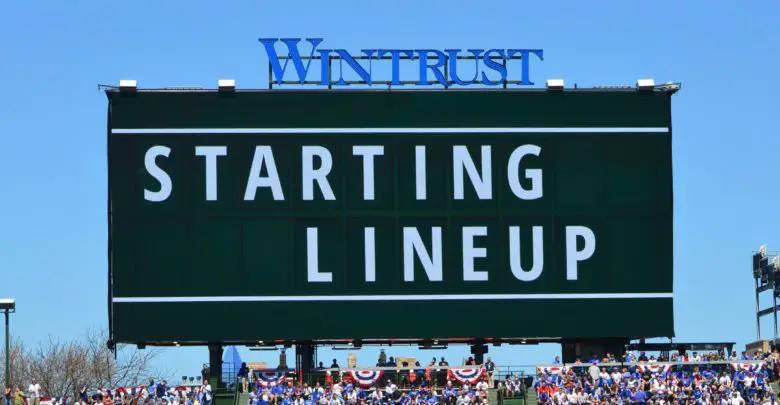 Chicago Cubs Lineup (8/22/23): Tauchman Leads Off, Morel Bats 8th, Smyly Starting
The Cubs eeked out a win in the first game of the series last night as the thinly-stretched pitching staff did just enough to preserve a one-run margin. They gained a half-game on the idle Brewers and leap-frogged the Giants for the second Wild Card spot, so the slim victory was that much sweeter. It'll take several more wins to secure a postseason bid, however, and not many are feeling super confident about those chances tonight.
That's because the Cubs are turning to Drew Smyly, who has a 10.80 ERA over his last six starts and whose last three appearances have all been single-inning relief efforts. He looked sharp in those efforts and may have regained enough mojo to get the 'pen a little more rest, plus Michael Rucker should be able to handle multiple innings if needed.
It'd be best if the bats could just get really hot to ensure the pitching situation isn't a concern. Mike Tauchman moves back to center as the leadoff hitter, Nico Hoerner is at second, Ian Happ is in left, and Cody Bellinger is at first. Dansby Swanson handles short, Seiya Suzuki is in right, and Jeimer Candelario is at third. Christopher Morel handles DH duties and Miguel Amaya is behind the plate.
They'll be facing 24-year-old Reese Olson, a rookie whose results have been somewhat worse than expected this season. That was true for Monday starter Alex Faedo, which almost makes it seem like playing on a bad team isn't great for pitchers. Olson is just 2-5 with a 4.83 ERA across 14 appearances (11 starts), but his 3.99 FIP means he may be getting a raw deal from his defense.
The righty is a slider-first guy, going with the 85 mph breaking ball about a third of the time, then he's got a 95 mph fastball that makes up nearly 30% of his offerings. Both pitches have been really good for him, though he can run into trouble when that slide-piece backs up and doesn't break all the way into that lower glove-side corner.
His sinker gets about 20% usage and hasn't been nearly as effective as its four-seam counterpart, largely because it doesn't have as much relative movement and tends to be thrown largely to the same location. Olson's changeup is very good and makes up roughly 13% of his pitches; it has serious vertical break while featuring much less horizontal break than most offspeed pitches. The curve hasn't been effective because it tends to hang up in the zone, but he throws it too sparingly for that to matter much.
The splits are pretty even overall, though left-handed batters see Olson much better and have drawn far more walks as a result. Righties slug better and carry a slightly higher average, so a balanced lineup makes sense. The home-road splits are more interesting, as Olson has walked 13 of the 157 batters he's faced at Comerica against just four walks to 110 batters on the road.
He's coming off of a rough start in Minnesota that saw him give up four runs on eight hits over 2.2 innings, just six days after holding that same team scoreless on two hits in six innings. This kid has solid stuff and is perfectly capable of stifling an opposing lineup if his pitches are working, but it also appears as though he gets rattled pretty easily and can unravel quickly if he slips up early.
First pitch is set for 5:40pm CT on Marquee and 670 The Score.
Here is tonight's #Cubs starting lineup for game two in Detroit!

Tune in: https://t.co/Gs2hZXyTjH pic.twitter.com/MaHibQG7DJ

— Chicago Cubs (@Cubs) August 22, 2023