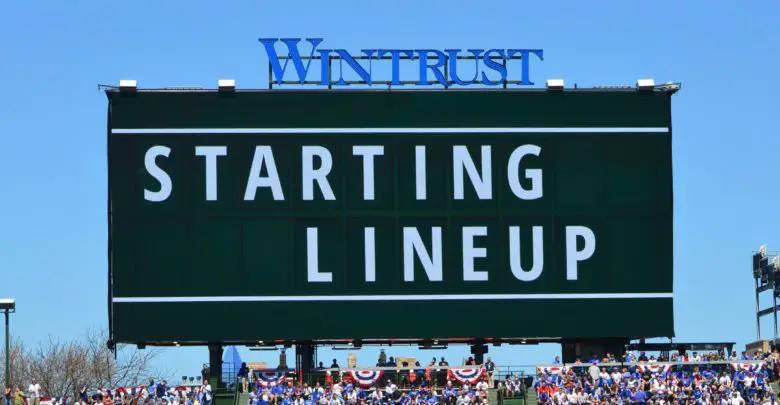 Chicago Cubs Lineup (8/12/23): Tauchman Leads Off, Candelario 3B, Steele on Bump
The Cubs cruised to an easy win Friday in Toronto behind early offense and a strong outing from Javier Assad. They looked refreshed, like a team that made the most of a much-needed day of rest, and their effort in the series opener was a far cry from three games spent running against the wind in New York. Now they have a chance to seal a series win against the Blue Jays and ensure a .500 road trip in the process.
Justin Steele eclipsed career-highs for innings pitched (121) and pitches in a game (110) during his last start, and he appeared to be pretty gassed at the end of his effort in a win over the Braves. It was far from his most efficient outing as he walked four of the 27 batters he faced through just 5.1 innings, but he gutted it out for his MLB-leading 13th win.
The Braves are the best team in baseball when it comes to hitting lefties, but the Blue Jays aren't far behind with a 114 wRC+ and .770 OPS. Interestingly enough, the O is a much bigger factor than the S in a relative sense. Their .351 team on-base percentage against southpaws ranks third in baseball while their .419 slug ranks 16th. Even stranger for a team typically thought to have a lot of pop is a .143 ISO that ranks 25th in MLB.
Steele should be able to generate a lot of grounders in this one, which will help him to work around mistakes and keep his pitch count down. The bullpen should be fine with two days off next week, but an extended start following Assad's seven innings of work sure would be nice.
Mike Tauchman will lead this one off in center, followed by Nico Hoerner at second and Ian Happ in left. Cody Bellinger is at first, Dansby Swanson is at short, and Chris Morel is the DH. Jeimer Candelario is at third, Seiya Suzuki is in right, and Yan Gomes finishes the lineup at catcher.
Going for the Jays is 34-year-old righty Chris Bassitt, whose funky delivery has produced consistent results over the last several years. Outside of a really strong run across 2020 and '21, Bassitt is typically in the 3.50 ERA neighborhood with around a 22% strikeout rate and .270-ish BABIP allowed. There's nothing he does particularly well from a statistical standpoint, either in terms of traditional or advanced metrics, but that funk and an eight-pitch mix keep hitters off-balance.
Bassitt has a huge swim move with his glove, pulling it well outside the width of his body and all the way down to his left ankle. He also sinks into his left leg to the point that his knee is at a 90-degree angle at release, which follows an exceptionally long arm path. If a coach saw a kid throwing like this in Little League, they'd try to change everything about his delivery.
It's obviously worked for Bassitt, so that's really all that matters. Again, giving hitters a different look and throwing all those pitches helps him to be effective. His 92 mph sinker accounts for nearly 40% of his repertoire and is by far his most valuable offering despite not having a ton of giddyup or getting many whiffs. He locates it well and can catch hitters guessing wrong, though.
The cutter, curve, four-seam, and sweeper are all thrown 10-15% of the time, then the change, slider, and splitter are in the 4-6% range. Very Yu Darvish-esque, right? It's all about mixing speeds and locations for Bassitt, who has a 22 mph range between the curve and heater. He works the various corners and edges of the zone as well as any pitcher I've checked on recently, hence the sinker freezing hitters even when it's right down the middle.
Bassitt is susceptible to the longball and has given up 21 homers, including one each in his last three starts, and he surrenders a lot of contact overall. Over his last seven starts, he's been tagged for 44 hits in 40 innings and he hasn't struck out more than seven in any of them. The righty has only faced more than 26 batters once in his last 11 starts, so he's either really fresh or ripe to be pulled early. Maybe both.
No Cubs hitter has more than eight career plate appearances against Bassitt and they've got less than 40 in total, so there's not much to draw from previous encounters. Lefties tend to perform better against him because they get a better look at that delivery when he opens up early, and the splits are very stark this season. Left-handed batters carry a .278/.356/.541 slash with a .380 wOBA and 17 home runs into this one, so I think we can feel good about Candelario, Bellinger, and Happ.
First pitch is set for 2:07pm CT on Marquee and 670 The Score.
Here is today's #Cubs starting lineup in Toronto!

Tune in: https://t.co/Gs2hZXyTjH pic.twitter.com/9iJVSNs3wL

— Chicago Cubs (@Cubs) August 12, 2023