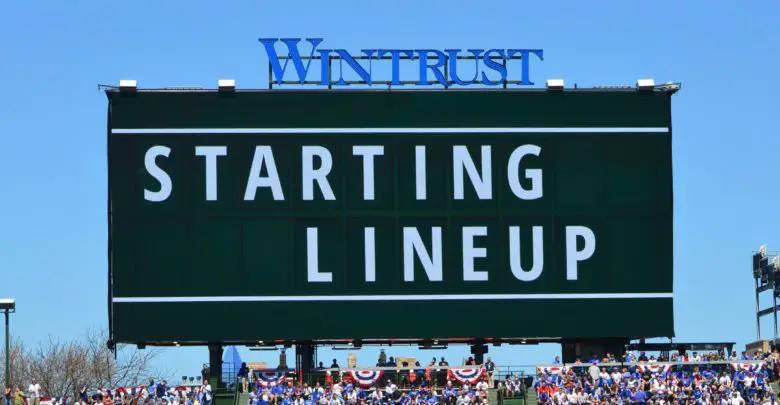 Chicago Cubs Lineup (7/16/23): Tauchman CF, Mastrobuoni 3B, Steele Starting for Series W
The Cubs gave up six dingers Friday night, then bounced back in a big way with 10 runs of their own Saturday afternoon to even the series. That output came as a bit of a surprise given how their righty-heavy lineup stacked up against James Paxton, a fact of which I was reminded by more than one person who didn't appreciate how I said the matchup wasn't favorable on paper.
What's funny is that the run-scoring wasn't a matter of those righty batters destroying the narrative of platoon splits. Paxton walked two and hit a batter to load the bases, then Nico Hoerner picked up an infield hit to plate a run. Seiya Suzuki grounded out to score another run, which was facilitated by an error, then another walk loaded the bases for Cody Bellinger's grand slam.
Yan Gomes singled for the third and final hit Paxton allowed, but the damage was done and he left after just three innings. That doesn't change the fact that the matchup really wasn't good, but things don't always work out the way you fear they might.
Today's tilt seems to favor the Cubs even if we just look at who they're sending to the mound. All-Star Justin Steele is making his first start of the second half and he can earn his 10th win with a solid performance this afternoon. It won't be easy against a team that has an aggregate 109 wRC+ against lefties, good for 11th in MLB, but Steele's cut-ride fastball can keep them at bay.
At the risk of opening myself up to more well-akshully-ing, this lineup would have made much more sense against a reverse-split lefty yesterday. The Red Sox now have a reverse-split righty on the mound and David Ross has four left-handed batters in the order. Mike Tauchman is in center for the first time in a while, followed by Hoerner at short and Christopher Morel at second. Ian Happ is in left, Bellinger slides to first, and Suzuki is in right.
Gomes is catching, Trey Mancini is the DH, and Miles Mastrobuoni is the third baseman.
They'll be facing Kutter Crawford, who is making his 10th start and 18th overall appearance of the season. The 27-year-old righty has limited left-handed batters to a .200 average and .615 OPS so far, while right-handers are batting .293 with an .819 OPS. Lefties fared much better against him in 2022, however, so the numbers may come back around at some point.
Crawford has a mid-90s fastball with a lot of spin and he likes to ride it up in the zone for whiffs. Though he's not a huge strikeout guy, he'll miss his share of bats by getting more chases than the average pitcher. In fact, he's in the 90th percentile for chase rate. He has to get batters to offer at pitches outside the zone because he's among the lowest in the league at getting called strikes.
At just 13.7%, Crawford's called-strike rate ranks 117th out of 119 pitchers who've logged at least 60 innings this season. For what it's worth, Steele ranks 102nd with a 14.7% rate. Both have identical 5.2% walk rates, which ties them for 12th in that same group.
It should come as no surprise that Crawford also features a cutter, which he often locates in the middle of the zone to his glove side. It tends to catch too much of the plate, as do his curveball and split-change, but his slider typically ends up out of the zone to fool batters. The moral of the story here is that the Cubs should see plenty of pitches to hit as long as they're patient and can wait for mistakes.
Crawford has 58 strikeouts and just 13 walks in 61.1 innings, but he's also given up 58 hits and can run into trouble even when he's missing barrels. He has done a good job of limiting hard contact, so this could come down to stringing hits together. I like the Cubs' chances in this one and we'll see if they can get the series win when the finale starts at 1:20pm CT on Marquee and 670 The Score.
Here is today's #Cubs starting lineup for the series finale against Boston!

Tune in: https://t.co/Gs2hZXyTjH pic.twitter.com/LTZjAMwv1O

— Chicago Cubs (@Cubs) July 16, 2023