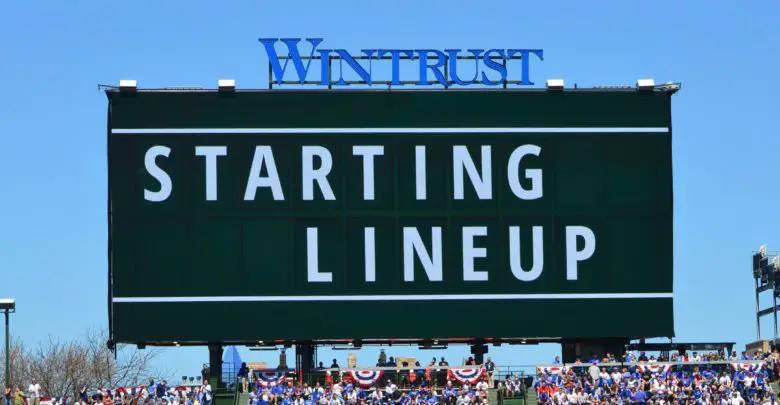 Chicago Cubs Lineup (7/8/23): Tauchman at DH, Mastrobuoni at 3B, Smyly on Bump
Last night's game was pretty shocking as the Cubs dismantled the Yankees behind what may have been the best start of Jameson Taillon's career. It was a performance unlike any opponent has ever had in the current iteration of Yankee Stadium and it may have been just the thing to get him back to pitching like the guy the Cubs thought they signed.
To that end, Drew Smyly getting back to pitching like he was earlier in the season would be a huge boost as well. Through his first nine starts, the lefty was 4-1 with a 2.50 ERA and 46 strikeouts to 10 walks. In eight subsequent outings, he is 3-4 with a 6.13 ERA and 30 strikeouts to 20 walks. His curveball has been nothing short of awful in that recent stretch, which isn't good when it accounts for nearly half of his pitches.
Smyly desperately needs to get that pitch working more consistently for the right kind of strikes, as it's too often been either way out of the zone or very hittable in it. If he's able to dial it in, he could have a really good afternoon against a Yankees lineup that is in the middle of the pack against lefties and is still without Aaron Judge.
The offense may need the help because they're facing a very tough opponent in this one. Mike Tauchman gets another start at DH, where he has an .091 average with a 24 wRC+ in 13 plate appearances so far, then it's Nico Hoerner at short and Ian Happ in left. Seiya Suzuki is in right, Cody Bellinger is in center, Christopher Morel is at second, and Yan Gomes is catching. Trey Mancini handles first base again because the Cubs just can't seem to get anyone to stick there, then Miles Mastrobuoni is at third.
Mastrobuoni is back because Dansby Swanson has been placed on the 10-day IL retroactive to Thursday with a heel contusion, so he's eligible to come off by next Sunday when the Cubs are playing the Red Sox in Chicago. Other moves will probably wait until after the break, but I really think they need to get Matt Mervis back up to see whether he can get things going. Despite what the overly negative folks say, his batted-ball profile was improving a great deal and he appeared close to putting it together.
Jared Young has cooled quite a bit since his hot start and it's telling that David Ross has started Mancini at first base twice in a row now. That's not really a platoon thing since the Cubs are facing a righty, plus that short porch in right field would normally encourage more lefty bats in the lineup. Alas.
Going for the Bombers is ace Gerrit Cole, who's back on his sub-3.00 ERA bullshit after two seasons north of that mark. His 26.3% strikeout rate and 7.4% walk rate are both worse than he's had since 2017 and '18, respectively, but he's offset that by giving up fewer homers. Am I the only one who totally forgot that Cole was with Houston for two years between Pittsburgh and New York?
Hell, I only just realized this was already his fourth season in the Bronx. That's probably because my favorite memory of Cole is how Kyle Schwarber wrecked him with that massive homer in the 2015 NLCS, after which the righty suffered the two worst seasons of his career before being traded to the Astros for Joe Musgrove, Michael Feliz, Colin "Get a Brain" Moran(s), and Jason Martin.
Cole is two months shy of his 33rd birthday and still has five years left on the nine-year, $324 million deal he inked ahead of the COVID season, but he's showing no signs of slowing down. His fastball is still a very robust 97 mph and he throws it about 56% of the time with a ton of spin to keep it up in the zone. His power slider comes in around 90 and makes up 21% of his repertoire and will get chases and whiffs, but it's really all about the heater.
His curve and change make up another 20% or so, but they're really show-me pitches that serve to balance everything else out. Cole's cutter is an afterthought and might show up once or twice. When the fastball is getting that nice ride and sitting up high, dude is nails.
What he's not is unhittable, as he's allowed 92 knocks in just under 110 innings. He's given up at least three hits in 17 of 18 starts and has surrendered five or more in 10 starts. The Cubs will need to string a few together and might want to stay aggressive on the bases in order to make the most of those opportunities.
First pitch is at 12:05pm CT on MLB Network (out-of-market), Marquee, and 670 The Score.
Here is today's #Cubs starting lineup!

Tune in: https://t.co/Gs2hZXyTjH pic.twitter.com/RLXSza440i

— Chicago Cubs (@Cubs) July 8, 2023