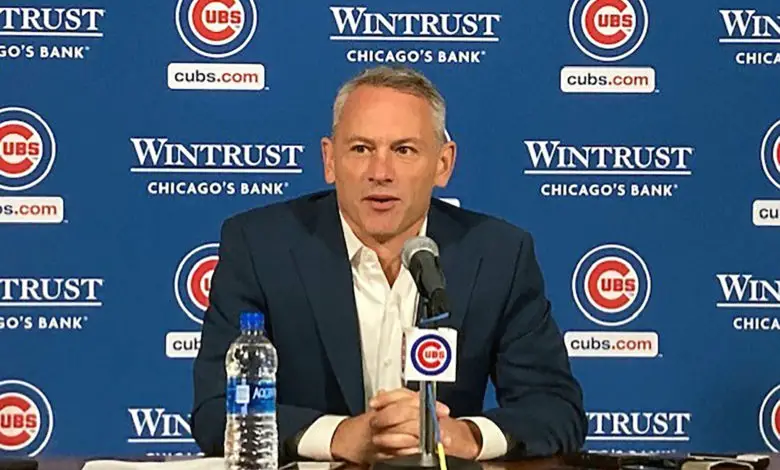 Jed Hoyer Still Wants to Buy, Needs Team to Justify It
Being six games under .500 and seven games out of first is not where Jed Hoyer hoped to be with just a few games left before the All-Star break. They've still got 21 games left ahead of the trade deadline, however, so it's not like Hoyer is going to make any irrevocable decisions during the Home Run Derby. Or at least he's hoping not to.
"Is there a point before [the deadline] when we have to make a decision?" Hoyer said during Tuesday's media availability. "Yeah, of course. Obviously, a week ago at this time, we were talking about the buy side. I still want to be there. We need to start to climb back to .500 again, and we need to start that quickly."
This isn't too different from a month ago, when he hoped a long winning streak would make his decision for him. The Cubs want to be buyers this year because of a number of factors, not the least of which are the new sportsbook and a planned launch of Marquee as a direct-to-consumer, in-market streaming option. Torpedoing their second half probably isn't the best way to extract more money from fans on those fronts.
Tom Ricketts told a crowd of people in London that the plan was to buy at the deadline, then he said a Marcus Stroman extension was Hoyer's decision to make. While the chairman didn't necessarily throw his president of baseball operations under a double-decker bus, the message is as clear now as it was when Crane Kenney boasted that the money was there to compete. Simply put, Hoyer's job is to build a winner right now.
That's why it's so tough to see the Cubs pissing away big early leads and failing to eke out more of the close games they were supposedly built to win. They don't need to get all the way back to .500 in order to justify deadline additions, though doing nothing more than treading water over the next few weeks isn't good enough. Even if things look the same by the end of the month, though, I'm not sure a wholesale sell-off is in the cards.
It's entirely possible they'll move Cody Bellinger and another player or two with limited contractual obligations, but such moves may not end up paying dividends. Bellinger's situation is similar to that of Joc Pederson, who rebounded a bit with the Cubs and netted slugging first base prospect Bryce Ball in a trade during the 2021 break. Ball was just released on Tuesday.
While that result alone can't scare the front office away from other moves, it's important to note that trading players just to trade them isn't necessarily always the best course of action. That's why Hoyer is likely to ride this thing out till the last second in order to remove as much noise from his decision-making as possible. He's still hoping for a winning streak to provide him with a simpler choice, though the fact of the matter is that another skid would do the same thing.
But for all those who are still hoping the Cubs will sell again at the deadline, consider how much harder it is to climb back into contention when you keep stripping talent away from the big club rather than adding to it. The most likely scenario at this point is more of a soft sell that sees Hoyer targeting controllable talent at or close to the big-league level so that they are better prepared to go for it in 2024 in the event that this season is lost.
Either way, it's pretty clear that the preference is to keep pushing for a division title rather than a better draft pick. We'll know by the end of the month, maybe sooner, which of those is in the cards.