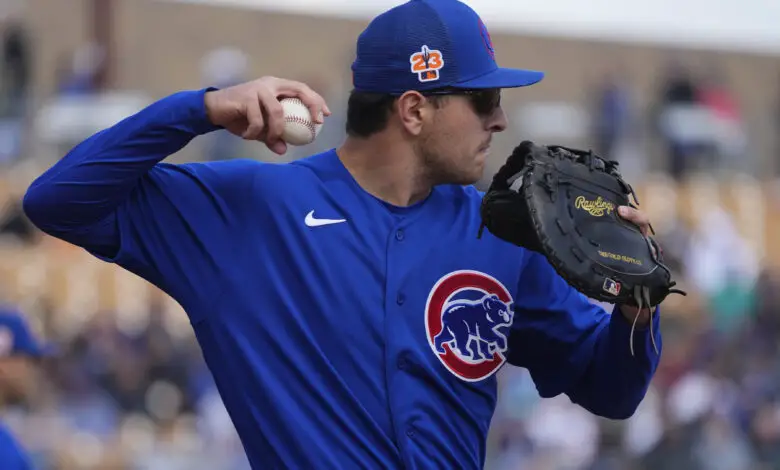 Matt Mervis Showing His Patient Side So Far This Spring
Everyone wants to see him mash in keeping with his nickname, but Matt Mervis appears to be intent on proving he's more than just a slugger. To wit, he has walked four times in four spring games, twice with lefties on the mound. And though he's also struck out four times, his plate appearances display the patience of a much more seasoned hitter.
"I've been very impressed with him," said Trey Mancini, who has served as an example for Mervis at camp. "Just the way that he kind of carries himself and goes about his business. It seems like he has some experience at the big league level. You always forget that he's a younger guy and was in the minors last year."
Mervis has drawn rave reviews from David Ross for his preparation and work ethic as well, no surprise for someone who became the Cubs' Minor League Player of the Year last season in his first full year as a hitter. You'd think a man of his size and strength would be more of a free swinger, but Mervis decreased his strikeout rate while increasing his walk rate at each new level in 2022.
His goal is simply to work gap-to-gap with hard line drives and if they happen to leave the yard, which happened 42 times when you include the Arizona Fall League, it's just a happy accident. That was on display Tuesday as Mervis laced a ball to the opposite gap that left a vapor trail before hitting the wall a few feet up for a double. The ball was hit so hard he almost got thrown out at second.
Matt Mervis rips a double off the wall in left center. pic.twitter.com/rUjPis82Jd

— Marquee Sports Network (@WatchMarquee) February 28, 2023
"That's what I wanna do right there," Mervis told Marquee's Cliff Floyd when describing his approach earlier this spring. "That low line drive to left-center."
I'd imagine we'll see a slightly more proactive hitter as the spring wears on and Mervis gets comfortable with how pitchers are working him. The results so far suggest they're trying to beat him up in the zone with heaters and inside on breaking balls, the latter of which he should be content to spit on as a hitter who prefers to get extended and punish stuff on the outer third.
"I'm happy with where my swing's at mechanically," Mervis told reporters after Tuesday's game. "It's just continuing to work on swinging at the right pitches, getting myself in good counts and, if I get something good to hit early in the count, then be aggressive on that and not miss it."
There's a sense that Mash is kind of baiting pitchers into throwing him something he can ambush, which is where being a former pitcher might work to his advantage. Even though he doesn't have as many overall plate appearances as a comparable former college hitter, his time on the mound gives him a different perspective and cerebral approach that allows him to make up for that lack of experience with ease.
Once he really settles in, I fully expect him to continue terrorizing big league pitchers in Mesa and beyond.
Ed. note: The AP doesn't have any photos of Mervis batting in spring training yet and the screengrabs from videos of that double look like they were processed with a potato.