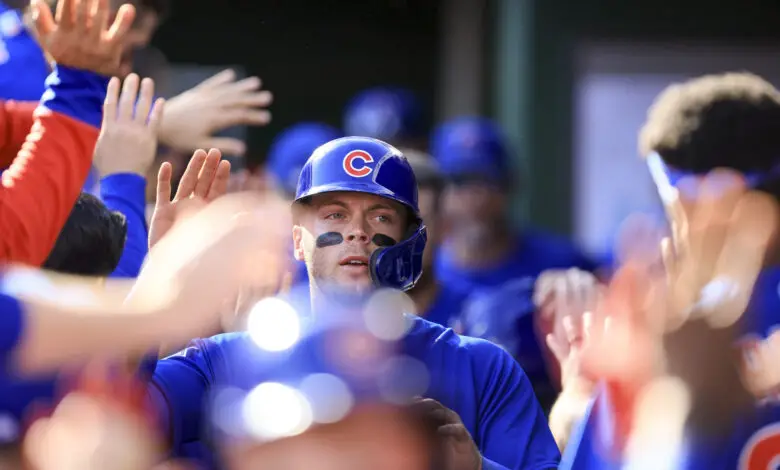 Hoerner Mum on Potential Extension, Mets Unlikely to Sign Britton
Nico Hoerner is one of those dudes who just goes about his business and lets his game do the talking, so you're rarely going to hear anything from him in the media that catches your attention. Even when he's discussing something that could be a charged topic — like, say, an extension — he does a good job of speaking transparently without really saying much.
"He's been honest in his communication throughout," Hoerner said of Jed Hoyer's efforts to work out a long-term deal. "I'm going to continue to keep that stuff in-house for sure. I appreciate the sentiment of not doing things in-season, but we'll see how it goes."
There are several factors working for and against the Cubs in this situation, with the move to what is traditionally a less valuable position and Hoerner's two remaining years of arbitration eligibility falling in the first bucket. The potential for Hoerner to start racking up Gold Gloves and the relative weakness of the upcoming free agent market give him some leverage as well. Ian Happ will obviously get much greater benefit from a watered-down class, but Hoerner doesn't need to be in any hurry to sign.
It's said still waters run deep and Hoerner's plenty active below the surface even if his placid demeanor often betrays that fact. So while he won't talk about either targeting or avoiding previous extensions as templates, you know he's not going to settle for anything like the much-maligned deal fellow second baseman Ozzie Albies signed with the Braves in 2019. At the same time, he's probably not targeting anything in the nine-figure range.
He might be amenable to a 5-6 year deal that would buy out his two remaining arb years and keep him in Chicago through at least his age-31 season. That would allow him to turn around and get another contract of similar length to presumably wind down his career, though there are certainly a lot more moving parts involved.
After talking all offseason about wanting to have any new deals wrapped up before camp opened, Hoyer said last week that he was still willing to negotiate during spring training. Recent history gives us reason to question the veracity of that claim, but Hoerner's situation does lend itself to more of a team-friendly deal than the Cubs could have worked out with the other players who were eventually traded or allowed to walk.
If something does get done, I could see the timing being similar to the deal Kyle Hendricks inked just as the team was breaking camp in 2019.
Once Britton, Twice Shy
In full disclosure, I was going to use "Twice Chi" before thinking better of it. Despite offering superior punnery, there's an implicit message that both Chicago teams might be involved and I didn't want to throw off that vibe. In any case, the suitors for Zack Britton's services may be falling off now that Anthony DiComo reports the Mets are "unlikely" to add the lefty.
Like the Cubs, Steve Cohen's team has only one lefty — former Cubs great Brooks Raley — in the bullpen and could use a little more help there. Many believe having Britton's former manager, Buck Showalter, at the helm put them in the driver's seat as well. Maybe that worked against them, though, as Britton probably didn't want to be left unused in big games.
The Angels were thought to be in the mix prior to signing Matt Moore and there seems to be a strong market for Will Smith's services, so Britton may find himself sitting around for a while. There's no way he's getting close to a reported $9 million asking price and it might be reasonable to question at this point how many guaranteed big-league offers would even be out there.
The Cubs could still use an experienced southpaw, as noted above, but it's starting to look like they may not have as many 60-day IL slots as initially predicted. Ethan Roberts was shifted there to open a spot for Edwin Ríos and it makes sense for Alexander Canario to be placed on the list as well. However, Codi Heuer's rehab appears to be progressing better than anticipated and Kyle Hendricks maintains he's only about a month behind his normal throwing schedule.
Heuer should probably still hit the 60-day because there's no reason to rush him back before June unless everything is pristine. Getting him back at anything close to his best would mean having a high-leverage pitcher, albeit a righty, who can help at the back end of the bullpen. So unless Britton is willing to take a huge discount, the Cubs would probably prefer to roll the dice with Ryan Borucki, Anthony Kay, or another non-roster pitcher who'll earn the league minimum.
I still maintain it'd be great to add Britton if his velo is back up in the mid-90s, though I'd imagine the fact that he's still available means he was throwing in the 92-ish range during showcases. How the bullpen ends up shaking out is one of the big storylines I'll be watching during spring training, and I'd love to see one of the more unheralded guys jump up and force the Cubs to give him a spot.