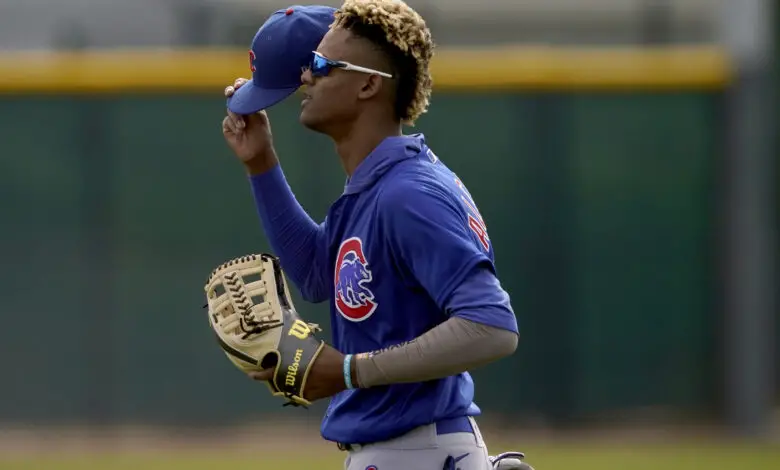 Cubs Have 3 Prospects in Top Half of Keith Law's Top 100
Let's just get this out of the way immediately: Keith Law hates your favorite team and all of its prospects. Okay, not really, but he's definitely not one to fawn over young players. That's why it feels like kind of a big deal that the Cubs landed three prospects in the top half of his latest top 100 list for The Athletic, particularly when you consider Law's criteria.
I tend to favor upside in prospects more than certainty, but there is value in both. A player who is all ceiling and no floor isn't as valuable, in the trade market now or in considering his expected value in the long term, as one who has a somewhat lower ceiling but a much higher floor. I want players who might be stars, and after that I want players who might be above-average big leaguers — but I also try to keep in mind that many of these prospects won't reach their ceilings, and to consider what other scenarios exist for their futures.
Pete Crow-Armstrong is the first member of the Cubs system to appear on the list, popping up at No. 26 after being unranked last year. Law believes PCA's power is real enough for him to remain a double-digit homer guy moving forward as long as he hones his approach after getting a little too aggressive at South Bend. As we've been saying for a while now, the premium defense provides a high floor and the burgeoning offense spells All-Star potential.
Just three spots below and around 60 spots higher than he's been showing up on deeper lists, is Kevin Alcántara, who was also unranked last year. Law echoes my assertion that Alcántara could add 20-25 pounds of muscle without risking any speed or athleticism, particularly since that extra mass would make him even stronger than he already is. Prospect perverts out there will get weak in the knees reading that Alcántara "could be a top-5 prospect in baseball in a year or two, a potential superstar with plus-plus power and speed in a solid or better center fielder."
Sitting at 50 is Brennen Davis, who has been knocked to the bottom of most lists or found himself unranked due to injuries that have limited his playing time. Law was very cautious in his assessment, noting the possibility that the stress reaction Davis dealt with in the Arizona Fall League could signal other issues down the road. The projection to be an impact player is still there, however, so Davis didn't drop too far from last year's No. 28 ranking.
The only problem, if that's fair to say, is that the Cubs still have only three players out of 100. That's a theme we're seeing across all the rankings, one that could easily be taken as a sign that the organization lacks impact talent. Or perhaps it's more evidence that the system is simply very deep. At the risk of coming across as repetitive, I believe the Cubs would be much better represented by rankings that stretched to 200 names.
Based on Law's assessment of Alcántara and pending breakouts from pitchers like Kohl Franklin, Daniel Palencia, Cade Horton, Porter Hodge, and others, it's entirely possible this org more than doubles its number of ranked prospects by mid-season. Then you look down the line and see James Triantos, Ben Brown, Jordan Wicks, Jackson Ferris, DJ Herz, Luke Little, Ed Howard…there are dudes to be found.
This is where I repeat myself again by saying that it's going to be a lot of fun to watch what happens at Myrtle Beach, South Bend, Kodak, and Des Moines this summer.