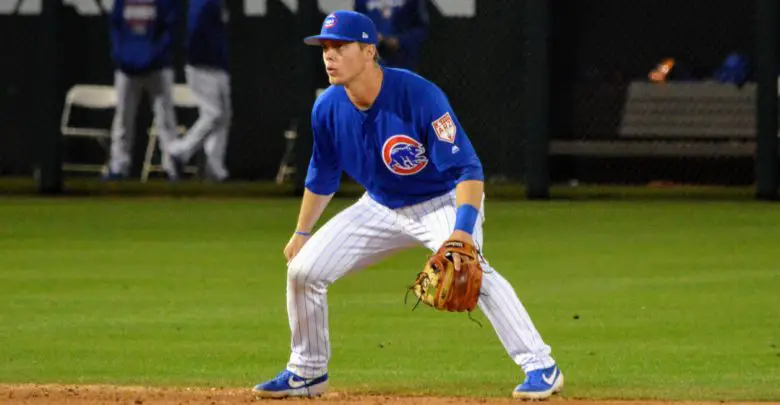 The Rundown: Cubs Still Need LH Power, Defense up Middle May Be MLB's Strongest, Correa Contract Situation a Hot Mess
Shopping season is nearly over and the Cubs still need a left-handed power bat and a reliever or two. Pickings are slim when it comes to offense and the players connected to the Cubs don't inspire a lot of hope. I'd take Eric Hosmer over other options such as Dominic Smith and Miguel Sanó. Hosmer provides consistency, though he is not necessarily a power hitter. Sanó strikes out way too much and Smith is a milquetoast option at best.
Chicago's front office has put a lot of faith in Matt Mervis, who is one of the reasons the team's farm system took a big leap in annual rankings. Jed Hoyer has been less than aggressive in finding a platoon split to pair with the prospect, so maybe he believes in the kid. It also might indicate that he is close to an extension agreement with Ian Happ. Ironically, Happ is often thought of as the final piece for contending clubs like the Yankees and Blue Jays, so why wouldn't Hoyer want to re-sign him?
David Peralta, Corey Dickerson, and Tyler Naquin are players that won't require commitments of more than a year or a few million dollars. Peralta has hit 30 doubles in each of the last two seasons and may benefit the most from new shift rules. Dickerson is a straight platoon against right-handed pitchers and Naquin is the very definition of league average. None of them play infield, so perhaps Hoyer envisions a rotation of Mervis, Patrick Wisdom, and Christopher Morel at the corners.
I didn't mention Trey Mancini because he hits from the right side. Mancini has been linked to the Cubs by Jon Heyman on two separate occasions and he probably has the most upside of any player previously mentioned except Peralta. In fact, Peralta would be a great under-the-radar acquisition. A name to watch on the trade market is Alex Verdugo.
There are more appetizing options when it comes to filling out the bullpen. I'd take Adam Ottavino, Matt Moore, or Michael Fulmer, with the latter as a potential closer. I think all can be as good as or better than Tommy Kahnle. A lot of fans would like to see Hoyer bring back Andrew Chafin, and I'm not opposed to that as long as the Cubs also grab one of the previously mentioned relievers.
Cubs News & Notes
Odds & Sods
I am leaning toward Correa not signing with the Mets.
Three teams reportedly have reached out to Carlos Correa's camp after the Mets reportedly raised concerns over his medical history 👀https://t.co/n5hLhQrvXx

— SF Giants on NBCS (@NBCSGiants) December 27, 2022
Tuesday Stove
The Red Sox are fielding inquiries about the availability of LHP Chris Sale.
The Dodgers are hoping to acquire Bryan Reynolds to replace Bellinger, but might have to give up top pitching prospect Bobby Miller to get him.
MLB players from Cuba will be allowed to represent their country in the World Baseball Classic.
The gap between player salaries and production has especially widened this winter.
Is "Moneyball" officially dead? More players are being paid to leave rather than complete their contracts, and yet teams continue to ink long-term deals that take players well into their 30s. That sounds a lot like the free-agent signings of Johnny Damon and Jason Giambi, the impetus of the Michael Crichton's Lewis book about Billy Beane.
Which of the following players will be the next to be traded? Gleyber Torres or Liam Hendriks? Dan O'Dowd of MLB Network believes the two could be traded for each other with Garrett Crochet going to New York as a kicker.
Raúl Ibañez believes that the new shift rules will have a major impact on the game.
Extra Innings
Maybe it's just me, but Swanson is as grounded and forthright as Kris Bryant was during his time with the Cubs.
As @Cubs fans learned yesterday, Dansby Swanson is as real as it gets.

This is why. @LieutenantDans7 pic.twitter.com/bKLnQ0WVTm

— MLB Players Media (@MLBPlayersMedia) December 22, 2022
Apropos of Nothing
I want to order some pint glasses with the Cubs Insider and Bears Insider logos on them. I can buy a case of each for about three bucks per glass. Perhaps I can give away one per month to readers who take the time to comment. I'll need permission from Jon and Evan, though. Intellectual property is not something anybody should take for granted. Maybe I'll have someone design a Rundown logo.
Tuesday Morning Six-Pack
I hope everybody had a wonderful holiday. If you celebrate Christmas, did you feast on ham, turkey, prime rib, or something else? I was home alone, so I had a steak and some vegetables. Car issues kept me grounded.
The Bears are inching ever closer to the No. 1 overall pick in the 2023 draft. Chicago trails the Texans by one win with two games remaining, and the two teams are well-positioned to exchange draft picks. Houston is very likely to finish the season with two top-10 selections.
Don't mention the word "tank" to head coach Matt Eberflus. He sees value in playing Justin Fields and the rest of his healthy regulars in Chicago's final two games. Eberflus also wants his team to win so that they can prove they are capable of closing.
By the way, Swanson is a big fan of Fields, and both players are from Kennesaw, Georgia. "A tremendous athlete," Swanson said on 670 the Score. "You'd think if they [the Bears] get a star wide receiver around him, he's got a chance to be pretty special."
Have you ever wished that your New Year's resolution could be to do nothing while still improving your life? If so, you'll find this article equally engaging and educational.
Brain scientists say that psychedelic drugs may launch a new era in psychiatric treatment. Have they not read or seen "One Flew Over the Cuckoo's Nest?" 
They Said It
"Leadership has been something that God blessed me with and has challenged me with throughout my career. I even felt like there were times over the last six years when I should have been doing more. I feel like last year was the first step where I really just fully embraced and spread my wings of taking guys under my wing and really leading the team and the culture on how I saw it and how I wanted it to be." – Swanson
"There's nothing better than having a good defensive unit. It's something that can get overlooked in our game these days with analytics and this and that. To me, you're only as good as your four defenders in the middle. Pitching is a big part of it. But center field, shortstop, second base, and catcher — I feel like the group that we have is pretty elite." – Swanson
"Pitching and defense are incredibly important. I think we have a chance to play really clean games. That said, I would never minimize the value of offense. Having sort of a philosophy and only sticking to that one thing — when I look at my career, we won in Boston [in 2004, 2007] by bludgeoning people and playing 4-hour baseball games; we won in 2016 with one of the best defensive teams of all-time. There are a lot of ways to skin the cat." – Hoyer
Tuesday Walk-Up Song
I packed a lot into today's Rundown. That usually happens after a long weekend.