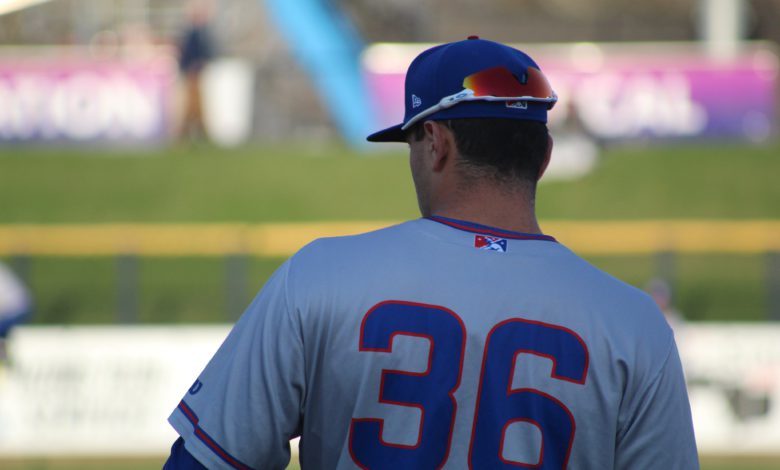 Baseball's RBI Leader Matt Mervis Reportedly Being Promoted to AAA
Matt Mervis entered the 2022 season with pretty much zero hype because he was "undrafted" and turned 24 a week into the year with High-A South Bend. That combination of factors isn't exactly going to pump a lot of helium into a guy playing in a system chock full of very young position players. But all the Duke product, who would certainly have had his name called on Day 2 in a draft that lasted more than five rounds, has done over 80 games between South Bend and Tennessee is earn the nickname "Mash."
By averaging one RBI per game in the first half, Mervis leads all of affiliated baseball in that category. You read that right: No hitter at any level of Major or Minor League Baseball can top Mervis's 80 runs batted in. He's also batting .317 with 21 homers, 25 doubles, and 51 runs scored. That performance was enough to earn him an overdue promotion to Triple-A Iowa, and he could well well be ticketed for Chicago before the year is out.
Cubs 1B prospect Matt Mervis will be promoted to Triple-A Iowa following the All Star Break.

Mervis has been one of the best hitters in the minors this year, slashing .317/.376/.614 with 21 HR and 25 2B.

— Aram Leighton (@AramLeighton8) July 19, 2022
With the trade deadline undoubtedly opening up roster spots on a team that has needed left-handed power in the worst way for a long time, Mervis is an obvious fit. At a stout 6-foot-4 and 225 pounds, he looks the part of a first baseman and is polished enough both at the plate and in the field to acquit himself well at the highest level.
Though his overall production dipped from High-A to Double-A, Mervis nearly doubled his walk rate from 4.6% to 8.7% while lowering his strikeout rate from 24.1% to 20.0% at the higher level. And he did so over more than twice as many plate appearances against a significantly higher level and concentration of talent, so there's no reason to believe the improvements are a product of luck.
You won't find Mervis among the Cubs' top prospects for the reasons stated above, but fans should familiarize themselves with the name because he could end up being a stalwart in Chicago for the next several years.