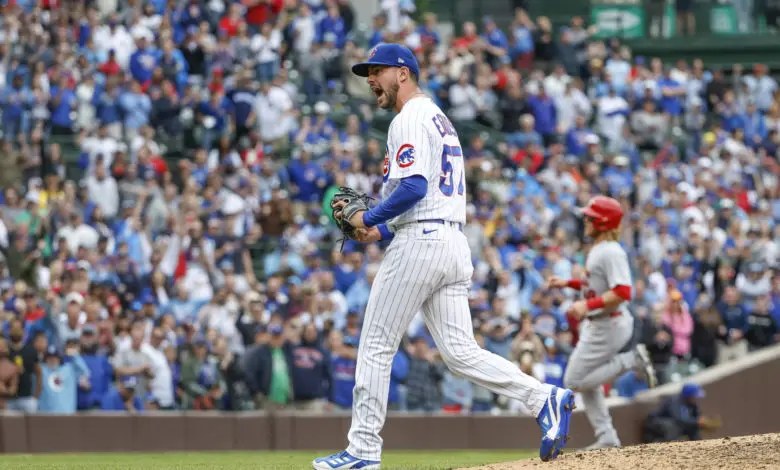 Scott Effross Continues to Be Awesome
After making appearances in both halves of Saturday's doubleheader, Scott Effross — the Eff stands for Fire Extinguisher — has pitched in an MLB-leading 43 games this season. Though it's not quite literal, he's as close to anyone in baseball at living up to the "Every Day" nickname he wanted to earn back at (then) High-A Myrtle Beach in 2017. The sidearm reliever seems to be getting better with experience and it's clear he's not fazed by high-leverage situations.
Effross came on in the first game to face the dangerous Pete Alonso with two outs, two on, and the score tied at one apiece in the 8th. Four pitches later, the inning ended when Effross iced the Polar Bear with a sinker that rode in on the hands and got a grounder to first base. It was a timely effort, but that was nothing compared to the nearly-immaculate inning he put together in the late game.
The Cubs and Mets were yet again tied in the 8th inning when Effross made his second appearance of the day. Mets hitters never stood a chance as the sidewinder unleashed a series of sinkers, sliders, and four-seamers that completely flummoxed his opponents. Five of the first six pitches he threw were strikes, yet none of them drew swings. And even after J.D. Davis managed to keep taking to even the count at 2-2, a half-hearted swing set him down.
Eduardo Escobar finally decided that it would be a good idea to at least try, though he got little reward for his effort. After two whiffs, the third baseman actually fouled one off. Then he took a slider that sailed wide before fouling off a sinker, setting the stage for one of those rising fastballs that make it look like Effross is defying physics.
Scott Effross, K'ing the Side.

Stab, Sword & Swing. pic.twitter.com/jhinJNog8h

— Rob Friedman (@PitchingNinja) July 17, 2022
This guy will surely be given a chance to close games once David Robertson and others are moved by the deadline, and I have a very strong suspicion that Effross will be able to hold that role down. Then again, putting him into the closer's role might reduce his effectiveness by limiting his opportunities.