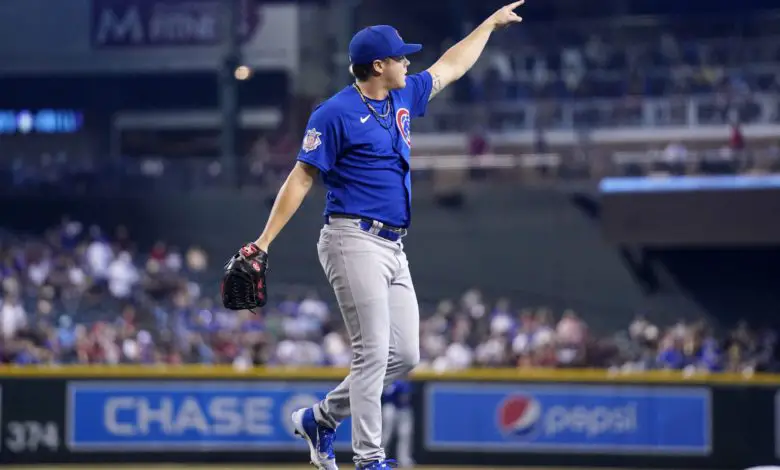 Arizona Can't Stop the Steele as Lefty Notches Career-High 10 Ks
Justin Steele was so good in Sunday's series-clinching game against the D-backs, he managed to jump the Shark and climb a Hill at the same time. With a career-high 10 strikeouts over six innings of work, Steele became the first Cubs pitcher actually drafted by the organization to reach that total since Jeff Samardzija in 2014. Throwing it back even further, Steele is the first Cubs lefty drafted by the Cubs to have a 10-K game since Rich Hill in 2007.
Steele is the first Cubs lefty *drafted by the Cubs* with a 10-K game since Rich Hill 8/22/2007https://t.co/gC4Pf0El1b

— Christopher Kamka (@ckamka) May 15, 2022
Adding to the historical notes, Sunday marked the first time any Cubs pitcher had notched double-digit strikeouts since Kyle Hendricks had 10 on September 18, 2020. The last Cubs southpaw to have that many was José Quintana on August 13, 2019. To me, both of those shorter gaps are more telling from an organizational perspective than the first two droughts. Considering TINSTAAPP and all, the calculus is a lot more complicated than just the Cubs' noted struggles with pitching development.
What's very concerning to me is how the paucity of 10-K performances over the last 2-3 seasons reflects on the decisions of the front office. Anyone who's been reading my stuff for longer than six months is surely sick of hearing me whine about how Jed Hoyer failed to deliver on the promise of adding power arms, but I'm going to keep bringing it up as long as it keeps being relevant. What sucks for you, dear reader, is that it'll be relevant for at least another six months.
Remember when Carlos Rodón seemed like a perfect option for a Cubs team that was supposedly targeting short-term commitments with big upside? He's had 12 strikeouts in two of his seven starts this year and has racked up nine in two others. Kevin Gausman, another member of the most recent free agent class, has reached 10 Ks once and has had eight or more on four other occasions.
Max Scherzer has a pair of 10-K games for the Mets while Dylan Cease has twice struck out 11 for the White Sox this season en route to an MLB-leading 58 total strikeouts. Hey, do the Cubs get any credit for that? I promise I'll return to the main story here eventually, but I really wanted to belabor this tangent before moving on. Just be glad I didn't bring up would-be trade targets like Frankie Montas (12 Ks Sunday against the Angels) or Pablo Lopez (11 Ks Friday against the Brewers).
Now back to Steele's performance, which was made possible by a more efficient approach that saw him record an out in the 6th inning for the first time since September 30 of last year. With the exception of the 4th inning, during which he needed 30 pitches to slog through a long leadoff plate appearance and an error by Ildemaro Vargas, Steele was attacking early to shorten at-bats and innings.
"The starts that have kind of been not quite as good this year for me have been starts where I have a bunch of 3-2 counts, three-ball counts, a bunch of six-, seven-pitch at-bats," Steele told media members after the game.
His slider was working well, but the key in this one was setting up situations in which he could get quick whiffs to end battles early. To wit, he needed four or fewer pitches against 17 of the 24 batters he faced Sunday night. Getting seven of those in the first three frames allowed him the additional leeway to labor through that long 4th, since being at 45 pitches instead of 38 might have had David Ross looking to pull his starter early.
Even with the more efficient early work, it looked for a moment as though Steele might have been cooked. He'd given up an RBI single just prior to the error, which allowed another run to score, and then he walked Josh Rojas on five pitches. Ross stuck with his lefty and Steele rewarded that faith with a 13-pitch 5th that saw him sandwich a strikeout between grounders.
He closed with his strongest inning of the day, retiring the side in order on nine total pitches and finishing with two strikeouts. Steele's game score of 69 — second only to a 79 in his last start of 2021 — was nice, but what's even nicer is the idea that he could continue to build on this performance. Rather than trying to strike batters out on two pitches, he can be much better by trying to do it in three or four.
And yes, I know you can't strike anyone out on less than three pitches, but that's exactly the point. Steele has frequently gotten himself into trouble when he attacks a little too recklessly right out of the gate. By setting hitters up with his sinker and fastball, he can improve both his strikeout totals and his ability to pitch deeper in games.
I guess now we just sit back and hope we don't have to wait another 20 months to see the next Cubs pitcher strike out 10 batters.