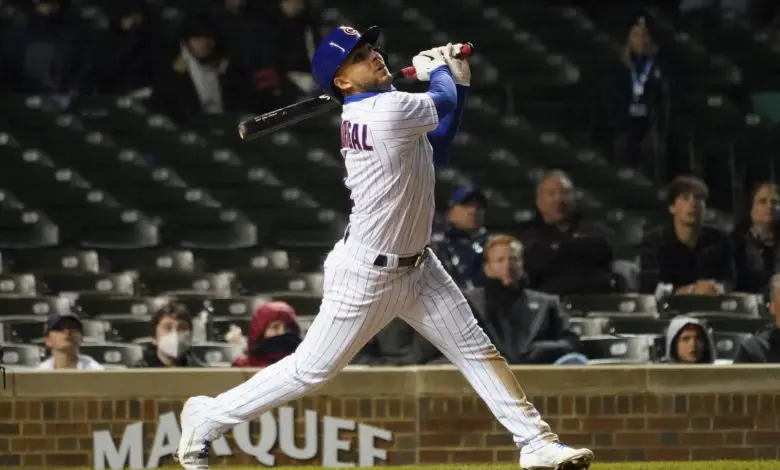 The Rundown: Cubs Live & Die by Contact-Oriented Approach, Suzuki Only Going to Get Better, Schwarber Goes Nuclear on Hernandez
"The boys are thirsty in Atlanta and there's beer in Texarkana, and we'll bring it back no matter what it takes." – Jerry Reed, East Bound & Down
Are the Cubs as good as the team that beat the Pirates in a 21-0 laugher on Saturday, or are they as bad as the team that lost three of four to close out a 2-5 homestand? The short answer is both, but we'll probably learn more of their true identity as they head out to Atlanta to take on the reigning World Series champs followed by a set in Milwaukee against the Brewers.
The Cubs are a great team when they make consistent contact, but when their bats miss baseballs, a strong cup of coffee could beat the pants off of them. In yesterday's 4-3 loss, Chicago batters struck out 11 times. When you rely on stringing together hits and playing station-to-station baseball, striking out more than once per inning applies the parking lot spikes to any rally. Even Nick Madrigal, who does nothing but make contact when he's right, could do little to help the cause. Madrigal took a called third strike with runners on first and third in the 7th inning and went down hacking in the 9th.
The Cubs managed to get 10 hits in yesterday's game, which is usually enough to win unless you go 3-for-13 with runners in scoring position. Killing your own rallies is no way to win a baseball game, and it's especially concerning because it's not like Pittsburgh threw any Cy Young candidates at our boys in blue. The Cubs are off today before a stretch of six games against starters Max Fried, Charlie Morton, and Kyle Wright of the Braves and Adrian Houser, Eric Lauer, and Corbin Burnes of the Brewers. They're going to have to be a little more clutch than they were on the homestand.
The Cubs entered play Sunday with a league-leading 81 runs scored, though roughly 25% of those came in Saturday's blowout. Despite the series struggles, David Ross said he understands the team will need to leverage its contact-oriented approach to win ballgames.
"I like home runs," Ross said. "Everyone likes home runs. But I think we're built to be contact-based. We're just going to have to continue to grind the at-bats, continue to grow and get better, get the ball in the air a little bit more at times."
With expanded playoffs, it's tough to determine whether Jed Hoyer will be a buyer or seller at this year's trade deadline. It's still early and the Cubs do look like a team that is still learning to grow into its new offensive profile. They could be a much better second-half team, but a lot of that will depend on starting pitching. Justin Steele took the loss yesterday and had a week to forget after bowing to the Rays in his previous outing. His pitch counts are too high and he's struggling with command, something that was an issue in Cactus League play as well.
Marcus Stroman and Mark Leiter Jr. have struggled in recent starts, and Kyle Hendricks has been up and down. I'm sure nobody thought Drew Smyly would be the team's most consistent starter heading into the second month of the season. The Cubs' bullpen has been a strength though, so Ross will continue to try to get five innings or more from his rotation and turn it over to the likes of Keegan Thompson, Rowan Wick, and David Robertson, ideally with Chicago ahead. Thompson looks like he could be a real stud.
The Cubs haven't had a scheduled day off in two weeks, so today's break provides a welcome respite and a chance to regroup. After the Braves and Brewers tilts, Ross and his charges get to face the White Sox, Dodgers, and Padres, all of whom feature better than league average rotations. If contact is the key to winning, this squad will need to start making better contact when it counts.
Cubs News & Notes
Odds & Sods
Kyle Schwarber. Legendary.
Kyle Schwarber had enough of Angel Hernandez' calls at the plate tonight pic.twitter.com/kAaIWM1Hvi

— Jomboy Media (@JomboyMedia) April 25, 2022
Climbing the Ladder
"Singing, 'We're gonna vent our frustration and if we don't we're gonna blow a fifty-amp fuse.'" – The Rolling Stones, You Can't Always Get What You Want
The team batting average is heavily buoyed by Saturday's game, as Cubs hitters batted nearly .500 for the game (23-for-48). Despite going down on strikes twice yesterday, Madrigal has just five punchouts in 52 plate appearances. Seiya Suzuki leads the team in BA, OBP, OPS, hits, bases on balls, home runs, and RBI, but his strikeout rate (25.5%) is uncharacteristically high. It's scary to think he's actually going to get better than he has played so far.
Games Played: 16
Total Plate Appearances: 605
Total Strikeouts: 128
Strikeout Rate: 21.57%
Team Batting Average: .273
MLB News & Notes
Miguel Cabrera got his 3,000th career hit over the weekend, and with so much specialization on today's game, he could be the last batter to reach that milestone for quite some time.
Lauer enjoyed the best start of his career in front of a national TV audience.
The Giants are making the bunt fashionable again.
Byron Buxton hit the longest walk-off home run ever recorded with a 469-foot blast against the White Sox yesterday.
Michael Conforto will be a free agent for a little longer than expected. The outfielder had season-ending shoulder surgery last week.
Rays' minor league pitcher Tyler Zombro pitched for the first time since he had brain surgery last June when a 104 mph line drive left him with 16 plates and 36 screws in place to stabilize his skull.
Sunday's Three Stars
Schwarber – Epic bat slam.
Lauer – The Brewers starter you always forget about had 13 strikeouts in six innings and a lot of help from Angel Hernandez in yesterday's 1-0 win over the Phillies.
Joc Pederson – If you're playing the daily lottery, four threes sounds like a lucky combination. Pederson was 3-for-3 yesterday with three runs and three RBI. He also belted two homers as the Giants bombed the Nationals 12-3.
Apropos of Nothing
I spent the day in St. Louis yesterday. Can confirm that it is indeed boring.
Extra Innings
Per Umpire Auditor, Hernandez was the lowest-rated umpire on the day, missing 19 calls for a correct percentage of 85.3%. He rang up 6 batters on pitches that were outside the zone and called a strike to Jean Segura that missed inside by a season-high 6.47 inches.
They Said It
"Maybe we might have scored too many yesterday, should've saved some. It's part of it, they pitched a good game. We strung together some at-bats, we were a hit away obviously. Didn't happen today, but that's why we play 162. It's gonna happen, so hopefully, we're on the other end next time." – Frank Schwindel
"I just kind of think I was getting tired and my front side was leaking a little bit instead of staying back on my back leg and keeping my ear over the rubber. That's something that really helps for me. When I'm doing those two things, I feel like I"m commanding the ball better. I felt like as the game was going on I was getting tired and my front side was leaking out and my arm was not having time to catch up with me." – Steele
Monday Walk-Up Song
You Can Call Me Al by Paul Simon – I know it's tough to fathom that a curmudgeonly pair like Simon and Chevy Chase could give us reason to smile, but this does it.