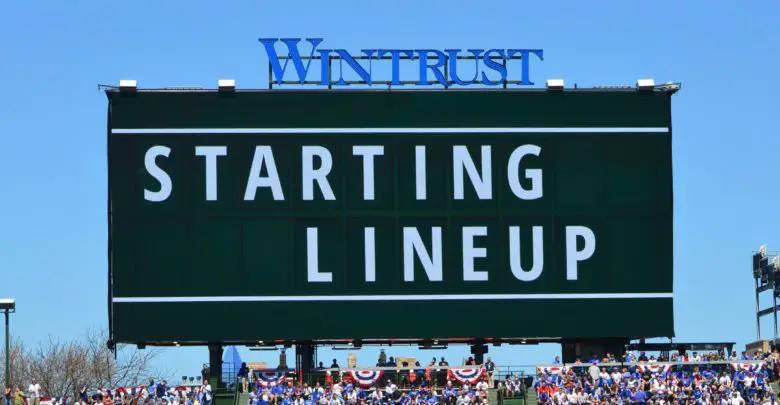 Chicago Cubs Lineup (4/20/22): Stroman Seeking First Win, Suzuki RF, Happ DH, Gomes Catching
It's going to be far from blazing tonight as the Cubs take on the Rays in a rubber game that has been moved up 70 minutes to avoid inclement weather. It's going to take a joint effort to avoid the L and capture a series win in what could be a dank early evening at Wrigley.
That starts with Marcus Stroman, whose personality remains dope even though his production has been blunted by a rough start last time out against Colorado. He got smoked in the high altitude, giving up a nickel in just four innings to take the loss. His control was fine, but his stuff wasn't as sharp as usual and he was knocked around as a result.
Stroman hasn't pitched much against these current Rays, though he does have a little experience as a former AL East foe. Kevin Kiermaier has a career .890 OPS with two homers against the Cubs righty and could be the second member of his family to go yard at Wrigley if he can hit a third. Older brother Dan keeps everything green as the head groundskeeper, and once hit a dinger in BP.
Leading off for the Cubs tonight is Rafael Ortega in left, followed by Seiya Suzuki in right, Jonathan Villar at third, Ian Happ at DH, and Frank Schwindel at first.
Nick Madrigal had his first shot at leadoff on Monday and performed pretty well, going 2-for-4, but he hasn't returned since. He's batting sixth playing second, followed by Jason Heyward in center, Yan Gomes catching, and Nico Hoerner playing short.
The Cubs will be facing Drew Rasmussen, a 25-year-old righty who is making his third start of the season following a pair of not-great outings. With five earned runs allowed on eight hits, including two homers, Rasmussen doesn't seem to be fooling many batters. With just five strikeouts and a 33.3% groundball rate, it feels safe to say the Cubs' contact-heavy approach will play tonight.
It might even be possible to spark a fat rally against Rasmussen, whose big 96 mph fastball has found too many barrels for his breaking balls to mitigate. Some services list him as throwing a curve, but he's mainly a slider/cutter guy who really just uses the heat as a change of pace. That said, the slower breaking ball has been really good for him because it represents such a big velo change from his fastball.
Rasmussen has pitched to pretty wide splits this season and over the previous two, stifling right-handed hitters while letting lefties do a lot of damage. The different so far this year has been that righties have hit both of the homers he's allowed, though that's more a product of facing twice as many of them in the early going.
Between the weather and the lingering lockout malaise, not to mention a number of other team-specific factors, it's very unlikely that fans will pack the bowl at Wrigley for this one. But if you're an opportunist who doesn't mind the temperature a chance of precipitation, you can probably pick up a bleacher ticket for the same price as what your grandfather could have back in his day.
First pitch is set for 5:30pm CT on Marquee and 670 The Score.
Here is tonight's #Cubs starting lineup!

Reminder: First pitch has been moved up to 5:30 p.m. CDT. pic.twitter.com/4JIGiFSUHW

— Chicago Cubs (@Cubs) April 20, 2022