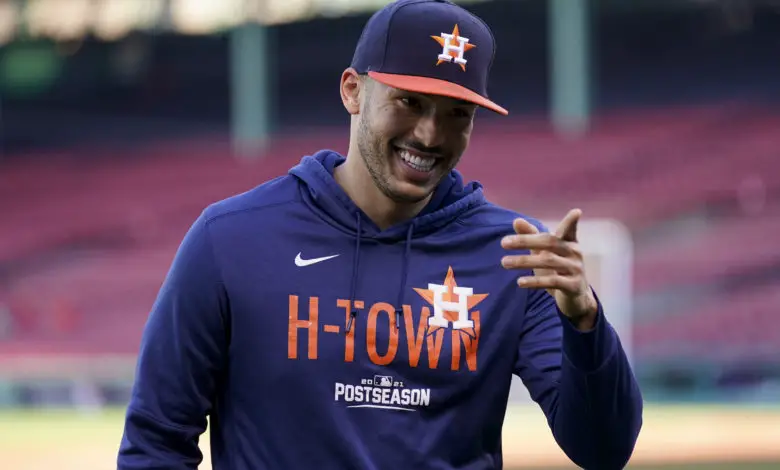 Cubs Still Viewed Among Favorites to Sign Carlos Correa
We've touched on this enough over the last several weeks that you don't need me to break it all down, but yet another plugged-in national writer has connected the Cubs to Carlos Correa. MLB.com's Jon Morosi wrote Friday that the two sides were engaged in heavy dialogue prior to the lockout and that those talks could pick up now that free agency has reopened.
Marcus Stroman is certainly excited about that possibility.
Neeeeeeeeeeed it. @TeamCJCorrea https://t.co/VQijKg0IeS

— Marcus Stroman (@STR0) March 11, 2022
"Even after a fourth-place finish, the Cubs don't appear to be starting a rebuild similar to the one they initiated under Theo Epstein a decade ago," reads Morosi's column. "If anything, they expect to compete for postseason berths in most of the next 10 seasons — the time horizon equating to the length of Correa's hypothetical contract."
The biggest hurdle is obviously financial, what with Correa expected to best the 10-year, $325 million contract Corey Seager got from the Rangers. The former Astros is likely looking to break the mark set for shortstops by Francisco Lindor, who secured a 10-year deal with the Mets worth $341 million. The Cubs could easily lure Correa with a hefty seven-year offer if it's just a matter of AAV, but he's going to want a decade or more.
That timing might not be as restrictive as it sounds, particularly if Correa is willing to move from short in the future. With several talented shortstops coming up through the system, the Cubs could slide Correa over to third as he ages. Or they could simply move those other players around provided Correa is still showcasing elite defense.
Come through and let's have Wrigley jumping my dawg! @TeamCJCorrea @Cubs

— Marcus Stroman (@STR0) March 10, 2022
I would expect something to come together relatively quickly on this front, whether or not it's with the Cubs. Teams have known what Correa wants for a while now and he's already turned down 10 years and $275 million from the Tigers. With the CBA in place and all the financial parameters understood, it's simply a matter of offering the right number.