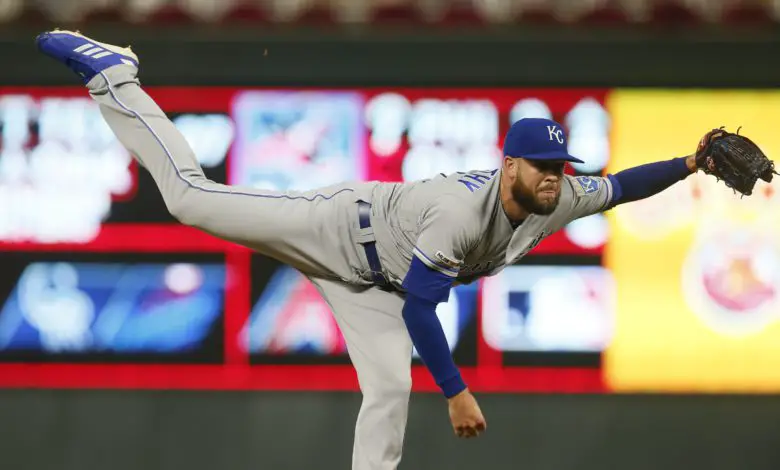 Cubs Have Signed RHP Kevin McCarthy to Minors Deal
The Cubs have signed former Royals reliever Kevin McCarthy to a minor league deal, a move that flew under the radar in light of all the CBA negotiation news. The 30-year-old McCarthy — not to be confused with the House Minority Leader — spent parts of five seasons in KC's bullpen, topping out with 72 innings over 65 appearances in 2018. His performance and usage have declined since and he spent all of 2021 in the minors, but he's still young enough to bounce back.
The first thing that jumps out when scouting McCarthy's numbers is a sharp drop in velocity over the last few years, as his sinker has fallen from 94 mph during his rookie season in 2016 to just 90 mph last season. He was sitting about 92 mph during that breakout campaign mentioned above, setting up what had been a very firm 85 mph changeup. The offspeed pitch has likewise dropped off several ticks, though it's held its value better than the hard stuff over the years.
As you could probably guess, McCarthy relies much more on groundball contact than whiffs to get batters out. He's only achieved a double-digit swinging-strike percentage in one season, and that was when he had an even 10.0% in '18. His called-strike percentage is below league average as well, meaning he's not fooling umpires either, so let's get back to those grounders.
McCarthy kept the ball on the ground at an outstanding 64.3% clip in '18, then followed it up with 58.3% over 56 appearances in 2019. Those numbers dropped in 2020, though he tossed only six innings in five appearances before eventually clearing waivers and signing with the Red Sox as a minor league free agent. That didn't work out well, nor did his subsequent stint in the White Sox system, so now McCarthy finds himself with a new team.
Outside of the grounders and a low walk rate, there's not much about McCarthy's history that gets you excited as a Cubs fan. If we dig into the results a little more, however, there might be something to look forward to once he gets a chance to work with the coaches in the pitch lab.
McCarthy may have as many as seven pitches, including a four-seam, cutter, slider, curve, and splitter in addition to the sinker and change that have comprised about 75-80% of his repertoire in the past. Some of that is noise from different categorizations, with the curve and cutter overlapping and the split meshing in with the change. There's also the very small sample from last season, meaning some of the numbers could be wholly inaccurate.
That said, the possibility exists that McCarthy's splitter — which graded out as his best pitch by far in 2020 — is a weapon in waiting. But if that's the case, how do you explain last season? Hmm, good question. While this is probably yet another move to add veteran depth in the system, maybe the Cubs saw something they think they can tweak in McCarthy's mechanics or sequencing.
If nothing else, he probably won't be texting during the next State of the Union address.