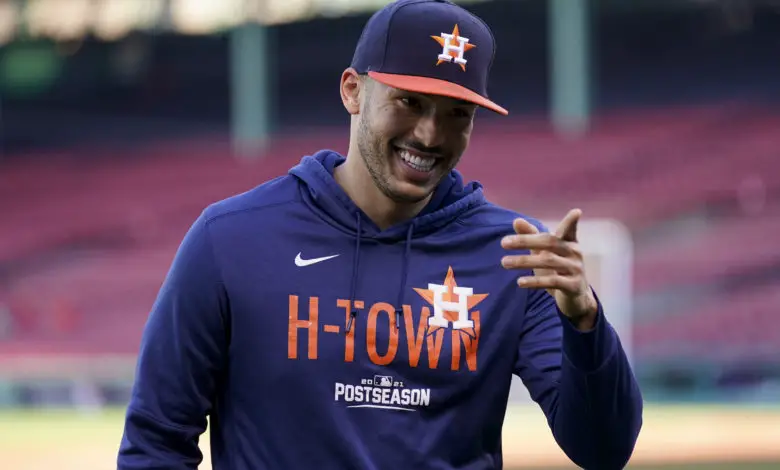 The Rundown: No Point Canceling MLB.TV, Cubs Might Be Correa's Only Viable Option (Not Really), Soto Turns Down $350M, CBA Talks Resume Today
I stand before you to defiantly declare that I am not canceling my subscription to MLB.tv and that I am not siding with the league's owners. I'm aware that part of the regular season could be canceled, but my resistance is based on two very good reasons:
I still believe a settlement is forthcoming, though I am tired of pushing my expectations further into the future; and
I'm just too lazy to unsubscribe and then resubscribe.
Jason Foster of The Sporting News is urging those who do stream live baseball via the league's signature app to bail as a form of solidarity against those persnickety owners. Though I appreciate the idealism, I'm frankly exhausted of the word "cancel," which is now starting to sound a lot more like the boy who cried wolf than any massive call for radical change.
Will your voice be heard by denying the March 1 automatic subscription renewal? Have you ever tried screaming into a tornado? According to his poll, 76.1% of 280 participants are willing to give it a shot.
New poll, as this continues to get chatter on social media:

Would you be willing to cancel your https://t.co/CnnOnGldbK subscription (it auto-renews March 1) and not renew at any point in 2022 to send MLB a message about the lockout?

— Jason Foster (@ByJasonFoster) February 10, 2022
That's significant enough of a straw poll to provide a glimpse of what might be possible, but what's the point?
We're talking about a group of individuals or their corporate kin who had zero issues with canceling the 1994 playoffs and World Series. Foster points out that a mass exodus of 3.5 million subscribers will cost the Billionaire's Club about $430 million, which is nothing more than chump change when you really break it down.
You don't have to be a math major to realize that's a $14.33 million loss to each owner if every single subscriber sends the app into digital darkness. That's not even enough to sign Kyle Schwarber. It might get you a Zach Davies, a Daniel Descalso, a couple of seasons of Andrew Chafin, and 31 plate appearances by Steven Souza, Jr., though.
"Last season, MLB set record streaming numbers — more than 10 billion minutes of baseball were watched — as fans were thrilled to have a full season after the madness of 2020," Foster wrote. "MLB officials no doubt hope to build on that momentum in 2022, but that doesn't mean fans have to oblige. If enough people withhold a subscription in 2022, it would serve as a figurative banana in MLB's tailpipe. It wouldn't crumble the league office by any means, but it sure would be annoying."
The last sentence is his most telling point and one that destroys his argument because it's wrong. Dropping MLB.tv won't annoy Rob Manfred or the owners because they're not driving any ad revenue anyway if the season is postponed or — egads — canceled. Further, they won't give a rat's ass because history shows fans will return to the game even if they say now that they won't. All it will take is a discount on your next subscription.
The only thing more predictable than a Jason Heyward infield shift is that fans always come back. Yeah, there will be some very limited collateral damage, but new fans will replace the old. If I may further augment my argument, it's where we stand as fans in the bargaining talks. Please allow me to paraphrase a quote by Brad Pitt as Billy Beane from the movie "Moneyball."
"First, you have the owners, then you have the players, then you have 50 feet of crap, and then there's us, the fans. We are the last dog at the bowl. You've seen what happens to the runt of the litter? He dies."
The owners don't care about the fans, but neither do the players. Will canceling your streaming subscription change any of that? No, it will not. If you just want to put off your subscription until baseball resumes, that's a perfectly fine reason to pull out. But if you're eventually going to sign up anyway, even after a one-year absence, you're not really joining or promoting any significant movement against MLB and its owners. If that is your goal, quit and do not ever come back.
If you really want to make a statement, start buying your merch from the foreign knockoff sites that sell "real" MLB jerseys for $25 or less. I promise, nobody can tell they're fakes, even if your new Clayton Kershaw jersey spells "DOODGERS" across the breast.
Cubs News & Notes
Odds & Sods
I'd love to be in a position to say no to $350 million dollars. It was a fair offer by the Nationals, and Juan Soto made a gutsy move to decline it.
The Nationals' $350 million offer to Juan Soto (with no deferred money, sources confirmed) was reasonable. So was Soto's decision to turn it down.

Thoughts on what happens now: https://t.co/424UpHqQBS

— Mark Zuckerman (@MarkZuckerman) February 17, 2022
MLB News & Notes
Soto turned down Washington's offer because he clearly has a chance to become baseball's first $500 million player once he reaches free agency.
Ryan Zimmermann has retired after 17 seasons with the Nationals.
Free-agent pitcher Matt Harvey could face a suspension after he admitted to distributing opioids to other players.
Chipper Jones thinks there is a distinct possibility that Freddie Freeman won't return to the Braves.
Negotiations & Love Songs
The players and owners are set to meet for another negotiating session this afternoon.
MLB Trade Rumors has a running update of current collective bargaining positions standing in the way of a resumption of the 2022 season.
Manfred rarely fails to look like the Grinch Who Stole Christmas, but asking the MLBPA to approve another reduction in minor league players may be a new low.
It's important to remember that the owners do have the ability to end the lockout at any time, even if a new agreement has not been finalized.
There is no way to force team owners to put wins over dollars.
Don't forget, concession workers pay the price of an extended lockout and could be losing much-needed income for the second time in three years.
The MLBPA wants its players to become better content creators on social media and blog sites.
Take this with a grain of salt because this week was simply the date for pitchers and catchers to report, but so far, fans aren't really missing the national pastime.
Today's Baseball Jones
It was quite windy here in the Midwest yesterday, which got me thinking about this epic 1979 battle between the Cubs and the Phillies. Oh, for the days of Dave Kingman, Bill Buckner, Jerry Martin, Steve Ontiveros, and Jack Brickhouse. Don't we miss the staccato clack of typewriters in the background of baseball broadcasts?
Extra Innings
Last year on this day, the Padres signed young superstar Fernando Tatis Jr., to the longest contract extension in major league history, a 14-year deal estimated to be worth $340 million.
They Said It
"Yes, they made me an offer a few months ago, before the lockout. But right now, my agents and I think the best option is to go year by year and wait for free agency. My agent, Scott Boras, has control over the situation. Anyway, I still think of Washington as the place where I would like to spend the rest of my career, so we will see." – Soto
"[Brennen] Davis may be fitting into a type — the rangy outfielder with below-average contact rate who is above average at everything else. If that's what he is — say, .245 with some walks and 20-25 homers and fringe-to-average center-field defense — that's an above-average everyday player who made the choice to lean into power rather than contact, when forced to pick one." – McDaniel
Thursday Walk-Up Song
Get Together by The Youngbloods – Protesters are as protestors do, I suppose.