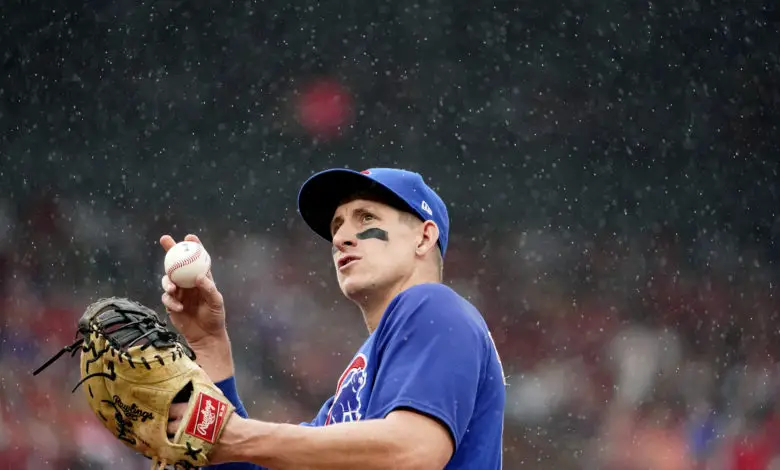 Frank Schwindel Could Be Key to Cubs' Turnaround
Look, I'm not going to sit here and pretend this topic isn't a product of the lockout and the resultant lack of fresh news, but it's not some baseless clickbait creation. The ghost of this particular dead horse is already cringing because it can see the stick I'm holding when it comes to lamenting the Cubs' long-running failure to properly surround their stars with a supporting cast. As Jed Hoyer attempts to correct those mistakes for the next contender, Frank Schwindel may play as important a role as anyone.
I firmly believe the Cubs need to go out and spend big money on a legit free agent who can shore up both their defense and the heart of the order, hence my frequent calls for them to pursue Carlos Correa. They also need to keep improving a rotation that relies far too heavily on contact, something they made half-measures toward accomplishing with Wade Miley and Marcus Stroman. The quality is better, but the strikeouts and contact profile haven't changed.
Let's get really optimistic and say some combination of Caleb Kilian, DJ Herz, Max Bain, Cory Abbott, and [insert several other names here] gives the Cubs those homegrown power arms they've lacked for over a decade. Then we'll further assume Brennen Davis continues to ascend along the same steep trend line he's established, followed by Owen Caissie, James Triantos, and others. That's all they need, right?
Not really, since most of those prospects are at least another year or two away. Even if more than a couple of them were ready in 2022, you're not filling an entire lineup with rookies. Enter Schwindel, who will turn 30 in June and might be the perfect transitional player for a team that will need veteran leaders with balanced offensive profiles to help shoulder the load over the next 2-3 years.
Because he's accumulated less than a year of service time over parts of two seasons, Schwindel is still under club control for six seasons. Given his age, that's basically the rest of his career. And while I'm very much in favor of every player making as much money as possible, the fact that he's still on a rookie deal means even a few years of arbitration increases probably won't push him into non-tender territory for a while yet.
Let's circle back to that whole age/experience thing that many seem to be using against Schwindel, as though he came out of nowhere and his Cubs performance was just a mirage. While his .420 wOBA is way too high to be sustainable and his 163 wRC+ would have been tied with Juan Soto for third-highest in MLB had it come from a qualified sample size, Schwindel has always been a good hitter.
He was showing 20+ home run power back in 2014 and put up a .286/.320/.479 slash with 135 homers in 3,468 MiLB plate appearances. So why did it take so long for him to break through? Well, the Royals had Eric Hosmer through 2017, after which they tried to make Lucas Duda, Hunter Dozier, and Cheslor Cuthbert happen. Feels almost like they made a mistake not promoting Schwindel during what ended up being a Pacific Coast League All-Star campaign.
The Tank did earn a spot on KC's Opening Day roster the following season, but was DFA'd in mid-May after getting one hit in just 15 plate appearances. Primary first baseman Ryan O'Hearn ended up batting .195 with a .650 OPS for the Royals and Cuthbert hit .246 with a .673 OPS. Again, seems like a poor choice. Schwindel caught on with the Tigers and performed well across Double- and Triple-A, but Detroit has that Miguel Cabrera fella you may have heard of.
Following the lost 2020 season, Schwindel signed a minors deal with the A's and was yet again blocked by a combination of Mitch Moreland and Matt Olson. Schwindel was called up in late June and homered in his first at-bat, but got only 19 more ABs before he was again DFA'd. His path was once again blocked, this time by Anthony Rizzo, but the door was flung open by a trade that finally gave Schwindel the chance to prove himself on a team that wasn't really trying to win.
If you squint hard enough, you can see shades of The Natural in this story, at least inasmuch as Schwindel is a very old rookie who no one really believed in until he forced them to pay attention. Even though no one is going to see him on the street and say, "There goes Frank Schwindel, the best there ever was in this game," he figures to be a very solid and consistent performer at the very least for the next couple seasons.
That's very important for a team that needs to fill several holes, particularly when first base has been something of a void when it came to development during Rizzo's tenure. While that's changed of late, there's no ready replacement for the former captain-turned-NFT junkie. Schwindel doesn't need to be the answer, he just needs to be an answer.
And as long as that answer includes a continuation of his contact-heavy offensive profile with decent pop and an okay glove, the Cubs can take big swings elsewhere. I mean that literally because Patrick Wisdom, Ian Happ, and David Bote are known to whiff now and again. Schwindel's 15.8% strikeout rate last season was well below the team average and will help balance the lineup, especially when combined with Nico Hoerner (15.9% career) and Nick Madrigal (7.4%).
You're probably making a mistake if you're counting on Schwindel to be a cornerstone and you're definitely erring if you think the Cubs view him that way, but his very high floor allows the front office to raise the ceiling. That's something they haven't been able to do over the last few years, for one reason or another.
Am I saying Schwindel is Ben Zobrist? No, but there are some similarities in terms of being the guy who makes those around him better by simply being really solid.