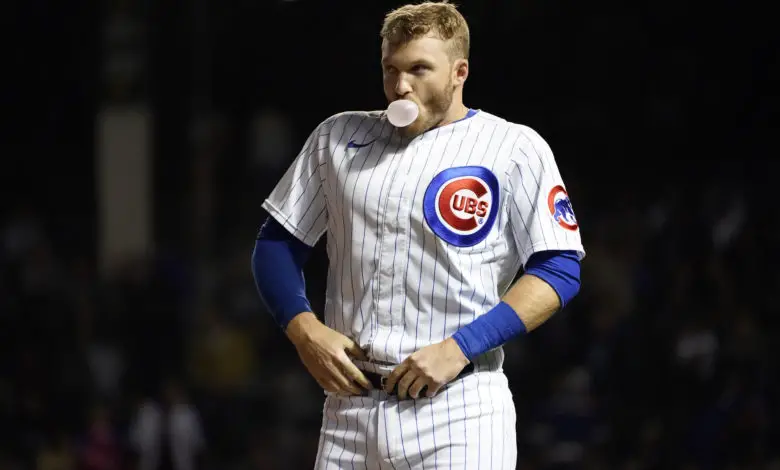 Ian Happ Says Owners 'Didn't Make One Economic Proposal' During Dallas Meetings
MLB owners locked players out as soon as the collective bargaining agreement expired, a strategy the league claims was meant to hasten negotiations. Never mind that baseball hadn't experienced a lockout in over 30 years or that the knowledge of an impending transaction freeze turned the preceding weeks into a free-agent frenzy that garnered more hype and headlines than baseball is used to getting so early in the offseason.
Huh, it's almost as though that's something the league and owners planned.
In his letter to fans on the morning the lockout was enacted, commissioner Rob Manfred decried the union's unwillingness to negotiate. He cited the $1.7 billion spent on free agents in November as evidence that the previous system was working just fine, though he conveniently failed to note how average salaries have remained stagnant since 2015. Manfred also left out the part about revenues and franchise values skyrocketing in that same period.
No, the commissioner made it seem like the players were a bunch of petulant children being placed in time out because they refused to share their toys or eat their peas or whatever.
"This defensive lockout was necessary because the Players Association's vision for Major League Baseball would threaten the ability of most teams to be competitive," read Manfred's statement. "It's simply not a viable option. From the beginning, the MLBPA has been unwilling to move from their starting position, compromise, or collaborate on solutions.
"When we began negotiations over a new agreement, the Players Association already had a contract that they wouldn't trade for any other in sports. Baseball's players have no salary cap and are not subjected to a maximum length or dollar amount on contracts. In fact, only MLB has guaranteed contracts that run 10 or more years, and in excess of $300 million. We have not proposed anything [emphasis mine] that would change these fundamentals."
That last sentence takes on a whole new meaning when you consider the other side of the story as presented by the union. If there's any truth to what Cubs union rep Ian Happ told The Bernstein and Rahimi Show on 670 The Score Thursday, Manfred should have stopped with the bolded text above.
"One of the most disappointing about the trip to Dallas was that the owners didn't make one economic proposal the entire time we were there," Happ said.
He's referring to the summit between the league and union that took place in Arlington in late November, during which brief talks were held to address central tenets of the CBA. Or at least that was the goal, though lead union negotiator Bruce Meyer had previously explained that the league presented a list of non-negotiable topics that included expanded arbitration eligibility, paths to earlier free agency, and ways to combat service-time manipulation.
Another big area of contention is making the game more competitive, which players want to achieve through reducing competitive-balance picks and/or revenue-sharing for teams that aren't actively trying to spend and/or win. That's a tricky subject because of the disparity in markets, but there's no reason for the Cardinals to keep getting free picks because St. Louis isn't as big as Chicago. Nor should the A's be rewarded as they slash payroll while their owner shops for a billion-dollar plot of land in Vegas to call home.
Then there's the matter of a salary cap, which owners posit will create more parity by preventing the big-market teams from simply outspending their poorer brethren. Outspending them by as much, anyway. The players consider a hard cap to be a non-starter because it suppresses earning power, but there's also ample evidence to show that a cap does little, if anything, to encourage parity.
We hear a lot about MLB lack of "competitive balance" and "parity" compared to other sports leagues, but I don't think it's true

"Number of teams to win a title since X" isn't enough in my opinion, but going deeper shows it's still not an issue relative to NFL NBA NHL (thread)

— James Smyth (@JamesSmyth621) December 8, 2021
Then there's the idea that other leagues have rules in place to tie cap spending to salaries, or to make it flexible when it comes to carve-outs for teams that re-sign their own players. Manfred bemoaned the inability for small markets to keep their players in free agency, so one would think following the NBA's model would be helpful. Or they could be like the NFL and mandate that each team spend an average of 95% of each year's cap on player salaries.
The truth of the matter is that several MLB teams want to maintain the ability to carry a very low payroll, so the idea of a cap is really just a shiny object meant to draw attention from the truth.
As Happ acknowledged, the complexity of the CBA and the fact that so many of these topics are "in packages" makes negotiations very difficult. The players realize this now more than ever, whether it's because of how badly they were beaten in the last round of talks or simply because they're more aware due to the changing media landscape and the general evolution of awareness in sports (that's an imperfect way to put it, but I wasn't about to use "woke" there, even earnestly).
Players have been much more outspoken and are presenting a more unified front of late than we've ever seen before, even as recently as the return-to-play talks during the summer of 2020. Happ confirmed that there's actually an overarching union strategy for players to utilize on their social media platforms. That's a big change from the past when owners could easily manipulate PR both nationally and locally through their standard media channels.
We're still a long way from getting this sorted out and the league maintains far too much leverage for a few tweets or radio interviews to turn the tide, but Manfred and those he represents don't look good here.