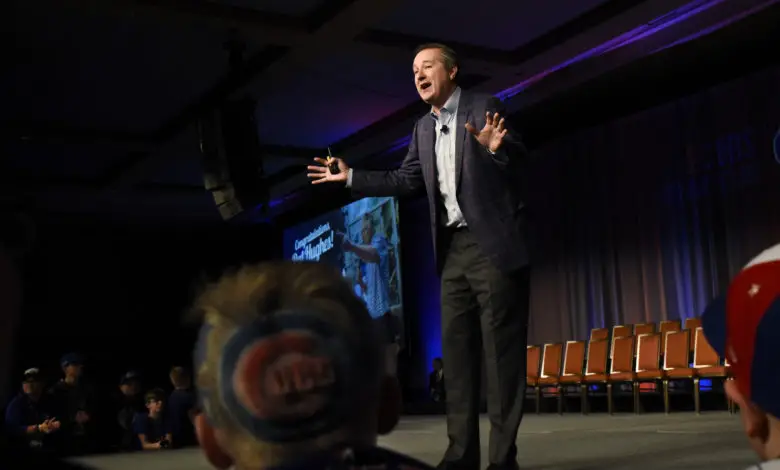 Here's Why MLB Players Are Fighting for CBA Changes
With full realization that a lot of folks are simply never going to sympathize with professional athletes when it comes to money matters, I want to share a little perspective on why baseball players are fighting for changes to the CBA. Put as simply as possible, they're trying to level the financial playing field to ensure they to receive their fair share of the revenues they produce. No one was paying to see Tom Ricketts even when he was actually holding a panel at Cubs Convention.
Members of the MLB Players Association aren't saying they don't get enough money, they're arguing that they don't get enough of the money generated by the league. What's more, MLB's salary structure sees to it that an increasing amount of pay is being dedicated to those at the very top of the sport while those in the middle are squeezed out and those at the bottom subsidize the whole works.
Max Scherzer's three-year, $140 million deal made lots of headlines as part of a November signing spree in which teams dedicated nearly $2 billion to free agents, but the fact of the matter is that the hype overshadowed reality. As Kurt Badenhausen reported for Sportico, the average MLB salary in 2021 was virtually the same as in 2015 despite a sharp increase in the number of players with monster annual deals.
Only three players had contracts paying them $26 million or more in 2015, but that number jumped to 17 players this past season. However, the Associated Press reported that the median salary plummeted 30% from $1.65 million to $1.15 million in that same time and the average MLB salary of $4.17 million on Opening Day of 2021 was down 6.4% from the start of the 2017 season.
This comes as franchise values are soaring over the last decade and league broadcast deals are set to bring in $1.84 billion each year starting in 2022, an additional $300 million over the previous deals. Forbes valued the Cubs at $3.36 billion in its last assessment back in March, a 5% increase from 2020 despite a season in which the team suffered biblical losses because no fans were allowed to attend games. Seems like a big win if the goal is asset appreciation rather than cash flow, which is exactly the case with the Ricketts family and other owners.
Forbes valued the Cubs at a mere $879 million prior to the start of the 2012 season, a 14% increase over the previous year. That means even if the Cubs' value fails to appreciate at all by the time the next valuations drop, which won't be the case, they'll have seen a four-fold increase over the last decade. Player salaries, meanwhile, were up just 21% in 2021 compared to 10 years ago.
Salaries in the NFL and NBA have near doubled over that same period, per Badenhausen, which is significantly better than MLB and comes as a direct result of those leagues tying player compensation to overall revenues. The NBA ensures an equal share to players and the NFL requires teams to spend an average of 95% of their cap in a given season or pay players the balance if that threshold isn't reached.
MLB also has the lowest minimum salary out of the three leagues referenced here, with its $570,500 floor falling well below $925,000 for the NBA and $660,000 for the NFL. Even the NHL's $750,000 is well above baseball. There are obvious differences in roster sizes and length of schedule, but a football roster is twice as big as a baseball roster and MLB plays twice as many games as any of its peers.
The fact of the matter is that Major League Baseball's salary structure isn't as equitable as it should be, whether you view it in relation to its own revenues or the way other professional sports operate. As if MLB commissioner Rob Manfred's letter to baseball fans wasn't farcical enough sans context, his words ring even more hollow when bumped up against the above numbers.
"When we began negotiations over a new agreement, the Players Association already had a contract that they wouldn't trade for any other in sports," Manfred wrote. "Baseball's players have no salary cap and are not subjected to a maximum length or dollar amount on contracts. In fact, only MLB has guaranteed contracts that run 10 or more years, and in excess of $300 million. We have not proposed anything that would change these fundamentals."
He goes on to cite the November spending spree, adding to the classic misdirection tactic and encouraging fans to lose sight of the forest by instead staring at the trees. More than a third of MLB players earned minimum salaries this past season, a far greater number than those in line for huge deals like the ones Manfred points out. Is that still a lot of money compared to regular jobs? Hell yes. It's also an entirely different industry that doesn't operate under the same structure as a school system or factory or [insert your job here].
I'm preaching mainly to the choir here and I highly doubt anyone who feels strongly that players should just shut up and pitch/hit/dribble has even made it this far, but I wanted to lay out the facts of the matter just the same. It's not about baseball players saying they aren't paid well or that deserve more money just for the sake of making more, it's that MLB needs to address the disparity between its increasing revenues and stagnant salary structure.
The MLBPA really just wants a more equitable share of the revenue pie and higher pay early on in players' careers through increased base salaries, earlier arbitration, and earlier free agency. There's obviously a lot more to it than that, but those are some of the main tenets. Seems pretty simple when you put it that way.
Oh, and one more thing: Paying a player a huge salary is not the reason your ticket prices are going up. Do you really think a team would trim payroll and then reduce ticket prices accordingly? I sure hope you don't. That said, I want the best possible product on the field and I'd be a lot more willing to pay top dollar to go to a game if I felt the team was doing what it takes to make that happen.