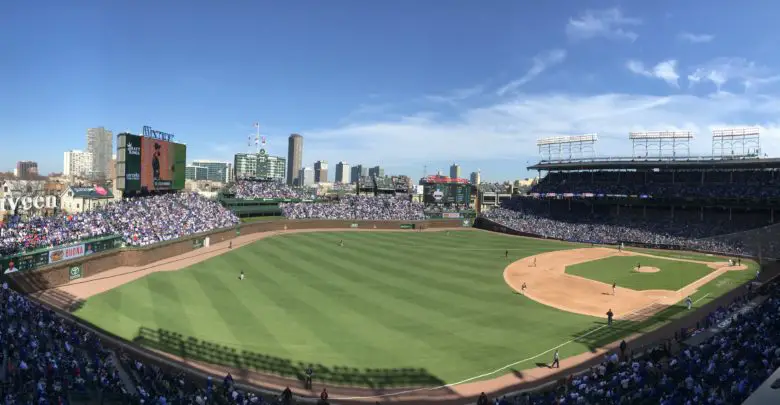 The Rundown: Relevant Baseball News Tough to Come By, Stroman Speaks About Mental Health Challenges, Mets Set to Interview Managerial Candidates
As a blogger, I sometimes forget I'm first a fan of the Cubs and the game of baseball, though not always in that order. At best, I serve as a less-than-formidable simulacrum to paid sportswriters. If a doppelganger exists, it is my level of critique of the home team only. Bloggers can be fans and critics alike, whereas beat writers sometimes find it unethical or irresponsible to cross that line.
I doubt I'm the influential and innovative practitioner of baseball analysis and life's wisdom I tend to think I am. However, I do believe that I rarely resort to attention-grabbing headlines and yellow journalism to garner extra clicks. Can I be pompous and self-righteous, even when I shouldn't? Of course, I can.
With the lockout, the business of baseball is being force-fed to each of us in quantities undesirable to digest. Some writers take liberties with the knowledge to which they're privy, leaving us to decipher intent and fact. We pass a filtered form of that information to our readers in the hopes they'll provide supportive commentary.
Debates often ensue, but that's the intended outcome. The joy of blogging is interacting with readers in the comments section. It's the nihilistic blowback that validates our work and, more importantly, guides us in the curation of future content. While it's wonderful to read positive comments, there's not much to do with them but say thank you.
I'm older than most of my peers, so I've seen sports journalism regress across five full decades. My favorite newspapers turned the elegance of Bob Verdi and the brilliance of Mike Royko into the wretchedness of Jay Mariotti.
Of course, I'm not talking about the game itself. I love baseball's lighter moments and player antics. I believe a Willson Contreras 50-meter bat flip is worthy of a theatrical score on par with the light tower shot in the movie The Natural. Verdi would have condemned it and Royko would have discharged it. Mariotti would have called for the head of the offender if only to generate controversy and attention.
We should embrace the youth of the sport. Once we were the won't-be-denied kids who got caught up in the sublime illustriousness of our achievements. At times, few of us acted in a respectful manner even if we believed it was the right thing to do. No one can convince me otherwise, a heat-seeking, chin-high projectile from Don Drysdale be damned.
My point is to let you know that I'm aware of the privilege I hold to write about baseball every day. Baseball content worth reading will become more sparse as this lockout continues, and I have no desire to achieve my authorial stamp through forced content. The game itself has always been the subject of my work. It makes perfect sense that that should influence my current work, too. My passion for baseball and my assessment of its beauty must function as refracted observation so I will be at my best.
Most baseball bloggers are motivated to find some form of daily coherent expression that elucidates our preoccupations with the sport. More succinctly, and using the words of H.L. Mencken, it's my simple wish "to give outward and objective form to ideas that bubble inwardly and which have a fascinating lure [to] them."
I love baseball and I love the Cubs. More importantly, I love the breathtaking moments and unspeakable beauty the game often provides. An end to this war between the owners and players will assuredly be a sight for this middle-aged man's sore eyes.
Cubs News & Notes
Odds & Sods
There is nothing like a perfect game by Don Larsen one year later to exact a little revenge.
Brooklyn #Dodgers legends Roy Campanella & Gil Hodges each hit a HR vs. New York #Yankees pitcher Don Larsen in Game 4 of the 1955 World Series at Ebbets Field! ⚾️ #MLB #Baseball #History pic.twitter.com/7fLy2C4qqz

— Baseball by BSmile (@BSmile) December 7, 2021
MLB News & Notes
Brad Ausmus, Joe Espada, Matt Quatraro, and Buck Showalter are all expected to receive interviews for the Mets' open managerial job.
The Yankees, Blue Jays, and Red Sox have reportedly been the most aggressive in pursuit of outfielder Seiya Suzuki.
If Boston were to sign Suzuki, they'd pivot from attempting to retain Kyle Schwarber.
The Red Sox are also said to be interested in Trevor Story, though they would probably like him to play second base.
Houston starter Lance McCullers Jr. said the Astros are still in the running to sign Carlos Correa. The two are very good friends on and off the field.
Though the major league portion of the Rule 5 draft has been postponed indefinitely due to the lockout, the minor league portion will not be affected and will be held on Wednesday.
Several free agents may be scrambling to find new teams once the lockout is over.
From the Bargaining Table
The notion that the league lacks true competitive integrity sits near or at the top of the players' wish list for changes in the next collective bargaining agreement.
Dayn Perry of CBS Sports fact-checked Rob Manfred's open letter to baseball fans, and a lot of what the league commissioner said doesn't quite pass the smell test.
Today's Baseball Jones
That time Kyle Farnsworth threw at Reds pitcher Paul Wilson and then charged toward home plate to take Wilson down with his bare hands.
Extra Innings
In June of 1972, two men changed the rules regarding option clauses and helped end indentured servitude in baseball.
They Said It
"For me, it's always been about trying to build a roster that can compete this year. And we've talked about, obviously, there [are] challenges with that. We have a number of holes to fill. We lost a number of players, but I still feel like that through free agency, we had some flexibility. If we can be shrewd, I think we can certainly do that." – Jed Hoyer
Tuesday Walk-Up Song
For the Love of Money by the O'Jays – No explanation necessary.