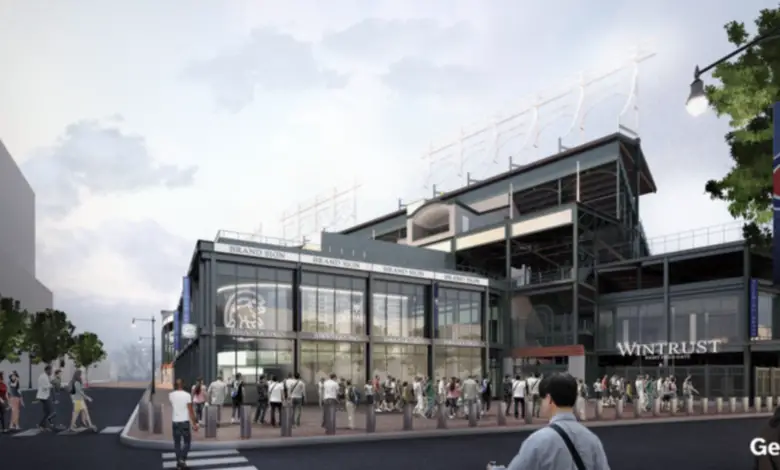 Cubs Release Plans for Massive Sportsbook Addition to Wrigley Field
The Cubs may have torn down the roster recently, but they're looking to add in a big way to other areas of the organization. Thursday brought news that they have released plans for a two-story, 22,350-foot addition to Wrigley Field at the northwest corner of Addison and Sheffield that would house the nation's largest individual sportsbook. The plans have been submitted to the City Council and, if approved, the team would aim to complete the construction by the end of 2022.
Cubs going before the Commission on Chicago Landmarks today with plans for a two-story addition to Wrigley Field, which would house the team's sportsbook. First look at new renderings here: https://t.co/GvZ8fuI3KV

— Danny Ecker (@DannyEcker) August 5, 2021
You may recall that the Cubs entered into a reported $100 million with DraftKings last year to bring a sportsbook to Wrigley Field. That money is set to be paid in $10 million increments over 10 years, a pittance compared to the possible revenue such a venue could take in.
Gambling laws passed in Illinois allow up to seven sports betting licenses within five blocks of sports facilities that have a capacity of at least 17,000, but this appears to be a little more flashy than your average storefront operation. Pending approval, the new addition to Wrigley would be one of the first betting operations at a major U.S. pro sporting venue.
The Cubs still need a bevy of approvals outside of the City Council, including sign-offs by the National Park Service, the landmarks panel, and a license to open a sportsbook from the Illinois Gaming Board. Last year, the Ricketts family applied for and was awarded a special designation of Wrigley Field as a National Historic Landmark. That designation garnered a return of 20% of the "qualified rehabilitation costs" worth around $75 million.
The timing of this really couldn't be worse in terms of optics, since it's never a good look to dump payroll the way the Cubs have this year and then release plans spend a bunch of money on an addition to the ballpark. It's really difficult to believe the oft-repeated line that all surplus revenue will go directly back into the baseball payroll when we see things like this happening. Or maybe, like Marquee, it'll take a few more years for all of this to pay dividends.
While Tom Ricketts and Jed Hoyer would like us to believe there's a difference between a reset and a rebuild, what they're really hoping is that government officials are less concerned about the state of the Cubs and more interested in building a bigger revenue center for the state and city.
How's the song go again? "Well this is the year and the Cubs are real, so come on down to Wrigley Field." I guess they'll need to add a new line in there about the sportsbook. I know my kids are going to love singing that one.
---
Update: The city voted unanimously to approve the sportsbook.
The Cubs were given approval by the city today to build their sportsbook adjacent to Wrigley Field. The vote was unanimous.

— Jesse Rogers (@JesseRogersESPN) August 5, 2021