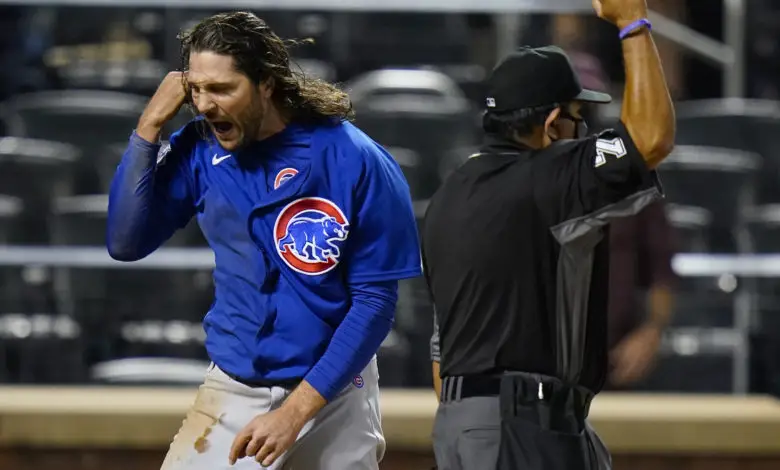 The Rundown: Bats Dying in Gotham, Cubs Get deGrom Today, Bryant Avoids Serious Injury, Baseball Cracks Down on Sticky Stuff
"New York, I love you, but you're bringing me down." – LCD Soundsystem
Instant Replay
The Cubs' offense has ground to a halt in New York, and they've yet to face perennial Cy Young candidate Jacob deGrom this series, though that changes tonight. Armed with a 100 mph fastball, a wipeout slider, and a tidy 0.56 ERA, he'll face a Cubs team that is batting just .205 since starting the month with two wins over the Padres. That the Cubs are 8-6 in June is a testament to their strong bullpen.
Last night's 3-2 loss to New York featured little in the way of significant offense except a two-run bomb by Javier Báez in the 3rd inning. Other than that, Chicago managed just six singles and struck out 15 times against Taijuan Walker and Seth Lugo. A 9th inning rally that could have at least tied the game died on the vine thanks to an unfortunate judgment by third base coach Willie Harris. An 8-4-2 putout executed perfectly by the Mets cut down the potential tying run Jake Marisnick by a country mile.
Just a monster 8-4-2 to cut down Jake Marisnick trying to score the tying run from first base. A near-perfect relay from Kevin Pillar and Luis Guillorme for the second out.

Mets 3, Cubs 2, top nine. pic.twitter.com/ilYdY2uyAm

— Anthony DiComo (@AnthonyDiComo) June 16, 2021
The Mets are a surprising 34-25 and are exacting a little revenge for their sweep at the hands of the Cubs back in April. Chicago's sputtering offense is unlikely to find its missing mojo against deGrom, who owns the lowest ERA after 10 starts in the history of the game. Believe it or not, the Mets ace is 2-3 with a pedestrian 3.30 ERA lifetime against the Cubs. Then again, deGrom is pitching at an otherworldly level this season, even for him.
According to Baseball-Reference, deGrom's ERA+ currently sits at a frighteningly unfathomable 686. How filthy is that? No player since 1947 has finished a season with a higher mark than the 292 recorded by Trevor Bauer last season, and the highest for a 162-game season is the 291 that Pedro Martínez registered in 2000. In fact, the bar for best performances by a starting pitcher belongs to Bob Gibson in 1968, when he led the majors with a 1.12 ERA. His ERA+ that season was 258.
To say the Cubs have their work cut out for them tonight is the understatement of the year, and they may have to go into battle without all-everything Kris Bryant, who left yesterday's game after getting hit by a pitch. I love that fill-in players like Patrick Wisdom (1.229 OPS) and Sergio Alcántara (155 OPS+) are having odds-defying seasons, but they should be no match for deGrom. The best the Cubs can hope to do is keep it close enough so that maybe their bullpen can get them a victory.
The Good: That two-run jack by Báez was his team-leading 15th of the season.
The Bad: 15 strikeouts in 34 plate appearances won't beat very many pitchers, yet the Cubs should have won last night's game in spite of that futility.
The Ugly: Harris snatched defeat from the jaws of victory.
Cubs News & Notes
Odds & Sods
The cup snake is unlikely to snag player-of-the-month honors, but MVP for a day is not a bad consolation prize.
This 100-foot cup snake is officially the MVP of the weekend pic.twitter.com/ZbbCG1O1d1

— The Baseball Newsletter (@bbletter) June 14, 2021
Climbing the Ladder
"Well now, I get low and I get high, and if I can't get either, I really try." – Bee Gees, Staying Alive
Games Played: 67
Total Plate Appearances: 2,463
Total Strikeouts: 631
Strikeout Rate: 25.6%
Team Batting Average: .232
Apropos of Nothing
The Bee Gees caught a lot of grief in the 1970s for embracing the disco movement, and in hindsight, they're one of the most underrated vocal groups of all time.
How About That!
MLB has vowed to crack down on the sticky stuff pitchers are allegedly applying to baseballs. The league's enforcement comes after a two-month investigative period in which MLB reportedly found the use of foreign substances to be more widespread than ever.
The Sticky Stuff Scandal (TM) may be hotter than the sign-stealing scandal of 2018-19.
The Padres, whose starting staff has some of the best spin rates in baseball, say they're looking forward to the league's enforcement of the new rule.
Of course, Bauer was the first to trash the new ruling.
Take it from a guy who knows, like Red Sox manager Álex Cora: "Being suspended is Hell." Cora said there was a meeting on Tuesday that included all 30 MLB managers, Michael Hill (MLB's senior VP of on-field operations) and Theo Epstein (MLB consultant) as the new rules were explained.
The Giants are going to a streaming-only option for their weekend series against the Phillies.  Both teams are equity partners in NBC Sports, who will be denied television broadcast rights for the three-game set. Peacock, the streaming service owned by NBC, will carry the games with no blackout restrictions, which is the bigger news, actually.
Yankees GM Brian Cashman soft-peddled his endorsement of manager Aaron Boone yesterday.
Despite their middling start, Cashman intends to be a buyer at this year's deadline and is looking for a centerfielder. Things might become interesting in Chicago if the Cubs make Ian Happ available.
White Sox second baseman Nick Madrigal will miss the rest of the season after having surgery to repair his hamstring.
Sox starter and former Astros ace Dallas Keuchel said he really dislikes former Houston GM Jeffery Luhnow.
Tuesday's Three Stars
José Altuve – The All-Star second baseman hit a game-ending grand slam to help the Astros beat the Rangers 6-3 in celebration of the 72nd birthday of Houston manager Dusty Baker.
Mike Yastrzemski – Yaz also hit a game-winning grand slam, though his tater was not of the walk-off variety.
Ryan McMahon – The Rockies outfielder was perfect at the plate, going 3-for-3 and a double short of the cycle with four RBI.
Take Me Out to the Ball Game
The Dodgers re-opened their stadium at Chavez Ravine to full capacity for last night's game.
Yankee Stadium will return to full capacity on Friday.
Extra Innings
The all-time futility watch for the Diamondbacks is officially on. The 1962 Mets finished 40-120 and the Diamondbacks may be a worse team. Arizona has now lost 21 straight road games.
Jon Miller with the call as Mike Yastrzemski hits a go-ahead grand slam for the Giants with 2 outs in the 8th inning.

The Diamondbacks led this game 7-0. https://t.co/DqdEvmjuQ2

— Awful Announcing (@awfulannouncing) June 16, 2021
They Said It
"Trying to make something happen there late. I don't have a problem with that at all. I thought that was a good send. Mistakes are kind of hindsight. If [Marisnick is] safe, you're not going to say it's a mistake." – David Ross
"To be clear, the memo is fine long-term, and it will serve to level the playing field. That is a good thing. But to implement it midseason when for 3 months you've promised players and teams that nothing about your chosen enforcement of the rules would change this year and actively encouraged players to continue playing how [they] have in the past, that's a lie. There's no integrity in that. So save it with the competitive integrity bullshit MLB. All you care about is the bottom line of the business, and public perception negatively affecting it." – Trevor Bauer
Wednesday Walk-Up Song
New York State of Mind by Billy Joel – It's always a good time personally when I get to post a video from the Old Grey Whistle Test. I've had a long-distance love affair with New York City my whole life, and in fact, I use to attend the Big East Tournament at Madison Square Garden every year. I still hate the Mets, though.
Fun facts: I was in Manhattan the day before the 9/11 attacks, I usually stay in Jersey City so I can fall asleep looking at Gotham's elegant skyline, and on my first trip to the Big Apple I met Mickey Mantle at his restaurant on Central Park South.