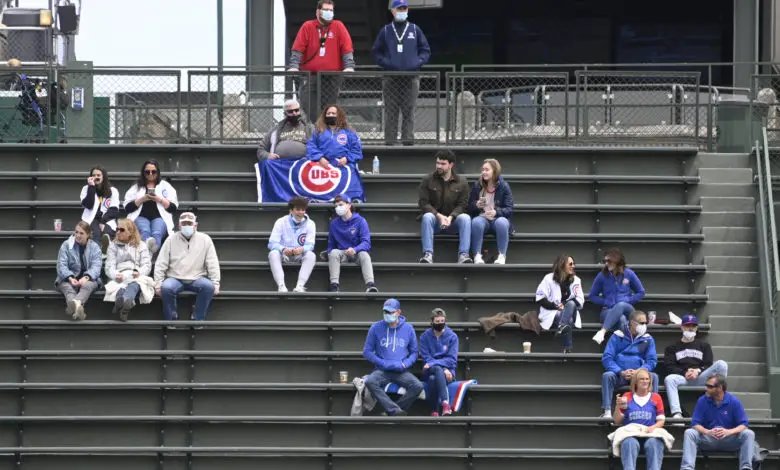 The Rundown: Cubs Loosen Attendance Restrictions, Dead & Co. Announce Wrigley Concerts, MLB Signs $3.92 Billion Renewal With ESPN
"Harmony and understanding, sympathy and trust abounding
No more falsehoods or derisions, golden living dreams of visions
Mystic crystal revelation and the mind's true liberation." – The 5th Dimension, Aquarius/Let the Sunshine In
Instant Replay
"If you are fully vaccinated, you can start doing the things that you had stopped doing because of the pandemic." – Rochelle Walensky, director of the CDC.
And just like that, the pandemic is over.
I'm saying that facetiously and hesitantly, of course. In an age where Big Pharma has dominated the news and one of every four commercials is designed to make us believe we need more prescription drugs in our lives, the CDC has told us that we can return to the old way of doing things as long as we're fully vaccinated. The emphasis is on that coordinating conjunction, in case you're keeping score at home.
News of that magnitude ought to come with its own theme music and I'm sure marketing departments from Pfizer, Moderna, Johnson & Johnson, and the good ol' US of A were hard at work overnight deciding how to commercialize another triumph for modern medicine. Personally speaking, I chose the boomer-centric hippie anthem I mentioned above for our pharmaceutical buddies. It just seems appropriate, being that I'm a boomer-centric hippie both at heart and according to my birthdate.
Additionally, the Cubs announced that they've received approval to increase capacity to 60% starting May 28, and, as long as Wrigley Field doesn't become an epicenter for the next superspreader outbreak, it's a safe assumption that capacity will be returned to 100% on July 5. That's when the Cubs kick off a seven-game homestand against the Phillies and Cardinals leading up to the MLB All-Star break.
Further, Dead & Co. (see what I did there?) announced they will play a two-night set at the Friendly Confines in mid-September, presumably to a full-capacity crowd bedecked in tie-dye t-shirts, masks, and Dead-themed Cubs jerseys. It's almost enough to bring Eddie Vedder to tears.
Not a day's gone by I haven't dreamed of being back on stage in the open air, playing the music I love among the friends I cherish.
Verified presale begins Wednesday, May 19th at 10am local time. Let's play. ⚡️💀🌹 https://t.co/FBI3rtGX3w pic.twitter.com/mWzGfUesTh

— John Mayer (@JohnMayer) May 13, 2021
As far as our Boys in Blue, I hope returning to pre-pandemic normalcy means Ian Happ, David Bote, and Jason Heyward will get their batting averages above .200 and that Zach Davies, Kyle Hendricks, and Trevor Williams will see their earned run averages drop below 5.00. We're almost a quarter into the season and the Cubs do not have a starter that's at least league average. I don't suppose Moderna has a shot for that.
And hey, Tom Ricketts, if you're reading, please take advantage of your soon and sudden attendance-based financial windfall to extend Kris Bryant and Anthony Rizzo. Maybe we'll give you your own theme song in return, or at least an auto-tuned cover version of one.
---
---
Cubs News & Notes
The "Real" Moneyball
ESPN announced they've agreed to a seven-year renewal with MLB worth $3.92 billion in total, or $560 million annually from 2022-28. That should give Ricketts plenty of scratch to pay Bryant and make for some nice conversation at the CBA bargaining table this winter.
Odds & Sods
Imagine pitching a no-hitter but walking nine guys.
Two of baseball's more imperfect no-hitters were pitched on this date: The #Cubs' Sam Jones in 1955 (eight walks) and the #Marlins A.J. Burnett in 2001 (nine walks and a HBP). https://t.co/s3LLmyaXqe

— This Great Game (@ThisGreatGame) May 13, 2021
Apropos of Nothing
I had a dream last night that I made a guest appearance in Wrigleyville with Danny Rockett's Bleacher Bum Band, singing a set that included "Get Out Of My Life Woman" by Lee Dorsey that segued into Gershwin's  "Rhapsody in Blue" featuring Katie Day on her old-timey piano. We followed it with Grateful Dead standards "Scarlet Begonias" and "I Know You Rider," leaning on a scorching guitar solo by Bleacher Jeff.  It was a helluva jam.
Apropos of Nothing II
I was thinking of the 1940's Variety headlines when trying to come up with today's title, so here's my shot at nostalgic infamy:
"Pulitzer Pothunter Proclaims Pandemic Pasteurized"
I'll be here all week.
How About That!
Brewers starter Corbin Burnes set the all-time record for consecutive strikeouts without a walk, extending his run to 58 before issuing his first free pass of the season in the 5th inning of yesterday's 2-0 loss to the Cardinals.
The Royals have lost 11 straight games.
The Rockies had a 10-run lead over the Reds going into the 8th inning before eeking out a 13-8 win. Yes, the game was played at Coors Field.
The White Sox may be baseball's most interesting team. They might want to shy away from letting Tony La Russa do Dos Equis commercials, however.
Yankees shortstop Gleyber Torres has been placed on the COVID-19 injured list. He's been vaccinated and had been diagnosed previously.
Torres is the eighth Yankees' Tier 1 employee to test positive.
Former Rockies star Todd Helton has been elected to the National Collegiate Baseball Hall of Fame.
Take Me Out to the Ball Game
Though baseball stadiums across America will soon remove attendance restrictions, some fans may be more than a little hesitant to return. More alarmingly, are a certain subset of fans gone for good?
Not for the squeamish: A Padres fan coldcocked a Rockies fan the other day in what is one of the more violent altercations ever caught on video. Rockies fans retaliated en masse.
Thursday's Three Stars
Zach Plesac – The Cleveland starter had a no-hitter going into the 8th, but settled for nothing more than a good old-fashioned "W" after giving up a single to J.P. Crawford and a two-run bomb to Dylan Moore a few moments later.
Rich Hill – The 41-year-old starter and baseball lifer blanked the Yankees over 6.2 innings with nine strikeouts as the Rays pummeled the Bronx Bombers 9-1.
San Francisco Giants – At 23-14, and with just one player under the age of 30 in their starting lineup, they're the best team in the National League. You might have a tough time naming a single player on their roster besides Buster Posey or Johnny Cueto.
Extra Innings
If we can invent a vaccine that may potentially eradicate a global epidemic, surely we can create an automated strike zone.
A Primer on ABS (Automated Ball-Strike)https://t.co/pt6btGybS4

— Tangotiger 🍁 (@tangotiger) May 14, 2021
They Said It
"Baseball is a strange game and sometimes it speeds up on you pretty quickly. Unfortunately, I was on the IL, but you've just got to make the best of each situation and get your mentals back locked in so that you're ready to go out there and compete and help the team win." – Joc Pederson
"Opening up packages [of baseball cards], everybody's around. It's a huge ordeal when somebody gets a new box and you're going through [its contents]." – David Ross
Friday Walk Up Song
Turn! Turn! Turn! by The Byrds – Returning to Wrigley Field will be quite an emotional moment for most of us.