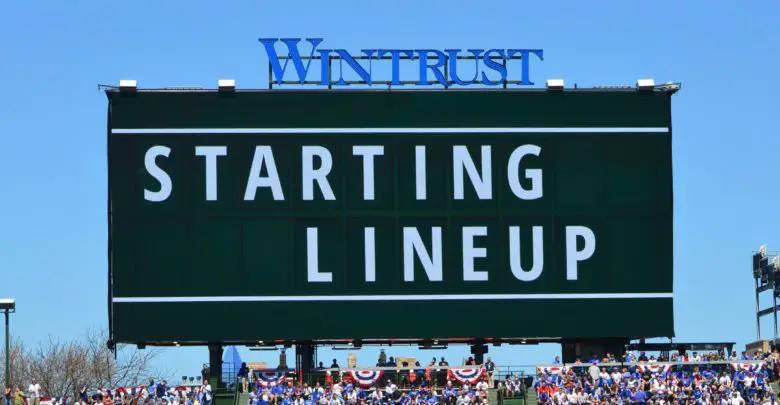 Chicago Cubs Lineup (4/14/21): Happ Leads Off, Pederson Cleans Up, Romine Returns, Arrieta Starting
Ian Happ leads off in center for the finale in Milwaukee and Eric Sogard gets another shot…at second. Anthony Rizzo is at first base, Joc Pederson bats cleanup and plays left, Javy Báez is at short, and Jason Heyward is in right. David Bote is at third with Kris Bryant getting the day off and Austin Romine has been activated from the IL to work behind the plate in his Cubs debut.
This is certainly an interesting lineup, though not really in a good way. Bryant and Willson Contreras supplied just about all the offense last night and the third baseman has been the Cubs' best producer by far on the young season. Given their opponent, this could either go ugly early or shake a few guys loose. For what it's worth, Bryant has struggled in limited action against today's starter.
Jake Arrieta has looked good through two starts and, while he hasn't been the same dominant force we remember from his initial tour with the Cubs, he's flashing better stuff than he did with the Phillies. Arrieta has always relished the big stage and should get a little extra boost from pitching in a big game, even one as early in the season as this.
The Cubs will have their hands full with Corbin Burnes — no, he's not actually the father of the Major League actor — who recently became the first pitcher in history to have back-to-back starts of six or more innings with no walks and only one hit allowed. Somehow, though, he's 0-1 on the season. That record should come around, but his incredible results will also level off at some point here.
As you expect from Brewers pitchers, Burnes is a burly dude who throws really hard. I can't help but think about how the average size and velocity of their rotation went up markedly with the departure of Zach Davies, though it could end up being a good thing for a Cubs team that will get a similar look to what they saw last night in Brandon Woodruff.
Oh boy, it's Corbin Burnes Day. Here's a little teaser on a video about the crazy vertical movement jump on his cutter. Enjoy. #Brewers 🦄

Full vid 🎥: https://t.co/o3bTIMHxxf pic.twitter.com/IHHZhrsMDw

— Lance Brozdowski (@LanceBroz) April 14, 2021
Burnes will sit 96-97 mph with the hard stuff, and that includes the cutter. This isn't like a baby slider, folks, it'll jump on hitters like four-seam with rise and a lot of run, especially the way he's throwing it this season. The cutter makes up about half of his pitches, after which he mixes in a sinker, curve, change, and slider with roughly even frequency. Through two starts so far, all of them look like plus pitches.
Barring an unexpected turn of events, Burnes is going to rack up strikeouts in this one. That's what he does and what the Cubs do, so expect to be frustrated in that regard. But he can't maintain a .056 BABIP with no walks, so something is going to have to give here soon. Might as well be this afternoon.
That isn't just baseless hope, as the Cubs' roster has historically hit Burnes well over relatively limited action. In a total of 44 at-bats, the Cubs are slashing .278/.346/.526 with three homers.
First pitch for the rubber match is set for 12:40pm CT and will be carried by Marquee and 670 The Score.
Here is how we'll line up for the finale in Milwaukee.#CubTogether pic.twitter.com/xmptBAyXd6

— Chicago Cubs (@Cubs) April 14, 2021