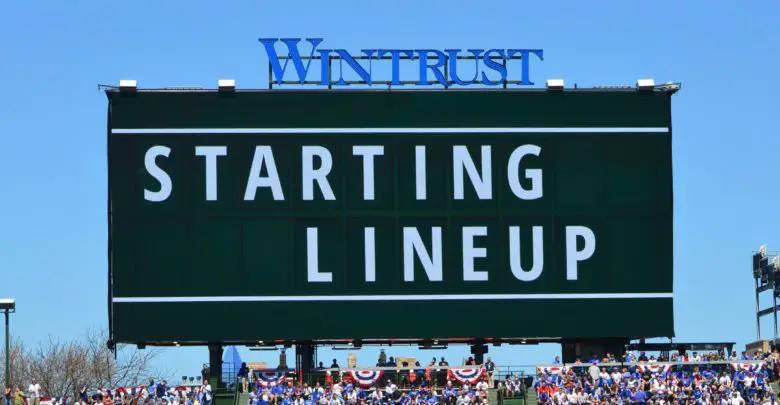 Chicago Cubs Lineup (4/1/21): Happ Leads Off, Contreras Second, Hendricks Makes Second Opening Day Start
Despite the dubious date, it's no joke that the Cubs are playing meaningful baseball on what is a regularly-scheduled Opening Day. I'll make no promises about how the rest of the season plays out, but this is certainly a welcome reprieve from the never-ending fever dream that was 2020.
Ian Happ leads off in center, followed by Willson Contreras behind the plate and Anthony Rizzo at first base. Kris Bryant cleans up at third, Joc Pederson is in left and Javier Baez handles short. Jason Heyward is in right and David Bote is at second base. Even the crustiest Eeyores among you have to admit that's a lineup that can score some runs.
On second thought, I've seen too much from Facebook to believe that last line.
Kyle Hendricks is on the mound for the second straight Opening Day as he looks to follow up on last year's complete-game shutout of the Brewers. As unlikely as it is that he'll repeat that feat, it doesn't hurt that he's facing what might be the worst team in Major League Baseball. What we can probably be sure of is that Hendricks will outperform yet another series of shockingly underwhelming assessments of his talent.
It almost seems intentional at this point, but it's become all too clear that Hendricks' inability to throw 95+ means he can't be listed among the best in the game. Not until the season ends and his numbers stack up right there near the top just like they do pretty much every year.
Facing the Cubs will be 28-year-old righty Chad Kuhl, who is making his first Opening Day start as the Pirates hope he pitches well enough to trade him for prospects by the deadline. Kuhl made nine starts in 11 total appearances last season after missing all of 2019 and about half of 2018 due to Tommy John surgery. His ERA has consistently remained between 4.20 and 4.55, but his expected ERA and FIP have risen every season.
Kuhl's fastball velocity was down about two ticks last year, which may have prompted him to get away from the hard stuff in favor of breaking balls. He nearly doubled his slider usage from 2018, making it his most common pitch, and also threw the curve more than ever before. Those were his only two pitches to generate positive value, but it's hard to get by if you can't do anything with your fastball or sinker.
More specifically, it's really hard to get by if you can't locate your pitches in the zone and then you have to come back with straight stuff hitters can sit on. The Cubs have done just that, tagging Kuhl for a 5.82 ERA and 1.78 WHIP in 51 total innings (12 appearances, 11 starts). There's absolutely no reason they can't do the same, though these early games can be something of a crapshoot.
First pitch from Wrigley Field is set for 1:20pm CT and can be seen on Marquee Sports Network or heard on 670 The Score.
Here is our #OpeningDay lineup! #CubTogether pic.twitter.com/94Mhgrg4ok

— Chicago Cubs (@Cubs) April 1, 2021