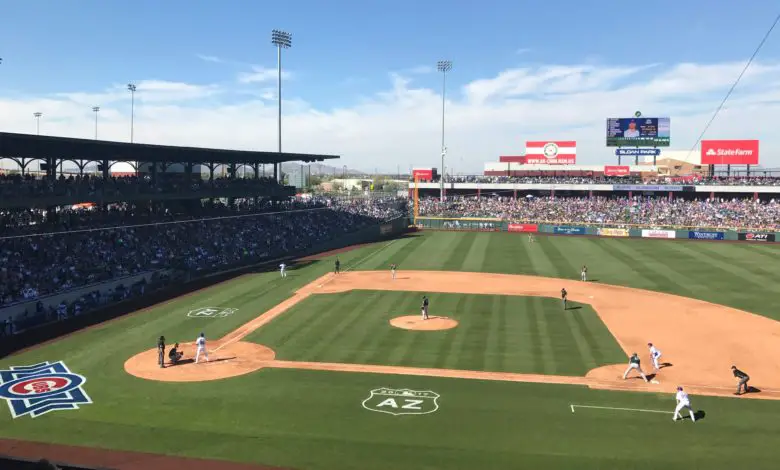 Cubs Receive Approval for 25% Capacity at Spring Training Games
Spring training report dates have yet to be formally announced for the Cubs but plans are well underway to get things started next week. After the owners failed attempt to pressure the players to shorten the regular season, the Cubs stand prepared to welcome fans to Sloan Park, albeit in a limited capacity.
In a report coming out today, Bruce Levine stated that the Cubs have received approval from the city of Mesa, Maricopa County, and the state of Arizona to operate at 25% capacity for all spring games to be held at Sloan Park. The Cubs notified spring training season ticket holders a couple of weeks ago to tell them that season tickets will not be made available this year. Instead, all season ticket holders will be giving early access to purchase tickets to single games.
#Cubs to play in front of 25% capacity at Sloan Park in spring training, writes @MLBBruceLevinehttps://t.co/syvoAJFEbT pic.twitter.com/Flfy3dUkIX

— 670 The Score (@670TheScore) February 8, 2021
The Cubs sent out additional guidance to season ticket holders in an email this past Thursday, indicating that single-game ticket sales would commence soon. Here is the information they provided in that email:
With the regularly scheduled start of Spring Training fast approaching, single game tickets for all 18 home games at Sloan Park will go on sale soon. Prior to the on-sale announcement, please find helpful details and updates below to keep you informed and help you prepare for the upcoming season.
As a valued Spring Training Season Ticket Holder, you will receive priority access to purchase tickets in advance of the general on-sale. As part of updated guidance from Major League Baseball (MLB) and in coordination with requirements and guidelines, tickets will be available in limited, physically distanced pod-style seating on an individual game basis. Pods will be available in allotments of two, four or six tickets throughout the ballpark. Please note pricing in the exclusive Spring Training Season Ticket Holder presale is based on season ticket single game pricing. There will be a limit of six tickets per game. As a reminder, we are unable to provide full season packages for the 2021 season.
The health and safety of players, fans and associates remains the top priority for MLB and the Cubs. Building on the comprehensive plan we successfully implemented at Wrigley Field in 2020, we continue to work in close coordination with MLB, top health experts and local officials to advance our health and safety protocols and provide a safe and enjoyable gameday experience at Sloan Park. Detailed information on our guidelines and recommendations will be shared with you prior to the start of the season, including:
Conducting frequent and thorough cleaning and disinfecting of all surfaces before, during and after games.
Requiring appropriate physical distancing in all areas of the ballpark with signage posted throughout Sloan Park.
Requiring individuals two years or older to wear a mouth and nose face covering at all times.
Limiting touchpoints by offering tickets exclusively as mobile tickets via the MLB Ballpark app, contactless entry into Sloan Park and cashless parking, concessions, retail and 50/50 Raffle tickets.
We remain committed to being thorough in our planning, timely in our communication and prompt in executing our ticketing policies. As part of the Cubs Guarantee, you will receive a credit or refund if any games you purchase a ticket for are impacted due to COVID-19 (i.e., canceled, postponed or have restricted capacity that prevents the use of specific seats).
We are grateful for your continued support of our team and look forward to sharing the return of Cubs baseball with you in 2021. If you have any questions, please contact us at 800-THE-CUBS or [email protected].
Sincerely,
The Chicago Cubs