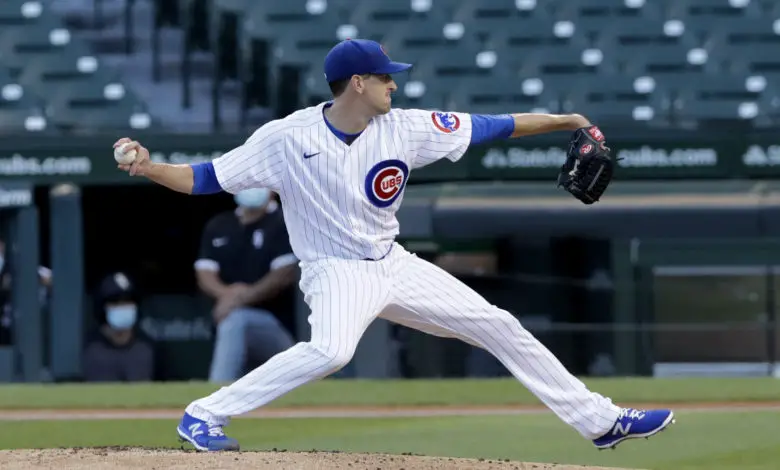 The Rundown: Cubs Feel No Different Despite Numerous Changes, Projection Sites Undervalue Hendricks Again, Cards Trade Fowler to Angels
I spent most of yesterday afternoon trying to figure out just what the heck Jed Hoyer is doing. It's not so difficult to connect the dots using his offseason moves if you start backward from an end result of purging payroll. But working our way from point C to point A doesn't provide much of a navigable path to Hoyer's roster construction. Though there's been considerable churn, the Cubs still feel like the same team that exited the 2020 playoffs after being swept by the Marlins.
The president of baseball operations made two quick bold moves by non-tendering Kyle Schwarber and then trading Yu Darvish to the Padres. The deal with San Diego seemed like the start of an imminent rebuild as the Cubs went prospect-heavy on the return, agreeing to take starter Zach Davies and four players with almost no professional experience. But other than a handful of IFA signings, the team has not added to the farm system since.
𝐉𝐮𝐥𝐲 𝟐𝟖, 𝟐𝟎𝟏𝟗

Kyle Schwarber hits the longest home run of his career, a 473 ft. blast off Zach Davies!

He had 2 HR & 7 RBI 👊 pic.twitter.com/5DTO3Ad51w

— This Day in Chicago Sports (@ChiSportsDay) July 28, 2020
Hoyer (actually Theo Epstein, at the time) entered the start of free agency needing rotation depth, a second baseman, an outfielder, and bullpen help. His wish list probably included a leadoff hitter adept at making solid contact and getting on base, then a starter or two to replace José Quintana and Jon Lester, assuring the team that they can get 800-900 innings from their staff over a 162-game schedule.
The Cubs did sign Joc Pederson and Davies will probably provide 150-175 innings this season, but the trio of Shelby Miller, Trevor Williams, and Kohl Stewart are nothing more than wild cards at this point. Realistically, Hoyer still needs one more veteran starter — preferably a lefty — a backup outfielder, and a second baseman. Andrew Chafin was signed to add depth to the bullpen, but he was given a big league contract while the team has more pressing needs.
Without any infield additions, Hoyer is in the vulnerable position of counting on Nico Hoerner to get a full season of at-bats while wearing a couple of defensive hats. The young second baseman unquestionably needs more seasoning in the minors.
The organization has not substantially improved its farm system and, with camp one week away, the big league roster still has the same holes it had when the 2020 season ended. In fact, Chicago's rotation is much weaker minus Darvish, Quintana, and Lester. By replacing Victor Caratini with Austin Romine, Hoyer has downgraded the team's catching corps as well.
If the Cubs truly intend to compete for the NL Central title this season, they must be counting on huge bounceback seasons from almost all of their core players. The starting staff will be dependent on Davies and Kyle Hendricks pitching like top-of-rotation starters, and the bullpen is going to need to be lights-out from day one. Given the team's failures in recent years, that seems like an awfully big ask.
---
---
Cubs News & Notes
Odds & Sods
Remember when Bryan LaHair blocked Anthony Rizzo for half of a season?
The only @Cubs player to hit a grand slam off Adam Wainwright?

Bryan LaHair 💪 pic.twitter.com/QLEu5MvKhE

— Marquee Sports Network (@WatchMarquee) January 29, 2021
Friday Stove
There were reports last night indicating Trevor Bauer had signed with the Mets, and though that's still likely, they may have been a bit premature. The Dodgers are said to be in the mix for the Cy Young-winning free agent, at least as of this morning.
The Yankees and Rockies may be a good match on a trade involving Colorado shortstop Trevor Story.
In signing one of the more unique contracts this winter, second baseman Tommy La Stella will receive just $2 million from the Giants in 2021. His three-year, $18.75 million deal is heavily backloaded to allow San Francisco to maneuver if an opportunity to add reinforcements presents itself during the season. Two years ago, Giants executive Farhan Zaidi was notably silent at the trade deadline due to financial constraints.
One idea for the rebranding of the Cleveland franchise would be to name the team after Satchel Paige. Before they became known as the Indians, the team was named for player-manager Nap Lajoie.
The Brewers have remained somewhat aggressive in pursuing free agent third baseman Justin Turner.
Toronto starter Ross Stripling is apparently a whiz at playing the stock market. I guess you can call him a "Jay Trader." Sorry about that.
Astros third baseman Alex Bregman is hoping to have a big bounceback season.
The Mariners are going with a six-man rotation this year and may make that a permanent change.
Fans may be able to attend Fenway Park to see the Red Sox as soon as Opening Day.
Under the watch of commissioner Rob Manfred, baseball has caved to its problems instead of fixing them.
Sliding Into Home
I'm having surgery next week to remove two tumors. I'll be off Tuesday and Wednesday for sure, but I could be sidelined through Friday. I'm sure Evan will handle this column more than capably. It's a fun exercise to search the historical articles to see the immense growth of the talent here over the past 7-8 years. We've come a long way since very humble beginnings, a tribute to co-owners Evan and Jon Strong.
Extra Innings
There's no question Hendricks is Chicago's number one starter, and just like every other preseason, he's undervalued by almost all projection systems.
He's the blind spot of every projection system in baseball, always posting ERAs lower than what's expected. So how does Kyle Hendricks do it? @DolphHauldhagen on how the Cubs' righty beats not just ZiPS and PECOTA, but also FIP and SIERA, time and again. https://t.co/IjK0iigaWJ

— FanGraphs Baseball (@fangraphs) February 4, 2021
They Said It
"Just to let you guys know. we have a good one in [Brailyn Márquez]. He's going to be great. And he's going to be so good for this team in the future." – Adbert Alzolay
"A big goal of mine would be to potentially become an all-star and get some more saves underneath my belt. I'm going to throw a lot of strikes, and if they hit it, they hit it. But most of the time if I throw my pitch in my spot, I'm going to be successful a lot of the time. That's my goal, and I stick to that." – Rowan Wick
Friday Walk Up Song
Ice Ice Baby by Vanilla Ice – The polar vortex returns to the Midwest this weekend, with wind chills expected to be -50 or more on Sunday morning. Dress appropriately, and yes, I know this is the worst walk up song ever.