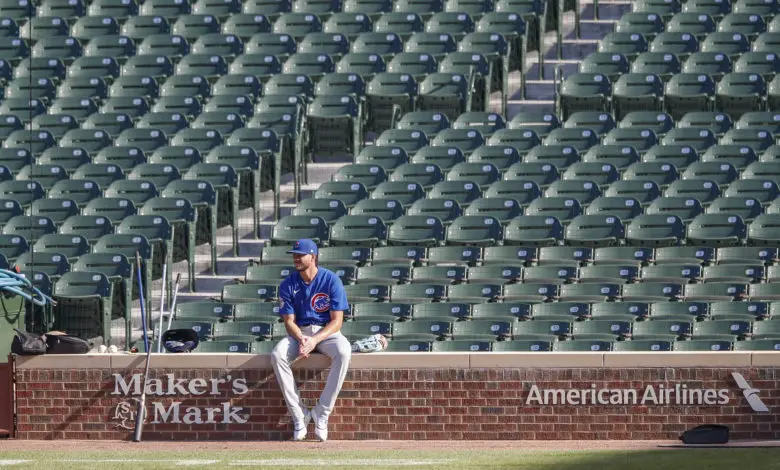 Blue Jays Among Teams Checking on Kris Bryant, No Talks in Recent Weeks
It's starting to feel like the increased temperature on the Kris Bryant trade rumors was more a matter of surrounding events than anything serious. Even though Kyle Schwarber hasn't been a member of the Cubs since he was non-tendered on December 2, the news that he had signed with the Nationals kind of felt like a trade. Add in some reports about the Mets' interest in Bryant and the Phillies possibly targeting Willson Contreras and people just got the feeling that someone else was moving.
But The Athletic's Jim Bowden reported that "the Cubs' asking price [for Bryant] has been too high for interested teams like the Dodgers to pursue in earnest." That fits with Mike Puma of the New York Post mentioning No. 2 Mets prospect Francisco Alvarez as someone the Cubs liked a great deal during recent dialogue between the teams.
SNY's Andy Martino contradicted that notion, saying the Cubs and Mets have not spoken in several weeks and that New York would not be among the most aggressive suitors for Bryant. Of course, Martino also said there was increasing industry chatter that Bryant could have been traded this past weekend, which stirred the pot a little bit.
Maybe now is a good time to get to the titular anecdote, eh? Jon Morosi tweeted Monday that the Blue Jays have checked in on Bryant as they continue to seek a "major offseason move," but that the two teams haven't had active talks in recent weeks. Gee, that sounds just like the Mets.
Sources: The #BlueJays, still seeking a major offseason move, are among the clubs that have checked with the #Cubs on Kris Bryant, but there haven't been active talks between the teams in recent weeks. @MLB @MLBNetwork

— Jon Morosi (@jonmorosi) January 11, 2021
This all makes sense when you consider that Friday is the deadline for arbitration figures, which means teams and players will have to reach an agreement or face a hearing in February. The Cubs have only had one arbitration hearing since Theo Epstein and Jed Hoyer first came to town — good ol' Justin Grimm — because they've made it a point to have everything hammered out prior to the deadline. Whether they come to an agreement with Bryant or not, it's understandable that teams would want an exact figure on his 2021 salary.
My guess here is that several teams — the Dodgers, Mets, Blue Jays, and probably others — contacted the Cubs to see if they could get a really good bargain. But the Cubs consider eating a big chunk of salary to be a non-starter and they're unwilling to settle for less than a top-3 prospect in return, so the talks went nowhere. They got this year of control over the former MVP by manipulating his service time, so it'd be pretty foolish to lose that for almost nothing.
The Cubs didn't tender Schwarber a contract because they weren't sure a market would develop for him, something that looks a little short-sighted at this point. But they were up against a deadline and Schwarber's ceiling isn't nearly as high as Bryant's, so it's a little more understandable. Bryant has already been tendered and the payroll has been slashed to a significant extent already, meaning Hoyer can wait this decision out quite a while longer.
---