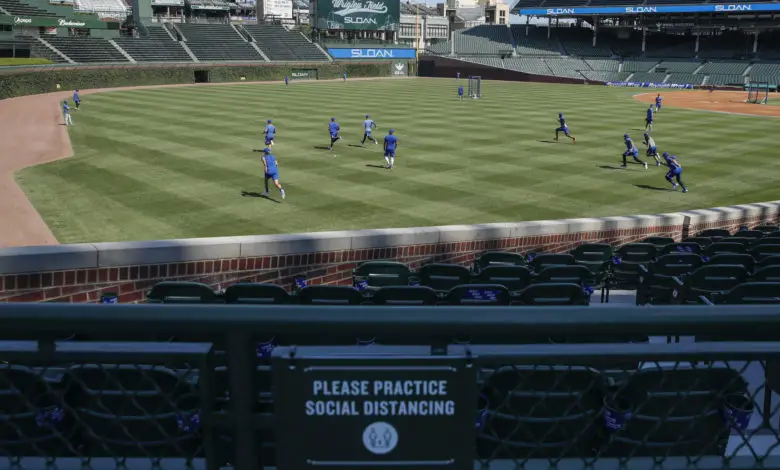 The Rundown: 2020 Comes to Merciful End, Hoyer Insists Cubs Will Field Competitive Team, Emotional Darvish Shocked, Red Sox Make Historic Hire
Frankly, it's a miracle all of us are here considering what 2020 has put us through. The best of times weren't very good, and the worst were much worse than any of us could have imagined. We've become disoriented, disenfranchised, and unsure of the ground beneath our feet as we desperately seek pockets of humanity. It was no different pertaining to the sport, and specifically the team, we love.
Think back to the surreality of the 60-game season for a second: Games played in empty stadiums; postponed spring training and a two-week summer camp; new rules and truncated schedules; disrupted travel plans; stretches where no baseball could be played because of infectious outbreaks or social justice protests; an extra round of playoffs and a World Series championship for the Dodgers that's far more significant than it seems. This past year has been like an episode of The Twilight Zone. In fact, the iconic series could describe the entire year in just a few of its more memorable quotes:
"There are weapons that are simply thoughts, attitudes, prejudices, to be found only in the minds of men." (The Monsters Are Due on Maple Street, S1 E22)
"You're caricatures, all of you! Without your masks, you're caricatures!" (The Masks, S5 E25)
"Of course it didn't work. Shall I tell you why? Because you are a wheeler and a dealer. A financier and a pusher. A brain, a manipulator, a raider. Because you are a taker instead of a builder. A conniver instead of a designer. An exploiter instead of an inventor. A user instead of a bringer." (Lately I Think of Cliffordville, S4 E14)
Though I do not see a future where baseball will be found obsolete and eventually sentenced to death, I do fear the absurd and dystopian path ahead. In fact, it's almost as if commissioner Rob Manfred has been channelling Rod Serling since his tenure started. In what feels like a purposeful happenstance, baseball has come to truly reflect the societal upheaval we've all faced this year. Veteran fans of the game fear its radical changes while younger fans find the newer version of the game still sluggish and ignoble.
Yu Darvish was one of the five best pitchers in 2020 and his trade market was almost nonexistent.

Why?

It's a story about anti-competitiveness and money and the god of efficiency and how their intersection leaves baseball in a bad place. Column at ESPN+: https://t.co/YPFWNuzQUv pic.twitter.com/Jw6AyOleEa

— Jeff Passan (@JeffPassan) December 30, 2020
It's tough at times to stay in love with professional baseball, especially when complacent owners talk of "biblical losses" while negotiating multi-billion-dollar rights fees despite a gradual, but continued, decrease in television viewers. Things are so bad that owners have negotiated a mass contraction of their minor league affiliates while conducting large-scale layoffs to clerical, administrative, and executive workers, using the pandemic as its financial crutch.
Fans may have stopped coming through the turnstiles but the flow of profits hasn't stopped. Indeed, there may be no better corporation to own right now than a baseball franchise, which sadly makes it one of the worst times of all to be a fan of the game. That said, 30 franchise owners won't sweat it. History has shown on numerous occasions that no matter how bad it gets, fans always come back. Codependency is a heck of an addiction to overcome.
Cubs News & Notes
Odds & Sods
Some things will never, ever make sense, and it's possible that trading Darvish will fall into that category.
Yu Darvish: "With what's happening with the coronavirus and the money the Cubs have, I wasn't thinking about being traded. And also, they are a winning team and I thought we would be able to compete."

— Jesse Rogers (@JesseRogersESPN) December 31, 2020
Thursday Stove
The Red Sox are hiring Bianca Smith, the first Black female coach in MLB history.
Starting pitcher Masahiro Tanaka said he will go back to Japan if he doesn't re-sign with the Yankees.
George Springer has apparently narrowed his choice of teams to the Mets or Blue Jays. Apparently, no winter meetings also means no mystery teams this year.
The Rays and Padres have several players who should define baseball in 2021.
We are all hoping that baseball will return to as close to normal as possible in 2021.
Four cities have relatively new baseball stadiums paid for with taxpayer money and no minor league affiliates to play in them.
Baseball lost an historic lineup of all-stars and Hall-of-Famers this year, led by Bob Gibson and Dick Allen.
Sliding Into Home
I'd like to thank you all for another solid year of putting up with me. I don't have much to offer other than my knowledge of music, so I thought I'd make you a playlist to kick off the new year, and in what may be a pleasant surprise to most of you, it does not include a single Grateful Dead song.  It's been a heckuva year hanging with you all.
Safety Squeeze
I try to never get political in this space, but who do you dislike more lately, members of Congress or baseball's owners? It's probably more of a toss-up than it should be, which is a sad characterization of the times.
Extra Innings
A more than appropriate sentiment for Cubs fans everywhere.
Very little of what we hoped for 2020 went to plan, but it would be a mistake not to notice all the times we felt the love. In spite of everything – whoo boy it was a lot – we are fortunate to be part of such a special community. The good parts are still very real, #CubsTwitter. pic.twitter.com/Sy5fh5Fw6N

— Bleacher Nation (@BleacherNation) December 31, 2020
They Said It
"Endlessly trying to push the envelope to try win a championship every single year comes with tremendous risk. And anyone that watched a lot of the moves the Cubs made for years before we got here would acknowledge that. … At some point you have to think about the future a little bit." – Jed Hoyer
"Sigh." – All of us at some point or another, and probably far too often, this year.
Thursday Walk Up Song
Forever and a Day by Giant Giant Sand – It goes without saying this has been the longest year ever. Wishing all of you love, prosperity, and health in 2021.