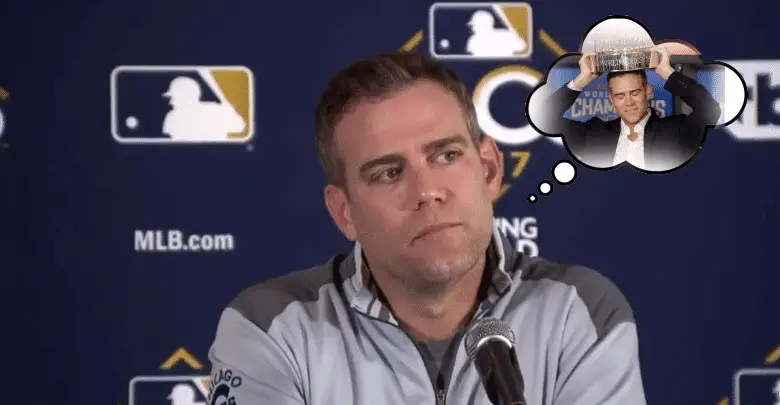 The Rundown: Kyle Hendricks 2020 Report Card, Epstein Regime Called 'Failure,' World Series Starts Tonight
It's hard to believe Kyle Hendricks is already 30 years old, but at the same time it feels like he's been a Cub forever. Unless he gets traded, he'll pitch in Chicago through at least 2023 thanks to a $63 million extension he signed in 2019. Based on past success, it's likely the front office will exercise his 2024 option for $16 million.
Hendricks started relying more on his four seam fastball in 2019, especially at the top of the zone, and he continued that trend this season while throwing his curveball at a career-high rate. That's what makes the veteran righty so special: He continually evolves in the way that he attacks hitters and the results speak for themselves. Hendricks owns a career 3.12 ERA and has been worth 21.3 WAR across seven seasons.
During his start against the Twins on September 18, he and catcher Willson Contreras noticed that Minnesota batters were sitting on his changeup, so they decided he should attack batters with his curveball. The result was a 1-0 victory that included a season-high 10 strikeouts.
"When I see an opportunity to throw a lot of them," Hendricks said of his curveball that night, "I'm not shying away from it anymore."
Kyle Hendricks, Ridiculous 88mph Two Seamer Movement. 😳 pic.twitter.com/dJ59njDJ30

— Rob Friedman (@PitchingNinja) September 30, 2020
Just as he has in every year since joining the team's rotation, Hendricks quietly had another fantastic season. He finished third in innings pitched, had a career-low 0.9 BB/9 that led all of baseball, with a 2.88 ERA and 0.996 WHIP. It was further proof that in a league where the upper 90's fastball is king, one can succeed simply by outsmarting the opponent by changing speed and location. Heck, with a FIP that always seems to be substantially higher than his ERA, he does a heckuva job at baffling the sabermetrics nerds, too.
Hendricks and Yu Darvish are a formidable tandem at the top of Chicago's rotation, something that should continue in 2021 and beyond.
Final Stat Line:  81.1 IP, 6 W, 64/8 K/BB, 2.88 ERA, 3.55 FIP, 155 ERA+, 1.9 fWAR
Final Grade: A
Cubs News & Notes
Odds & Sods
What do we think of this hottest of takes? Online responses caused Theo Epstein to trend on Twitter yesterday, and Matthew Trueblood's opinion drew a response from Tim Stebbins of NBC Sports Chicago.
The Theo Epstein Cubs regime, which is either over or functionally over, has been a failure. I know they won a title, but this FO was supposed to turn the Cubs into perennial winners—the heartland's Yankees/Dodgers. They're no closer to that goal than they were in 2011.

— Matthew Trueblood (@MATrueblood) October 19, 2020
Postseason Potables
For just the fourth time since the wild card was added in 1995, the 2020 World Series will pit two teams with the best record in each league against one another. The others were Braves over Indians in 1995, Yankees over Braves in 1999, and Red Sox over Cardinals in 2013.
Clayton Kershaw will take the bump tonight, earning his third Game 1 start in four seasons, and the Rays will counter with Tyler Glasnow. Both teams play great defense and have stellar bullpens, one or both of which will likely determine this year's champion.
How About That!
Mookie Betts may be the difference-maker the Dodgers need to finally win that elusive championship.
For the first time in history, the cities that won the NBA championship (Los Angeles Lakers) and the NHL Stanley Cup (Tampa Bay Lightning)  will compete against each other for Major League Baseball supremacy.
The Rays are easy to root for but are arguably bad for baseball because of their historically low payrolls.
In fighting to stage a season during a global pandemic, the league may have taught the rest of the world how to handle adversity while maintaining its business affairs. MLB probably learned a few things, too. Considering the 2021 season is likely to start under the lingering cloud of COVID-19, the league's 30 teams should be well prepared to handle any roadblocks they may face.
Extra Innings
Though you may feel devoid of the in-theater ambiance with a streaming format, this looks pretty cool.
The acclaimed #ToniStone, Lydia R. Diamond's drama about the St. Paul-raised athlete who was the first female baseballer to play professionally, will stream in early November: https://t.co/JwIePjuHVG

— Chris Hewitt (@HewittSTrib) October 19, 2020
They Said It
"There's certainly the possibility that [Lester] continues to call Wrigley Field home, but whether he leaves or stays, this is an appropriate time just to acknowledge the profound impact that he had on our organization." – Theo Epstein
Tuesday Walk Up Song
All-Star by Smash Mouth – It seems like it's been 50 years since MLB promoted its Fall Classic with this song, and at the same time it seems odd that this former No. 1 hit is now 20 years old. At any rate, I always think of this song for some reason whenever the World Series starts.