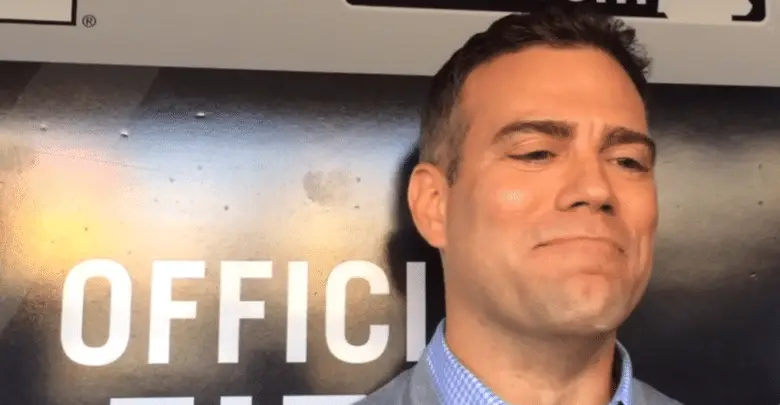 The Rundown: Limited Funds Will Dictate Cubs' Offseason, Epstein Confident He Can Deal, 4 Teams Facing Postseason Elimination Today
It's been a couple days since the Marlins ended the Cubs' season so I thought I'd do a wellness check. Is everybody okay? Still numb? Or are you tired of each season ending in cold isomerism, a slightly different iteration of the same pieces carefully rearranged at the whims (or limitations) of the front office?
That's me being a blowhard of sorts when we should really be asking the question, "Just how well did the Steven Souza Jr. signing work out?"
I'm not sure when it will stop, but I am tired of hearing the front office having to explain to the team's fans that lack of money will dictate offseason moves. Major League Baseball agreed to a whopping $3.75 billion extension with Turner Sports last month that will take effect in 2022. In the meantime, we're judging the merits of signing the milquetoast and downtrodden of the 2021 free agent class, like Drew Smyly.
"All the national TV deal money is not distributed to the clubs. Hundreds of millions of dollars are withheld and kept for a rainy day or a work stoppage," David Samson of Nothing Personal explained. "That money is used to pay expenses in the [MLB] central office: salaries of all employees, rent in the office meetings, all the events that happen."
What about the other $2-2.5 billion? I'm not part of the Cubs Insider resident rant squad, but, c'mon man, enough is enough.
Cubs Chairman Tom Ricketts reflects on 2020 and the futurehttps://t.co/gPziddZDW6

— Marquee Sports Network (@WatchMarquee) October 5, 2020
The Golden Age of Chicago Baseball will not end when Theo Epstein rides off into the sunset because it ended after the president of baseball operations signed Yu Darvish and Craig Kimbrel. That's when Tom Ricketts changed the passcode to his bank account, denying Theo and Jed access to any more funds.
If you'd like to do some offseason window shopping, pull up the list of expected free agents and eliminate almost any player who will command more than $2.5 million per season. Instead of hoping Epstein and Hoyer can find the means to sign Jurickson Profar, Tommy La Stella, or Justin Turner, you should instead be wondering how players like Eric Sogard or Jon Jay might look in Cubbie Blue. In fact, get used to the phrase "minor league contract," the likes of which could mean that we see the return of Jason Kipnis, Cameron Maybin, and maybe even Souza.
Rant over.
Cubs News & Notes
Apropos of Nothing
Daniel Descalso got two votes to have his contract renewed at $3.5 million in a poll I ran on Twitter yesterday. I'd like to thank Mr. Descalso and his friend for participating.
Odds & Sods
I forgot how much I love the movie Better Off Dead  starring John Cusack.
Eddie Van Halen's rock star legacy includes bringing a hamburger to lifehttps://t.co/YP8qU88Lsq

— Roth Army (@Roth_Army) October 8, 2020
Postseason Potables
It's win-or-walk for four teams today.
The Braves are one win away from the NLCS after another strong outing by starter Ian Anderson. After beating the Marlins 2-0 yesterday, Atlanta is just the third team in MLB history to throw three shutouts in their first four postseason games.
The Rays jumped to a 2-1 lead over the Yankees with an 8-4 win at Petco Park in San Diego. Randy Arozarena hit a home run for the third consecutive game and Tampa Bay is within one victory of reaching the AL Championship Series for the first time in 12 years.
The Dodgers remain undefeated this postseason after last night's win 6-5 win over the Padres. If you haven't seen any of the games you're really missing out on some thrilling baseball. The two teams have become the games greatest rivalry.
After dominating the first two games of this week's best-of-five series against the A's, the Astros took a 7-4 lead into the 6th inning of Wednesday's elimination game before the boom-or-bust A's exploded to keep their season alive. Oakland was powered by five home runs in the slugfest, including a game-tying three-run blast by third baseman Chad Pinder in the 7th inning. All four A's starting infielders homered: Pinder, La Stella, shortstop Marcus Semien, and first baseman Matt Olson.
How About That!
Giancarlo Stanton hit another home run yesterday. After homering in each of New York's playoff games so far this season, Stanton joins Daniel Murphy (six in 2015), Carlos Beltrán (five in 2004) and Springer (five in 2017-18) as the only players in postseason history to homer in five consecutive games.
Keep an eye on the continuing battle between Braves outfielder Ronald Acuña Jr. and the Marlins pitching staff.
Though they remain on the brink of elimination, the A's are extremely confident they can overtake the Astros.
Houston players, on the other hand, could be seeking to avenge the teams that are continually bashing them for cheating.
Astros players are telling people behind scenes they're focused, mad, and very into the idea of avenging themselves against what they consider haters. Like, say, the A's, Yankees, Rays and Dodgers. Will be good theater. People who know these guys think they can run the table.

— Andy Martino (@martinonyc) October 7, 2020
A large contingent of Houston players debunked Martino's tweet.
Due to ongoing health issues, Indians' manager Terry Francona admitted that he's genuinely thought of retiring.
Sliding Into Home
Quick update: I spent the better part of the early morning in the ER because of swelling in my feet and fingers. Cellulitis is a byproduct of my illness and if the doctors can't control it with antibiotics I'm looking at losing part or all of my right foot. The flare-ups used to happen every 4-6 months but now they happen every few days. It's miserably painful and makes it tough to write my column and be mobile. At times I just feel like giving up. I have the pancreas work tomorrow. Pretty soon they will be able to name a wing for me at St. Luke's in Milwaukee.
Extra Innings
This catch by Cody Bellinger was so incredible I'm still shaking my head this morning.
Cody Bellinger. Instant classic. pic.twitter.com/TPRnAFFuMo

— MLB (@MLB) October 8, 2020
They Said It
"It was tough for Brennen [Davis] to process it at first, but he was able to take a step back and make adjustments. He got punched in the face and responded very well. He made some mechanical tweaks because he got defensive and was pushing his swing a little bit, starting to chase a little bit. He got back to his swing and approach and was making more contact and better decisions." – Cubs' Farm Director Matt Dorey
Thursday Walk Up Song
Girl Can't Help It by Journey – I used to make fun of the preponderance of pumped-in Journey tunes at baseball stadiums during the league's biggest games, including the playoffs, but now I'm actually missing it. The best part of this video is seeing Randy Jackson of American Idol playing bass in full mid-80's regalia. Dawg, really?