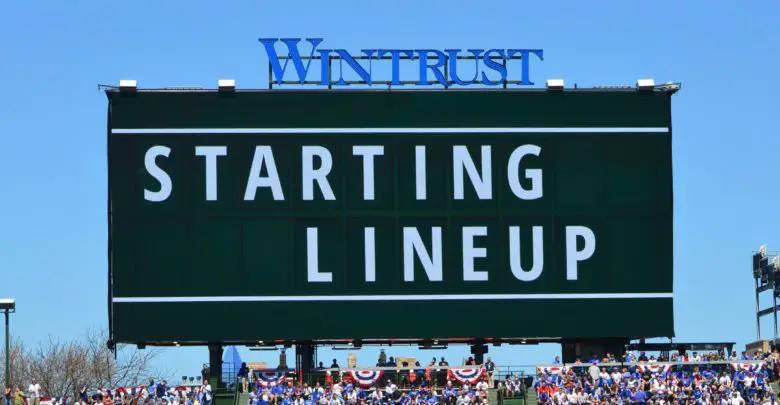 Chicago Cubs Lineup (9/24/20): Rizzo Leads Off, Maybin in CF, Mills Starting as Cubs Look to Salvage Split
Who'da thunk back on Monday that the Cubs would head into this one just hoping to salvage a split with the worst team in baseball? After romping 5-0 in the first game of the series, the NL Central leaders have subsisted on a pair of Anthony Rizzo homers for their offense in the last two games. If that kind of run rationing continues, they'll have to hope the Cardinals keep sucking even worse.
The loud beeping heard throughout the Midwest last night was the sound of the Cards helping the Cubs to back into the division title as they lost 12-3 to the Royals. Through no effort of their own, the Cubs saw their magic number decrease from four to three. Meanwhile, the White Sox lost and the Twins won to move into first place in the AL Central. So much for hoping the Cubs had nothing to play for this weekend.
Rizzo is back in the leadoff spot as Ian Happ gets a little time to clear the head that he appears to be pulling a wee bit at the plate. David Ross said pregame that Happ tweaked his ankle, but he has seemingly reverted to his old form with big holes in his swing. Willson Contreras bats second as the DH, followed by Jason Heyward in right and finally batting higher in the order.
Kyle Schwarber cleans up in left, Cameron Maybin is in center, Jason Kipnis plays second, and Javy Báez handles short. Statistically speaking, Javy is the worst qualified hitter in all of MLB and he's showing no signs of pulling out of a season-long slump. Victor Caratini will do the catching and David Bote is at third.
Alec Mills wasn't able to repeat his no-hit performance against the Brewers when he faced the Twins over the weekend, but it hardly mattered because the Cubs only scored one run behind him. The chill righty faced Pittsburgh earlier this month and allowed four runs on seven hits and walk, striking out just two, so let's hope he's sharper in this one.
Opposing the Cubs is 27-year-old righty Chad Kuhl, who had a 2.52 ERA heading into his last start against them at the start of the month. He's now at 5.03 and the BABIP against him has gone from .180 to .255 in just four starts. Kuhl gave up at least one homer in seven consecutive starts and has walked 25 batters to his 39 strikeouts, so he's anything but overpowering.
Mainly a sinker-baller, he can run it up there at 95 mph and even higher if he wants to. The heat is really just a setup for the slider and curve, both of which have been effective this season and in the past. Kuhl's power slider sits in the high 80's and he throws it over a third of the time, so hitters need to be ready for the occasional cement mixer.
Please, Javy, let this be one of those games where you get lucky and catch a mistake.
Expect to see some deep counts in this one because Kuhl doesn't work in the zone very well and isn't a big swing-and-miss guy. The Cubs have been the definition of feast or famine this season and they've been starving for the most part lately, so this would be a great time to eat up.
First pitch is at 12:35pm CT on Marquee Sports Network and 670 The Score.
Here is today's #Cubs lineup for the finale in Pittsburgh. pic.twitter.com/7Zzi9qx1lr

— Chicago Cubs (@Cubs) September 24, 2020