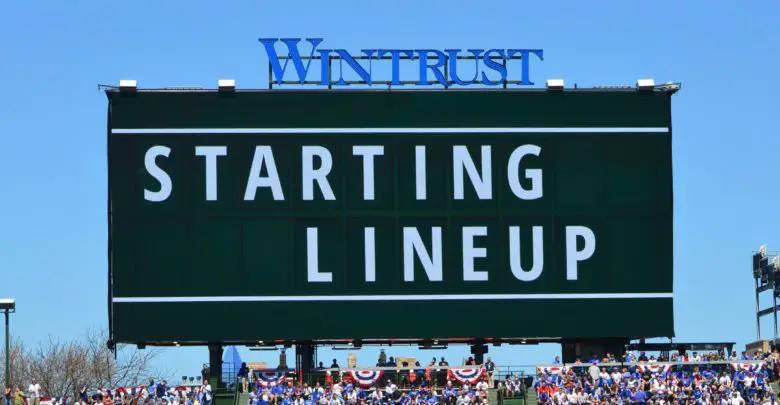 Chicago Cubs Lineup (9/23/20): Schwarber DH, Maybin in LF, Bote 3B, Hendricks Starting
Last night's game was forgettable, so let's forget it. The Cubs managed to back into a playoff guarantee anyway because the Phillies lost both ends of a twin bill and now it's all about the division and seeding. A 3.5 game lead with just five to play seems pretty secure, but the Cardinals can make up ground with two potential games against the Tigers if needed.
The Cubs currently hold the No. 3 seed and would face the Marlins if the playoffs started today. That's not as easy a task as it might seem because Miami has two excellent starters and would be dangerous in a three-game series. Then again, it's probably better than having to face a hot Reds team that boasts several solid starters of its own. However it works out, there could still be a lot of movement.
Not that any of it matters if the Cubs can't score runs, which has been a sore spot all year to this point. They'll try to get it going with Ian Happ in center and Anthony Rizzo at first, followed by Willson Contreras behind the plate and Kyle Schwarber as the DH. Cam Maybin bats fifth in left, Jason Heyward is in right, and Javy Báez moves back down to seventh. Jason Kipnis at second and David Bote at third round things out.
I'm not sure why, but tonight feels like a good time for Javy to go HAM on Pittsburgh pitching.
Kyle Hendricks is really rounding into form and he'll be on the mound to face the Pirates for the first time this season. He has walked just one batter in his last 27.2 innings and has a 0.86 BB/9 that is easily the best of his career and almost half of the next closest NL starter (Zack Wheeler, 1.69). Pitching to contact really is an art form.
The Pirates will send Trevor Williams and his 6.70 ERA to the mound to face the Cubs for the second time this season. They scored three total runs on four hits (one HR) and three walks back at the end of July, which feels like last year at this point. Williams has really fallen off lately, pitching to an 9.59 ERA with 11 homers allowed in his last five starts. His fastball has been brutalized and his slider, which has always been his worst pitch, is even worse.
Williams is actually getting more swinging strikes and groundball contact than before, but his weak contact is way down and he's given up at least five hits in each of his last seven starts. That .331 BABIP isn't a fluke, nor is it a guarantee the Cubs will find grass with their batted balls. But hey, maybe they'll find the empty outfield seats instead.
There's really not much that needs to be said about this other than it's a matchup the Cubs absolutely should win. No more excuses for falling flat, just go out and pound an inferior opponent. First pitch is at 6:05pm CT on Marquee and MLB Network (out of market only), with 670 The Score on the radio call.
Here is tonight's #Cubs starting lineup behind Kyle Hendricks. pic.twitter.com/V0G78L931X

— Chicago Cubs (@Cubs) September 23, 2020