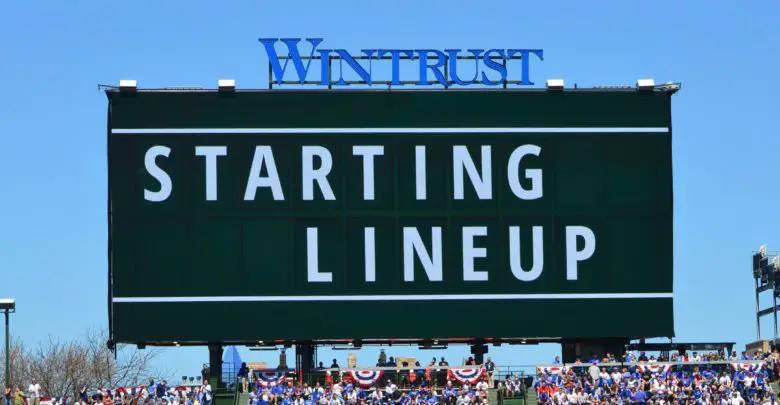 Chicago Cubs Lineup and Game Odds (9/10/20): Bryant at 3B, Maybin in LF, Alzolay Makes Third Start
The Cubs and Reds split the first two games of this series right down the middle, each winning by a 3-0 score, and Vegas has them at 50-50 odds in tonight's rubber match. You can find this and a multitude of MLB betting lines updated here if you're into that sort of thing, though you'll still have a wait until at least next year to place a bet at the Wrigley Field sportsbook.
Offense was at a premium last night, with the only scoring coming in the 1st inning from a Mike Moustakas homer, and the weather hasn't done the hitters any favors in either game so far. Maybe Ian Happ can get things started in center, with Kris Bryant and Anthony Rizzo looking to break out of their respective funks. Javy Báez needs to do more of the same, though catcher Willson Contreras has been hitting the ball well lately.
Jason Heyward is in right, Cameron Maybin is in left, David Bote is the DH, and Nico Hoerner is at second. That's a lot of righty batters at the bottom of the order with a righty on the mound for the Reds, particularly in spots that could easily be occupied by left-handed hitters. But hey, maybe it pays off.
Adbert Alzolay is on the mound for his third start and fourth appearance of the season, all of which have come against either the Cardinals or Reds. He didn't last long against the Cards this past weekend, walking five over just 2.2 innings, but you have to believe that was a fluke that won't be repeated tonight.
The young righty has incorporated a sinker this season and is actually throwing it more than his four-seam, which is a very interesting development. He's also upped his curveball usage while dialing back the changeup, though some of that is a product of his limited action so far. Alzolay actually liked the change so much in that last start — 17 of 78 pitches (21.8%) — he threw it more than his fastball (19.2%).
The Cubs are going to need better production from Alzolay in order to get over on Sonny Gray, who will be facing the Cubs for the second time this year. He's also coming off of a dreadful outing against the Cardinals in which he faced 10 batters without recording three outs, which could either be very bad or very good depending on how full your glass is. Gray allowed six earned runs on five hits and three walks and surely wants to rebound from that.
He's probably licking his chops knowing this Cubs team is highly susceptible to the slider that led him to 11 strikeouts against them back on July 29. Just as we've seen with Tyler Mahle in two starts, Gray upped his slider usage to a season-high level in that start. He threw the breaking ball nearly twice as much as his season average (28.8% to 15.5%) and generated one run of value from it against a total value of -0.5 runs he's gotten from it on the season.
Gray is a similar pitcher of Trevor Bauer, someone who can keep hitters guessing with various iterations of multiple pitches. He also keeps the ball in the yard, as evidenced by a career 0.86 HR/9 mark. He's allowed only three homes this season, none of which came in that recent stinker, and hasn't given one up in the last three starts. Maybe that means he's due, but it's more likely that the Cubs will have to string together hits to push runs across.
The team's aggregate .333 OPS in 123 at-bats against Gray doesn't bode well, especially when their best hitter against them is on the bench. Kyle Schwarber has a .643 OPS in 14 ABs, better than anyone other than Happ, who's got a 1.000 OPS but has only faced Gray three times and hit one double.
Oh, and about the righty-righty matchups: Gray is actually a pretty split-neutral pitcher who has given up slightly better numbers to right-handed hitters over the course of his career. We'll find out whether that plays out at 7:15pm CT on Marquee Sports Network and 670 The Score.
Here is tonight's #Cubs starting lineup. pic.twitter.com/rXmnyU5NFG

— Chicago Cubs (@Cubs) September 10, 2020