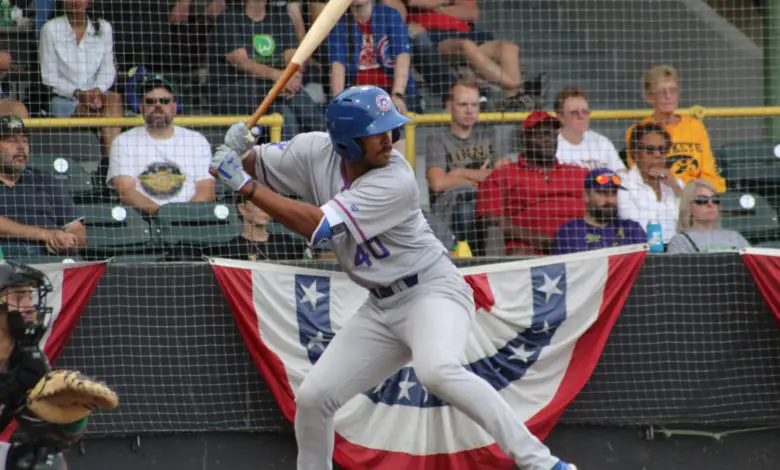 Top Cubs Prospect Brennen Davis May Actually Be Better Than Anyone Imagined
Iowa Cubs manager Marty Pevey has been around the game of baseball his entire life, playing professionally for 13 seasons before transitioning to a coaching career. After working at every level across various organizations, Pevey joined the Cubs in 2009 and has served as manager at Triple-A Iowa since 2013. Long story short, he's seen a few players come and go in his day.
So it's worth noting when Pevey, who is helping to direct traffic over at the Cubs' alternate site in South Bend, is really wowed by something he sees from a young prospect. He offered up thoughts on several of the Cubs' top farmhands during a conversation with Tommy Birch of the Des Moines Register, most of which were pretty standard fare and offered little to get excited about. However, Pevey's assessment of outfielder Brennen Davis was on another level.
"I've never — and this is the god's honest truth — I have never seen power like this kid's going to have," Pevey gushed. "I'm not talking about pull power. I'm talking about just raw, leverage power — like Dale Murphy driving the ball to right-center early in his career. Holy smokes, he's got some pop."
Pevey isn't prone to hyperbole, so this praise is not something that should be taken lightly.
It's also a pretty interesting comp and probably not one you'd find elsewhere, perhaps because Murphy is something of a forgotten man in spite of an excellent career that included back-to-back MVPs with the Braves in 1982 and '83. Though Davis is more athletic, I think it's fair to say Cubs fans would be perfectly happy if he goes on to hit 398 homers and accumulate 46.5 career WAR.
Davis was viewed as something of a project when the Cubs drafted him with their second pick in 2018 as a prep player who'd only recently decided to stop playing basketball. In the time since he's joined the organization, however, he's displayed more pop and polish than they'd expected. Even with some finger issues stemming from a combination of inside pitches and bunt attempts, Davis posted a .907 OPS in 177 at-bats as a 19-year-old in low-A ball.
He'll be 21 in November and can still add plenty of muscle to his at 6-foot-4, 175-pound frame without sacrificing speed or agility. Provided things settle in and there's a minor league season in 2021, Davis should be ready to dominate whatever level he's assigned to. In projecting him as the Cubs' top prospect in 2022, MLB Pipeline said he has "the highest ceiling in the Cubs system." He could well lead the system even earlier, especially since Nico Hoerner is about to lose his prospect status.
What's more, it's entirely possible Davis will be up in Chicago at some point in 2022. The way he's going, I'd be disappointed if he's not knocking on the door soon, provided he's able to stay healthy. He's already shown major improvements in his swing and has still has lots of room to grow into his five-tool potential, but Pevey's praise indicates Davis might be even better than anyone dared to imagine.