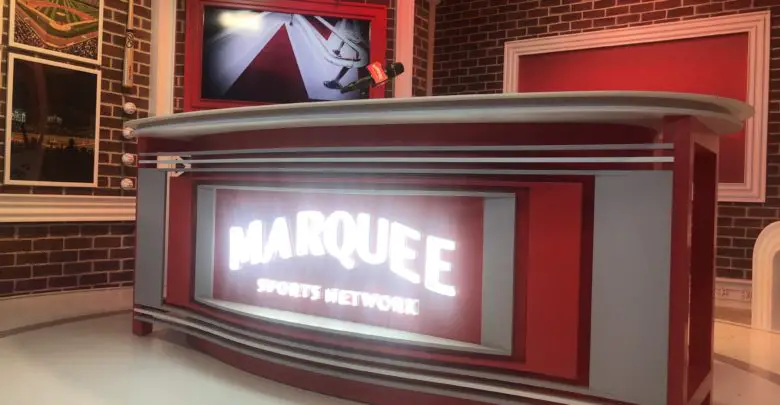 Marquee Deal with Comcast Now Official, Cubs Avoid Major Snafu
As CI and other outlets reported Thursday, Marquee Sports Network indeed has a carriage deal with Comcast's Xfinity service. Multiple sources said it was a go as of Wednesday evening, but a representative from the cable giant reiterated more than once that negotiations were ongoing as of Thursday afternoon. Either way, it's all set now.
Even before the agreement had been officially announced, Cubs fans took to social media to share news of Marquee's appearance on their guides. It appears to be channel 202 in the Chicago area and 1254 throughout most of the remaining broadcast territory, but you'll want to confirm that for yourself if you have Xfinity.
"It was a complicated negotiation," Cubs president of business operations Crane Kenney told ESPN. "Usually there needs to be a catalyst…I said in January, it was likely either going to be the beginning of spring training or the beginning of the regular season as the catalyst to get something done."
Kenney also told season ticket holders back in May that they would have Marquee available on Comcast as soon as baseball returned, so he surely felt the heat as the 11th hour approached. The Cubs have also talked for years about avoiding the same fate as the Dodgers and SportsNet LA, which left nearly half of the team's fans unable to watch games at all.
Opening Day was clearly the impetus for this deal to get done, though having it in July rather than March played a role in tensions running even higher. It may also have hurt the Cubs, since four months of whiling away the time with something other than baseball could have pushed some fans past their breaking point. Even so, I have to imagine most of those folks will find their way back.
Terms of the deal have not been disclosed, but I'd be willing to bet the Cubs and Marquee had to come down a bit on their ask. You see, a network requests a certain carriage fee from the provider for every subscriber to whom the channel is available. That means Marquee would earn, say, $4.50 for every single Xfinity customer who has it whether they're a Cubs fan or not.
Your bill will go up here in the near future, but the new network is going to get a massive influx of much-needed cash. The Cubs and Sinclair, their partner on Marquee, had to invest a lot of money to get this ship out of the harbor and Comcast represented their white whale in terms of revenue. One estimate put a deal at around $100 million in carriage fees, not exactly a pittance.
Add in Sinclair's massive losses from the lack of sports and the Cubs' biblical losses from the truncated season and you can imagine why they needed to get something done. How exactly this impacts the team's future won't be seen until at least this winter, when the Cubs are going to need to replace several expiring contracts in free agency. Or are they?
After initially saying that much larger TV revenue from Marquee would be available immediately for player payroll, the team's rhetoric shifted to indicate that it would take a few years to fully offset startup costs. But enough of the doom and gloom, let's just look to an immediate future that includes Cubs baseball for just about everyone in the local TV market.
Sorry, YouTube TV and DISH Network subscribers, you're not going to be invited to the party anytime soon.
---
Ed. note: While Cubs fans are primarily concerned with Marquee, Sinclair was actually working with Comcast on a new multiyear agreement involving nearly 100 different channels. See below for a press release on the new content agreement for the retransmission consent for 78 Sinclair stations in 51 markets as well as Tennis Channel, 18 FOX RSNs, YES Network, and Marquee.
Comcast and Sinclair Broadcast Group announced today the companies have reached a multi-year renewal on their content carriage agreement that includes continued retransmission consent of 78 Sinclair television stations in 51 major markets across Comcast's cable television footprint, as well as continued distribution of the Tennis Channel, 18 Fox-branded regional sports networks, and YES Network for Xfinity TV customers.
In addition, Xfinity TV customers in the Chicagoland area will be able to access Marquee Sports Network, the new regional sports network jointly owned by Sinclair and The Chicago Cubs, in time for the first home-opener of the 2020 MLB season on Friday, July 24. Chicago customers with X1 can also find Marquee programming seamlessly integrated via the Xfinity Voice Remote and within Sports Zone, a destination available within the X1 guide that will give Cubs fans quick access to previews of upcoming games, live scores, in-game stats and more.
"With this agreement, Xfinity TV customers can continue to enjoy access to local news and sports content on Sinclair's owned stations and networks across platforms, including on X1 – which delivers Xfinity customers an unmatched sports experience alongside on demand and streaming entertainment," said Rebecca Heap, Senior Vice President, Video and Entertainment, Comcast Cable.
"We are pleased to continue and expand our partnership with Comcast under which we provide a broad array of valuable programming to its subscribers, including our award-winning local news and sports programming," commented Barry Faber, Sinclair's President of Distribution & Network Relations. Faber continued, "Sports are an important part of Sinclair and we are pleased that Comcast's greater Chicago customers can join the list of passionate fans that enjoy Sinclair's local sports programming."
"By including Marquee in the broader Sinclair agreement, we're now able to give our customers access to Cubs baseball in time for the start of the season," said John Crowley, Senior Vice President, Comcast Cable Greater Chicago Region.
Mike McCarthy, Vice President, General Manager of Marquee commented, "We welcome Comcast to the Marquee family and look forward to providing their customers the very best viewing experience and commentary, as they join Len Kasper and Jim Deshaies in rooting on the Cubs pursuit of another World Series Championship."
Financial terms of the deal were not disclosed.