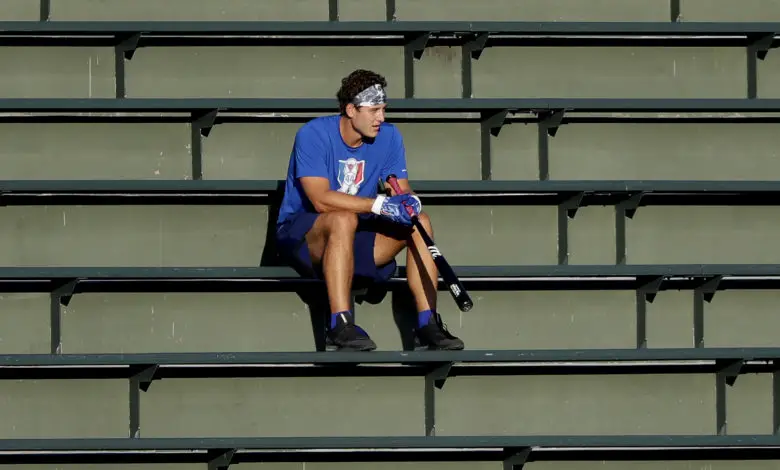 The Rundown: On MLK and Baseball, Rizzo Returns, No Vote of Confidence for Bryant, Sunday Baseball Notes
"Stick to love; it is heavy and it will carry you. Avoid hatred; it is heavy and you have to carry it. It is left to you to make your choice." – Israel Ayivor, Leadership Insights from 21 Martin Luther King Jr. Thoughts
With the world in a state of unparalleled distress, I've spent a great deal of time reading about Dr. Martin Luther King Jr., particularly how he is perceived by authors and current civil rights leaders. It has been over half a century since the trailblazing activist for peace and equality was gunned down in the streets of Memphis in 1968, a year that rivals this one when it comes to social discourse in America.
Dr. King was not an athlete and he did not have the time or inclination to become a devoted baseball fan. He did have a strong ally in Jackie Robinson, however, and the two supported each other in helping to further the rights of Black Americans. King saw the success of Black athletes as a triumph for all people of color.
"He (MLK) said, 'Don, you'll never know how easy you and Jackie and Roy and Doby made it for me to do my job by what you did on the baseball field,'" – Don Newcombe. Remembering a great man and his great friends. #MLKDay

— Kenley Jansen (@kenleyjansen74) January 20, 2020
Two years after his death, an All-Star Game was held in the honor of Dr. King. MLB called it the East-West Major League Baseball Classic in keeping with the annual star-studded classic held in the Negro Leagues. More than 30,000 fans attended the event, which was held in Los Angeles at Dodger Stadium.
Emmett Ashford, the first African-American umpire in baseball, worked behind the plate and Coretta Scott King, MLK's widow, threw out the first pitch. The game featured 15 Hall of Famers, including Tom Seaver, who started for the East and was relieved by Bob Gibson. Ernie Banks played shortstop for the first time in a decade and said he felt great. Banks, ever mindful of professing his love for baseball, suggested the two teams play another game as soon as the exhibition ended.
Lou Brock, Willie Stargell, Roberto Clemente, Hank Aaron, Joe Morgan, Reggie Jackson, and Willie Mays all played in the game. Ron Santo also represented the Cubs in the evening tilt.
"It doesn't matter what the score was," said Commissioner Bowie Kuhn after the game. "The real winner was Dr. Martin Luther King Jr."
Sports Writer Jim Murray of the Los Angeles Times praised King in his column that day.
"This man who was buried behind mules will have a chariot, a glow through history that will outshine any Caesar's past or present," Murray wrote. "His legacy was brotherhood, his crusades for the poor, his parades for garbage collectors. … They're playing a baseball game in his honor and to carry out his work."
Cubs News & Notes
Odds & Sods
July 12, 1979 is a date that will live in infamy, and I was there. I was a big Steve Dahl fan back then and an official member of the Insane Coho Lips, but the real reason we were at that game was that it was my sister's 14th birthday. She had a big crush on Ken Kravec, who was scheduled to pitch the forfeited nightcap of the doubleheader.
On this date in 1979, the White Sox held their infamous "Disco Demolition Night," where a crate of disco records was blown up between games of a doubleheader vs the Tigers.

Fans would storm the field & the resulting chaos led to the White Sox having to forfeit the 2nd game. pic.twitter.com/sFFNucHKDW

— ESPN Stats & Info (@ESPNStatsInfo) July 12, 2020
Apropos of Nothing
Sylvester Stallone made his Hollywood debut in the 1974 period piece The Lords of Flatbush (1974), a low-budget flick that was picked up for major distribution by Columbia Pictures due to the sudden popularity of the sitcom Happy Days, and the more famous '50s vehicle American Graffiti (1973). Richard Gere was allegedly supposed to star opposite Stallone, but the two got into a fight during a break on the set and Gere was either fired or quit. Stallone said his foil still holds a grudge to this day.
A decent movie, it would be nice if the studio would rescore Flatbush. The music reflects its minuscule budget and is nothing short of awful. And heck, who knew Quentin Tarantino blogs? I feel as if I am in rarified air this morning.
Updates On Nine
Extra Innings
Reds outfielder Hal McRae provides an old school baserunning tutorial, back in the days before baseball players were forced to practice social distancing. This play took place in the 1972 World Series. Hawk Harrelson would probably define this as "the will to win," unless of course if it was Tim Anderson being taken out. "Did you see that? That's horse[bleep]!"
How to break up a double play, by Hal McRae.

Step 1: Run over the 2nd baseman.

Step 2: See step 1.#MLB #Baseball #GreatestOnDirt pic.twitter.com/NZrhD7c2GU

— Greatest Show on Dirt (@greatestondirt) July 11, 2020
Sliding Into Home
People have asked about the personalized Cubs jersey my friend Cheri was wearing the other day, and, sorry, but I am not selling them. I would be proud if you ordered one and sent me a picture, though. Also, the significance of the number 56 is that in a game of Wisconsin Bar Dice, 56 is a perfect score and therefore unbeatable. I actually have my own brand, Strength56. I will have t-shirts for sale a little down the road to help feed me when I am physically unable to work, but I'm still working on the design.
It also represents Matthew 5:6, one of my favorite Bible passages, "blessed are they who hunger and thirst…"
Only I can mashup the good book with a shot-drinking game. I'll thank you in advance for your standing ovation.
Good news, my biopsy and density tests have been moved up from December 17 to August 11.
Had a rough one yesterday evening and at one point I actually thought I was at the end of the line. At times, my esophagus gets blocked due to tissue swelling, making it difficult to swallow. I struggled to breathe for a good 45 minutes because of a great deal of mucus getting pushed back out.
On Deck
Talk show host Dick Cavett interviewed Robinson a few months before the historical Dodgers infielder passed away in 1972, and it's well worth the fifteen minutes to watch, especially to hear Robinson's thoughts about Phillies manager Ben Chapman.
They Said It
"Honestly, I appreciate Kris' comments. I know that he loves being here, and he knows that we love having him [here]. To delve too deeply into that and discuss contractual situations, it gets to a point where if you talk too much about it, it becomes inappropriate given the realities of everything going on in the world and where our focus truly is right now. So there will be a time to discuss those things later, but I personally don't feel comfortable talking about that right now." – Theo Epstein
Sunday Walk Up Song
Ball of Confusion by the Temptations – I'd like to see a stronger move toward peace by leaders across the globe. Mordant realpolitik may make headlines, but it will be love and respect that leads all of us from the abyss.