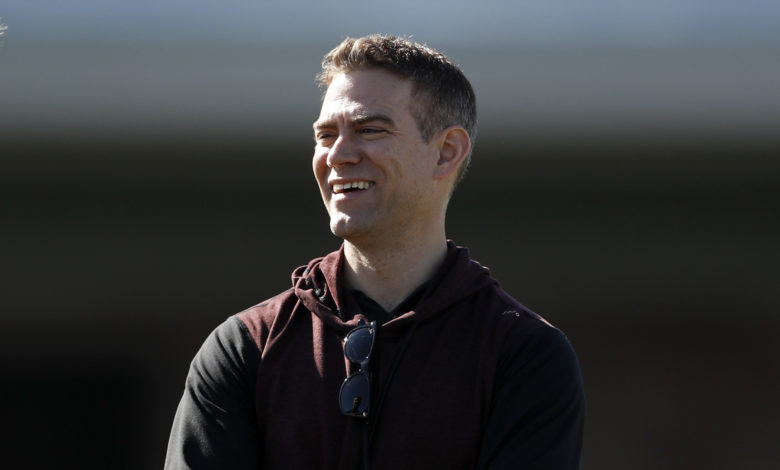 Friday Cubs Notes: New Diversity Committee Has 'Real Authority,' Time to #StrapItOn Again, Sun-Times Has New Beat Reporter
Despite the observance of the Fourth of July giving me the day off my regular gig, I've actually got a pretty full schedule lined up. In addition to aiming for a new high-mileage mark on my daily bike ride, our main TV just bit the dust and needs to be replaced. We've also got to take our new kitten to the vet, so that will take time.
Your Daily Morning Sheff. Appetite has returned and eyes are looking better. pic.twitter.com/xl8KRcasHd

— Evan Altman (@DEvanAltman) July 3, 2020
As such, this will be a very brief piece aimed at easy production and consumption. I've failed to adhere to that before, but this time I really mean it.
From diversity inaction to diversity committee in action
Theo Epstein spoke recently about putting together a committee to address the lack of diversity in the Cubs organization and baseball as a whole, something he readily admitted he's been complicit in perpetuating to this point. He told reporters during a Thursday Zoom call that the committee has now been formed and even had a meeting
"The way the committee was structured, it has real authority and I think a real opportunity to make a difference in several important areas where we have real room for improvement," Epstein explained. "I don't want to let our words get out ahead of our actions, but we'll keep you updated as we turn our aspirations into real action within the organization."
It'll take a lot of time and action to make meaningful change, but it does appear as though Epstein is serious about being a catalyst. As Joon Lee laid out in ESPN, a big part of the problem with MLB's "Ivy League culture" is that front office development follows essentially the same path as player development. In other words, you start out in smaller roles making very little money and then have to work your way up to the top.
That means an overwhelming majority of entry-level baseball execs are people who come from wealth and can afford to make very little money while getting started. You probably don't need me to explain to you that an inordinate percentage of those people are white. For real change to take place, organizations are going to need to be intentional about spreading their scouting of potential front office personal to a more diverse group.
I look forward to seeing how Epstein and the Cubs make good on this initiative moving forward.
#StrapItOn
The team on the field is moving forward with official workouts, strapping it back on for the first time in nearly four months. In case you'd forgotten about that risque turn of phrase entering the team's nomenclature this season, Jordan Bastian's got you covered in his latest Inbox.
As far as I can gather, the origin of #StrapItOn on Twitter is this Feb. 18 quote from Bryant early in the original Spring Training, while discussing Ross:

 

"Rossy's going to be Rossy. He's fun to be around. He's a funny guy. But, like I've been saying, he can really strap it on and be serious when you need him to. But, of course, it's on both sides. We know that we've completely failed the last two years and there's no nonsense this year. We're strapping it on and ready to go."

 

But one quote — even with two mentions of that phrase — was not enough. What really pushed the mantra over the top was when Jason Kipnis used the same motto while talking about his new team in a chat with reporters on Feb. 22:

 

"I'm not shying away from any competition. I'm not shying away from whoever's across that line against us. I'm ready to strap it on and go against them."

 

Once multiple players uttered the hashtag-friendly phrase about taking the field with a no-nonsense, competitive edge, Cubs fans kept running with it on social media. So there you go. Now, it's canon.
New to the beat
There's been quite a bit of shuffling on the Cubs beat over the last few months, with Tony Andracki moving from NBC Sports Chicago to Marquee and Gordon Wittenmyer moving from the Sun-Times to NBCSC. Another move was just announced Thursday evening, as Russell Dorsey has been hired to cover the Cubs for the Sun-Times.
Now that it's official, I'm excited to announce that I'll be joining @Suntimes as @Cubs beat reporter. I'm so grateful for this opportunity to be a part of an amazing staff. Thanks to @ChrisDeLuca and @FuscoChris for their belief in me and my abilities.

— Russell Dorsey (@Russ_Dorsey1) July 2, 2020
I've been very critical of the CST over the last few years, but this is a tremendous hire and I'm very much looking forward to following Dorsey's work there. He has covered the Cubs and other teams for MLB.com, Forbes, Baseball Prospectus, and the Chicago Tribune, so the credentials are legit. More than that, his passion for the game comes through in his work and that's something I love to see no matter what team or sport is being covered.
Miller Time
Ian Miller opened a lot of eyes this spring with his speed, now he's giving folks an inside look of his first experiences at Wrigley Field. You can feel the awe as he posts pictures to Twitter.
— Ian Miller (@8rellimnai) July 2, 2020