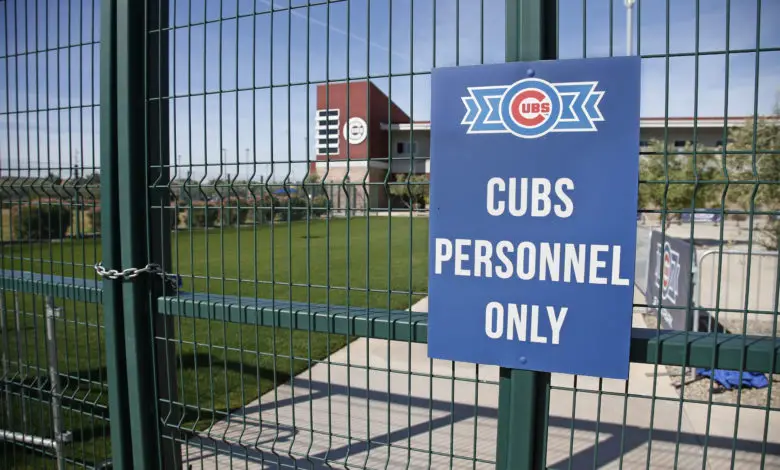 Anthony Rizzo Among Dwindling Group of Cubs Still at Camp as New Normal Evolves
The initial report in the wake of baseball's shutdown was that most Cubs players would remain in the Mesa area to finish out their respective leases and continue training at the team's facilities. With subsequent developments pushing the season back well beyond the overly optimistic April 9 reboot, however, the plan appears to have shifted.
Roughly 15 of the 39 players still assigned to MLB camp were still there as of Tuesday, according to what a team official told Gordon Wittenmyer of the Sun-Times. That group includes Yu Darvish and Kyle Hendricks, who played catch Tuesday. If, that is, you believe Wittenmyer's caption in the tweet below (which you should, because it's clearly them).
So the speck on the right is Darvish; the speck on the left is Hendricks. Playing catch. (From as close as media or anyone else without an employee ID can get). #baseball #cubs. pic.twitter.com/aeJ32RnLQm

— Gordon Wittenmyer (@GDubMLB) March 17, 2020
Even in these strange times, or perhaps especially because of them, Anthony Rizzo is serving as the team's de facto spokesman. Speaking to Wittenmyer at a safe distance from behind a fence, the first baseman admitted that extenuating circumstances are keeping him in Arizona.
"If I wasn't 5½ hours away on a flight, I would probably be home," Rizzo said. "But just going home for a few weeks and then coming back — I'd rather just stay here and be grounded here."
Rizzo also mentioned the truth of our new reality, which is that working out in relative isolation at Sloan Park is safer than just about anywhere else at this point. With access to the weight room, clubhouse, and batting cages, he's got a better setup than he'd have even if he was back home in South Florida.
"It's about being healthy," Rizzo told Wittenmyer. "I don't really care about baseball right now. Do I want to be playing? Yes. Absolutely. But the health of you, the health of everyone is more important than baseball, football, basketball, hockey, soccer — everything.
"You see it: Everything's shut down. I think it's selfish right now that football's going on like it's normal. Because it's not normal. These aren't normal times. You're standing behind a fence right now because this is how abnormal it is."
We normally poke a little good-natured fun at beat writers for their grainy cell phone images, but in this case need for digital zoom is legit. Wittenmyer is one of the few of his ilk still in the area, and the facilities are off-limits to all but the few remaining players and team staff. Hence the need to hang at the periphery and catch quotes as catch can.
Rizzo done for the day pic.twitter.com/YBjORBqWia

— Gordon Wittenmyer (@GDubMLB) March 17, 2020
Those shots of Rizzo leaving the facility were pretty clean, though, especially the one of the Bentley that once served as his rolling lunch/interview room with Paul Sullivan. Wow, the piece I just linked to is only two weeks old. Feels like a lifetime ago, or something that took place in an alternate reality.
The players remain hopeful that the season can start back up at some point, which it should be able to provided proper precautions are taken. Some of South Korea's KBO teams have resumed workouts, proving that adequate testing and social distancing can eventually restore a sense of normalcy.
And here's what Hanwha's intrasquad game looked like today. pic.twitter.com/9DitLXaF4O

— Dan Kurtz (@MyKBO) March 17, 2020
As difficult as optimism can be to come by these days, the images above really raise my spirits. Now let's just keep our fingers crossed that these next several weeks bring us some more of the same.