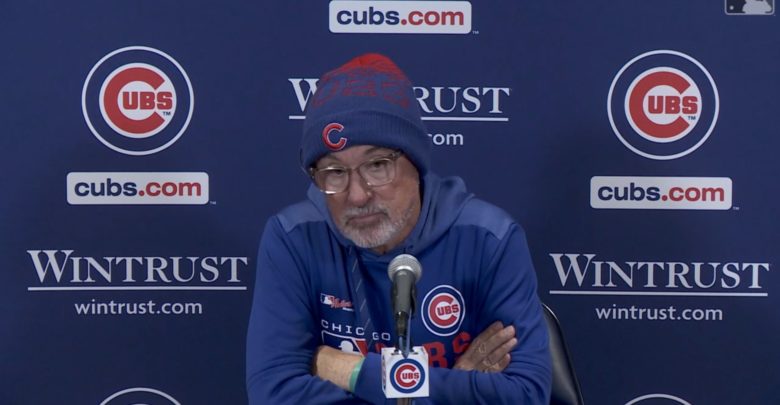 Maddon Takes Parting Shot at Critics: 'I Would Kick Your Ass'
Regardless of how you felt about the propriety of the Cubs' decision to part ways with Joe Maddon, you probably scratched your head more than once in response to a decision or five of his. He was well aware of the constant criticism of his lineups and bullpen moves, bristling at the notion that fans knew enough to question his logic. So with no need to rein in his thoughts following the announcement that he would not be brought back, Maddon gave his critics what for.
"I know what I believe, I know what I think and I know why I do things," Maddon said (per Jordan Bastian of MLB.com). "I promise you, for those that say those things, if you were in the other dugout, I would kick your ass.
"That's pretty much how this whole thing would work out. Just know that. Your ass would be kicked."
No word on whether Clint Hurdle was in attendance, though the former Pirates skipper was definitely someone in the other dugout whose ass Maddon tried to kick. That was literal, though. What Maddon was talking about here is the tactical side of the game on the field, in which he would beat you by batting Albert Almora Jr. at leadoff and using Derek Holland to turn your switch-hitting catch around to bat righty.
Maddon has every right to be a little salty and to defend himself, especially on his way out the door after a season no one enjoyed, so you really can't fault him for getting fired up. But as far as kicking ass with in-game moves, I'm not sure that's the hill he should be rushing to die on. The fire and passion he displayed by delivering those lines, however, is exactly why he was such a great fit for the Cubs at the outset.
There was a lot that went wrong in 2019, only a small portion of which can be directly attributed to Maddon. At the same time, his contract was up and the Cubs knew — as did Maddon and his agent — that there'd be plenty of openings for him to choose from in managerial free agency. So with change needed in several areas, the ol' ass-kicker's departure made the most sense.
Here's to hoping he ends up in Anaheim and gets to deploy Shohei Ohtani as both a pitcher and position player for the next few years. And hey, maybe Hurdle can land a job in the AL West and the two can pick up where they left off.