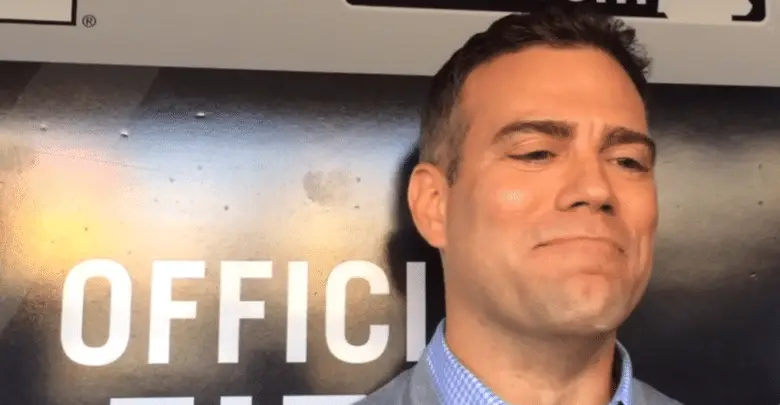 Theo Epstein Indicates Marquee Network Won't Have Immediate Impact on Payroll
Well, it looks like the Cubs may have another winter of pinching pennies in free agency. Despite claims by Crane Kenney, the club's president of business operations, that "much larger revenue" would be "available immediately," industry experts believe it may take until well into spring training or even the regular season for carriage deals to be worked out. That means no real guarantees for the upcoming season, something Theo Epstein addressed recently in Pittsburgh.
"The new TV deal, at least for the first few years, basically means the exact same thing for us as the old deal," Epstein told Patrick Mooney ($) and other media members. "The first few years will basically replicate the old deal, and then with potential for real growth down the line."
That runs counter to what Kenney said months ago, but seems to square with his more recent comments that the Cubs didn't expect "any real big changes on the downside" to the baseball budget in the coming year. Which means they are planning to more or less maintain the status quo rather than see an increase. Because, you know, that worked out really well this season.
"The baseball decisions will be unrelated to any TV considerations," Epstein explained. "I know Crane and the guys are really excited about this project (and) they understand it's a long-term thing and it's gonna grow… There's a wall between baseball decisions and anything related to the TV network."
To the extent that Epstein is not in charge of the network, or revenue streams in general, this is very much true. He can't go about his business with Marquee in mind, but the success of the network will most certainly impact how much room baseball operations has to make moves. So the front office is indeed insulated from things in that they're handed a budget and they have to make it work.
That said, it's hard to believe the baseball execs haven't been looking forward to the purported revenue increase Marquee will generate. After all, any changes to the budget will impact their ability to operate in free agency and when it comes to extensions. So is this some kind of death knell or a sign that we'll see a repeat of the same stagnant offseason that netted Daniel Descalso and Brad Brach as headline signings? Not quite.
The Cubs should be able to spend much more this winter than last simply because of the contracts that will fall off the books. While some of that surplus will no doubt be cannibalized by arbitration raises, clearing the salaries of Cole Hamels, Ben Zobrist, Brandon Morrow, Steve Cishek, and Pedro Strop, and more means quite a bit of room to add. They should also get a few million by trading or simply non-tendering Addison Russell, whose time as a Cub should be at an end.
Sorry, Phil Rogers, I know that'll put a serious cramp in your analysis.
All things considered, though, it doesn't appear we're going to be seeing a big splash that pushes the payroll higher. And a with a boatload of money sunk into an aging staff, we may even see a decrease in overall expenditures. Which means you can probably kiss a pursuit of Gerrit Cole goodbye, particularly if a Nicholas Castellanos extension is in the offing.
It also means you can expect some moves on the trade front, even if they're relatively minor. Because the Cubs need to shake things up without adding to — and maybe by subracting from — the payroll, they must get creative to build a roster with a mix of players that can effectively execute that whole urgency strategy. Or who can just run the bases and field the ball at something better than the league-worst performance they displayed in 2019.
You may not like hearing that the Cubs aren't likely to spend big this offseason, but at least this time around you're getting the news much earlier and can calibrate your expectations accordingly.