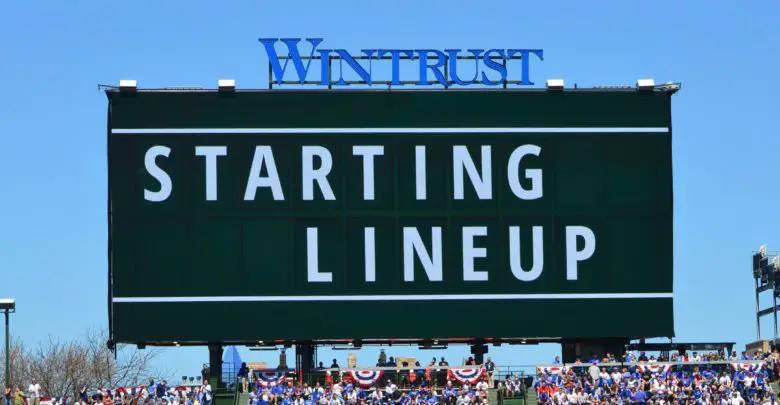 Chicago Cubs Lineup (9/11/19): Kemp Leads Off at 2B, Hoerner at SS, Hamels Pitching
Tony Kemp is playing second and leading off tonight because, hey, why the heck not. Kyle Schwarber bats second in left, Nicholas Castellanos is in right, Anthony Rizzo cleans up, and Kris Bryant bats fifth. Willson Contreras is catching, Jason Heyward is in center, and Nico Hoerner bats eighth at short.
Opposing them will be 23-year-old righty Chris Paddack, master practitioner of the nasty front-door Vulcan changeup. Yeah, you read that right…even if you've got no idea what the hell it means. Your typical changeup is going to tumble down and fade off toward a pitcher's arm-side, but Paddack has developed a pitch that he can throw up and in to lefties.
As Eno Sarris of The Athletic, the pitch is unique and relies upon a great deal of intestinal fortitude. The pitch bears down on lefties' hands before floating over the plate, which you can see in the video below. You'll probably get to see the pitch in action tonight as well.
Chris Paddack's 11Ks from Last Night (in under 20 seconds). 🤠 pic.twitter.com/1Kb4cZCuHn

— Rob Friedman (@PitchingNinja) May 7, 2019
As for the Vulcan part, well, that's a matter of Paddack's grip looking like something Mr. Spock would throw up as he bids you farewell. Except not many batters have been able to live long and prosper against a pitch that defies logic. You're welcome, Battlestar Galactica nerds.
The changeup would be good enough on it's own, but it's made better by Paddack's ability to run his fastball up there in the mid-90's. He's also got a middling curveball, but the fastball (61%) and change (29%) make up the vast majority of his repertoire. And in somewhat of a departure from the norm, the righty is nearly as comfortable throwing his offspeed stuff to batters on either side of the plate.
In fact, his pitch mix hardly varies at all based on handedness or count, with batters seeing the change only slightly more often as an out-pitch. That makes it virtually impossible to sit on one particular offering, so it might behoove the Cubs to simply guess one way or the other and hope to run into the right one.
Paddack goes hot/cold and has allowed one total run in his last two starts after giving up 19 (all earned) in his previous four. A lot of that damage has come via the longball, with 22 homers allowed this season. He's a control guy and since his changeup works up in the zone more than his peers, batters can really elevate his mistakes. That'll be hard for the Cubs to do tonight, as Paddack pitches much better at home, but their offense has been clicking lately.
What hasn't worked so well for the visitors is their pitching, with Cole Hamels standing out as one of their more disappointing performers of late. The lefty really needs to start putting together some stronger outings here, as the Cubs can't afford to be going down the stretch dragging dead arms. Here's to hoping Joe Maddon doesn't have to make good on his promise to show less tolerance now that it's Big Boy Time.
First pitch is set for 9:10pm CT on ABC 7, ESPN (out-of-market), and 670 The Score.
Here is tonight's #Cubs starting lineup.

Game preview: https://t.co/U8bL2p94Yu #EverybodyIn pic.twitter.com/MEnx1bftYp

— Chicago Cubs (@Cubs) September 11, 2019